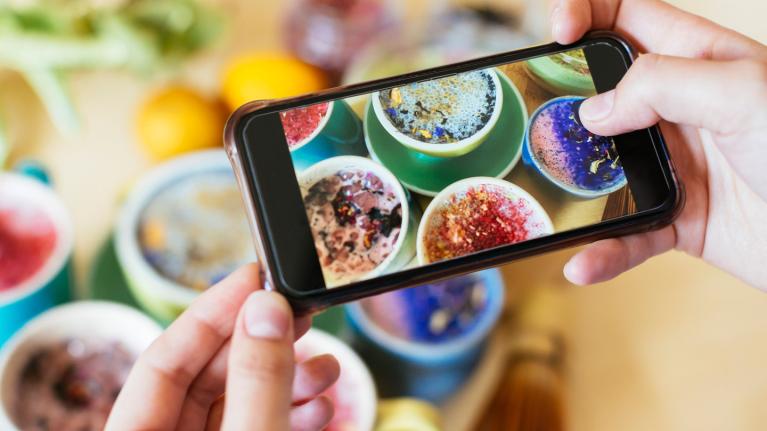 How Restaurants Can Win with Social Media
December 1, 2022
Social media gives your restaurant a direct connection to regulars and potential customers. Learn how Social media can strengthen your online presence.
Restaurants have a built-in social following with food fans. Social channels bring the dialogue between restaurant customers and operators into the digital world.
Social media has always been a great way for businesses to connect with customers. For restaurants, specifically, mouthwatering food photos and videos, recipes, and chef interviews are easy examples of social content that can be reused on several social channels and/or repeated quarterly.
Whether a restaurant operation chooses Facebook, Instagram, TikTok, Twitter, or some combination of several social channels, consistency is key. Dormant, outdated social pages can make a restaurant appear uninterested, or worse, closed.
Start small with one manageable platform that fits the demographics of your desired customer base and grow out from there. Here are a few ideas to get you started.
Showcase your food on Instagram. One of the most food-heavy social platforms is Instagram. Hashtags such as #food and #foodporn have nearly 800 million posts associated with them. Before creating a restaurant profile, research the profiles of popular Instagram influencers; these users spend countless hours perfecting their bios and feeds. After setup, go into profile settings and switch your account to a business account. Doing this will provide access to profile performance and engagement numbers. Instagram business accounts can also be connected to restaurant pages on Facebook for easy access to dual account features. Experiment with broad and specific hashtags related to your restaurant such as #burger and #miamiburger.
Strategically market your restaurant on Facebook. The days of "free advertising" on Facebook are long gone, but with a target audience in mind and a solid strategy, using Facebook ads can be an affordable way to reach a large group of diners quickly. Experiment with the tools available on the platform to reach new and potential customers in your area. Target current customers, people with specific interests (BBQ, vegan, pizza, etc), and anyone living in the surrounding area of your restaurant.
Give TikTok a try. Gaining in popularity, TikTok has become a great way for restaurant chefs, bartenders, baristas, and operators to share how-to recipes, behind-the-scenes restaurant clips, and interviews with staff and owners. Explore what other restaurants around the country are doing on the platform for inspiration and recruit restaurant staff to help bring your videos to life.
Make social media a team effort. Whether assigning social media tasks to a specific person on the staff or simply sharing and brainstorming social efforts, a community-driven push to reach more customers via social media will pay off. Weekly social media specials, limited-time-only offers, and employee spotlights are examples of social posts that should be shared among the staff.
Handle negative comments and complaints quickly. Several review sites exist online that need restaurant management attention to address positive and negative reviews. According to ReviewTrackers, the top business review site is Google My Business (73%), followed by Yelp (6%), Facebook (3%), and Tripadvisor (3%). The average consumer expects a response and/or resolution to a negative review within a week.1Create a game plan for how specific complaints will be addressed by your restaurant and when.
Top Social Media Sites of 2022 (ranked by total MAU [monthly active users])2
•     Facebook - 2.9 billion MAUs
•     YouTube - 2.9 billion MAUs
•     WhatsApp - 2 billion MAUs
•     Instagram - 2 billion MAUs
•     TikTok - 1 billion MAUs
•     Twitter - 436 million MAUs
•     LinkedIn - 250 million MAUs
Digging Into the Demographics3
•     TikTok - Largest age group: 10–19 (25%); Gender: 61% female, 39% male
•     Twitter - Largest age group: 18–29 (42%); Gender: 38.4% female, 61.6% male
•     YouTube - Largest age group: 15–35 (highest reach); Gender: 46% female, 54% male
•     Facebook - Largest age group: 25–34 (31.5%); Gender: 43% female, 57% male
•     Instagram - Largest age group: 25–34 (31.2%), with 18–24 close behind at 31%; Gender: 48.4% female, 51.8% male
•     LinkedIn - Largest age group: 25–34 (58.4%); Gender: 48% female, 52% male
Sources: 1. ReviewTrackers: Online Reviews Statistics and Trends: A 2022 Report by ReviewTrackers, Dec. 2021. 2. Buffer: 20 Top Social Media Sites to Consider for Your Brand in 2022, Dec. 2021. 3. SproutSocial: Social Media Demographics to Inform Your Brand's Strategy in 2022, March 2022.
The information provided is based on a general industry overview, and is not specific to your business operation. Each business is unique and decisions related to your business should be made after consultation with appropriate experts.