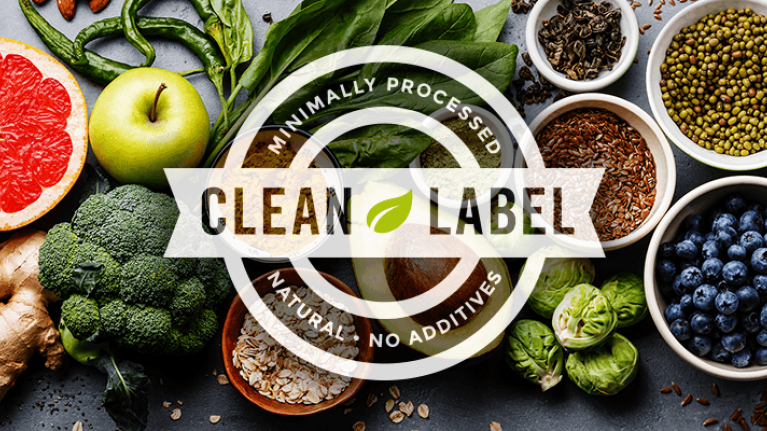 Showcase Clean-Label Foods for Super Sales
October 1, 2018
The trend is clear. Patrons prefer minimally processed foods with fewer additives. So serve them more!
Clean Cuisine: What is it, and how can you make it work for you?
According to Technomic, health continues to be a priority for today's consumers, and they are increasingly acting on intentions to eat more healthfully away from home.
However, "healthy" is no longer necessarily being defined by attributes such as low-calorie. Increasingly, healthy choices are connoted by qualities such as "clean-label" (made with familiar ingredients, that people recognize) and "free-from" (as in free from unwanted additives).
Technomic data reveal that roughly three-quarters (76%) of consumers believe that clean-label foods are healthier than traditional foods and more than two-thirds (69%) believe clean-label foods have greater health benefits. In addition to health, consumers feel that clean-label foods are safer, higher in quality, and better for animal welfare and social concerns than traditional foods.
In addition, consumers are more likely to say that clean-label foods are better tasting—outnumbering those who believe it detracts from taste. In fact, when ranking foods on health and taste, consumers rank clean-label foods similarly to foods labeled as local, fresh, real, natural, and organic—all of which are perceived as tastier and more healthy than other food and beverage claims.
For more information on the clean-label trend, see below.
Generally speaking, clean-label foods are perceived as minimally processed, an attribute that is increasingly important in both the food service and retail arenas. This also implies transparency cues: such as Food with Integrity mission statements; adherence to sustainability or safety certification standards; and stated reliance on foods that are non-GMO, free from antibiotics/hormones, cage-free, fresh, and other such qualifiers, depending upon the food.
Many restaurant chains as well as noncommercial operators (particularly in the college and university, healthcare, and B&I sectors), as well as retail food service providers are calling these attributes out, in general menu or website copy, or with respect to individual menu items (such as Panera Bread's description of Green Goddess Cobb Salad with Chicken, which includes chicken raised without antibiotics, freshly made dressing, and cage-free hardboiled eggs). Meanwhile, at the Cancer Treatment Centers of America, the culinary team serves natural, grass-fed, hormone-free, antibiotic-free, GMO-free, and nitrate-free proteins as well as organic produce when available.
Clearly, there is significant overlap in consumers' minds between the ideals of clean label transparency, and sustainability, and each operation must decide how to leverage growing consumer awareness of these trends. As Technomic puts it, many operators who are using clean-label ingredients don't call them out in their operation, yet nearly half of consumers are more likely to visit a restaurant that has clean-label foods and beverages, and 42% are willing to pay more for clean-label menu items.
Items that are made to order or prepared in full view of the customer carry a greater message of transparency and trustworthiness
If using clean-label ingredients, make simple changes to menu descriptions or other point-of-sale to call them out with consumer-friendly language, such as "made with real cheese," "less processed," or "natural"
Sources: Technomic Inc. 2016 Healthy Eating Consumer Trend Report; "Clean Label and What it Means for Foodservice," Technomic Inc. for Nestlé Professional, 2018
The information provided is based on a general industry overview, and is not specific to your business operation. Each business is unique and decisions related to your business should be made after consultation with appropriate experts.
DID YOU KNOW?
Consumers are increasingly concerned about additives in their foods, which is likely why more consumers are willing to purchase clean label.

Consumers not only think that items labeled as clean are healthier for them, but many also think they taste better than items not featuring this descriptor.

Free-from claims are trending across restaurant menus and operators are mentioning clean claims across a wider variety of menu items.

Adding clean-label terms to a menu description can increase consumer perception of uniqueness and craveability (by giving consumers permission to indulge).
GET STARTED
For more information, download the exclusive "Clean Label and What it Means for Foodservice," produced for Nestlé Professional by Technomic.
Check out this video about real food, "Stouffer's® Real Food Made Simple."