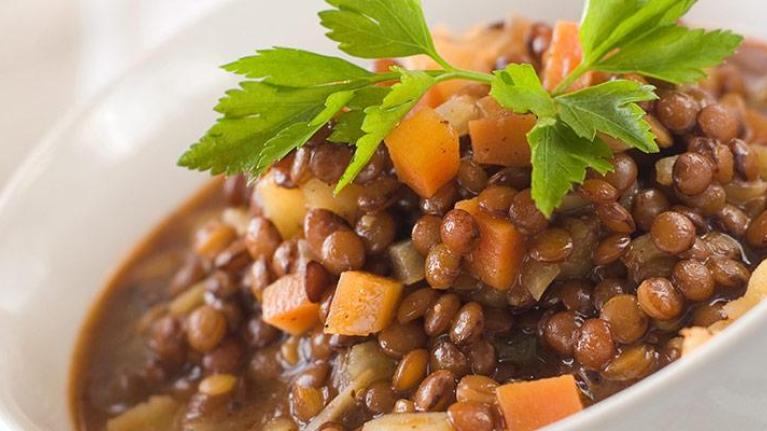 Super-Versatile Pulses Attract Attention
June 1, 2017
Pulses (beans and legumes) are gaining respect as a low-cost alternative to red meat. Plus they are versatile enough for soups, stews, dips, and more, and they hold and transport well.
With food costs increasing and interest in plant-based menu items growing, pulses are an important tool in the food service and deli operator's arsenal. Also known as legumes, this category includes beans, lentils, chickpeas, and dried peas, which are a rich and relatively inexpensive source of protein, fiber, and other nutrients. They're also versatile, satisfying, and delicious in a variety of menu specialties. Many vegans depend upon them as a protein source, but their appeal isn't limited to those who avoid meat.
According to Datassential MenuTrends, in fact, data from mid-2016 reveal that menu growth for red meat is declining (indexed at 97, where 100 is flat), chicken is flat, pork rose 17 basis points, and alternative, plant-based proteins are growing the fastest, including seeds at 163, and pulses at 146.
How can these items be prepared and offered in ways that also appeal to a broader, meat-eating mainstream? "Due to the cell structure in pulses, they can be prepared in similar ways as meats," says Minor's Corporate Chef Christopher Britton, including items like bean- or lentil-based "burger" patties, vegetarian Sloppy Joes, and other composite dishes.
"The high protein and fiber content of these foods give them the endurance to withstand grilling, frying, broiling, and braising. Plus, the neutrality of pulses allow them to take on any flavor added to them, and they absorb flavor very well. Pulses are also incorporated into today's cuisine as ground and milled flours." Britton notes that in baking, pancakes, and other applications that use flour, alternative flours made from chickpeas, lentils, and dry peas are low in cholesterol, high in fiber, and gluten free.
To get more ideas for incorporating pulses into your offerings, see below.
A number of menu categories lend themselves to beans, lentils, chickpeas, and dried peas, according to Britton and other Nestlé Professional chefs and culinarians, such as:
Soups and Chilis
Many popular soups are based on pulses or include them, including black bean, lentil, and split pea, as well as minestrone and many versions of tortilla soup. And while there may be some difference of opinion on whether to serve Chef-mate® Original Chili Con Carne with Beans or without Beans, both varieties are undeniably popular.
Bean-Based Specialties
The global kitchen is filled with delicious inspirations for menu items that are based on beans—no surprise, since so many other cultures depend on beans and other pulses, rather than meat, as a source of protein. In addition, these items are operationally easy because they can be made ahead, and can be held warm, reheated or finished to order, whether on- or off-premise.
Pasta Fagiole – Literally pasta and beans in Italian, hearty pasta fazool is part stew, part soup, and all delicious
Red Beans & Rice – Like many ethnic recipes that combine pulses with rice, this Louisiana-style specialty not only combines two ingredients that together provide complete protein, but it's right in line with the Southern Revival food trend
Cassoulet – This elaborate, slow-cooked French casserole combines white beans with a variety of different meats, including—but not limited to—sausage, lamb, and/or duck confit
Feijoada – What some consider to be the national dish of Brazil combines rich stewed black beans with a variety of pork
Dips and Other Appetizers
Hummus (a dip that's traditionally made with mashed, seasoned chickpeas) has become a common feature in many different types of food service venues, inspiring variations made with other beans, including white beans, edamame (soybeans), and fava beans. In addition to its use as a dip, hummus can be used as a dressing or spread, or to add heft to meatless sandwiches.
Falafel (fried, seasoned mashed chickpeas) is another item with multiple uses, as an appetizer, snack, or finger food with a dip, such as yogurt, or as a sandwich filling. Chef Britton also suggests socca (a no-frills pancake made from chickpea flour, water, oil, and salt), as an à la carte bread item or vehicle for dips or saucy appetizers. "One of my favorite items is Spicy Lentil Cakes with Horseradish Cream, made with Minor's® flavor concentrates and Maggi® Liquid Seasoning."
Burger Stand-Ins
As more food service and deli/retail operations introduce vegetarian or even vegan-friendly versions of the ever-popular burger, pulses like beans, lentils, and even chickpeas are being pressed into service to create meatless patties. Combined with the right seasonings and bound into a mixture that can be sautéed, broiled, or baked, these burger stand-ins are even appealing to carnivores looking for something a little different. Says Britton, "A trendy and flavorful alternative to beef would be a Fire-roasted Poblano and Black Bean Burger with Avocado, Crumbled Feta, and Chipotle Crema."
Source: Datassential MenuTrends Keynote Report: The New Healthy, 2016
Deli Bakery  
TRY THIS