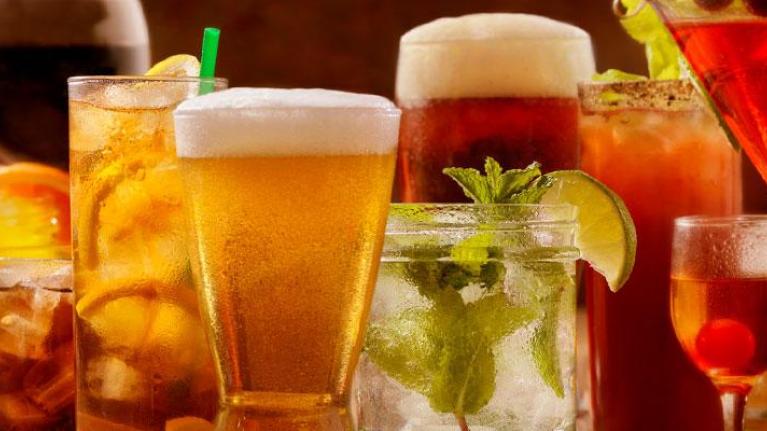 Super-Trendy Bar Drinks. Super Profitable Too.
September 1, 2016
Staying on top of the cocktail, beer, and wine craze is important to your bottom line. Discover the 10 game-changers that can work in any licensed operation.
In today's marketplace, beverage trends are just as important as food trends, especially when it comes to keeping current with the highly profitable alcoholic beverage category. With more food service operators adding alcoholic options—even Starbucks is getting into the game with an expanding program of wine and beer in the evening, and Taco Bell is experimenting with a Cantina concept touting beer, wine, and boozy frozen drinks—it's becoming more important than ever to stay competitive. Having a great bar program can really set an operation apart.
Here are some of the game-changing categories and trends to explore:
Quality Sells
Even at $10 or $12 a pop, handcrafted cocktails are an affordable indulgence for Millennials and other key customer groups, and customers are generally willing to pay more for quality cocktails. This means not only signature drink recipes and better-quality spirits—including premium pours in the well—but also high-quality mixers, bitters, and garnishes, such as brandied cherries instead of maraschino (many establishments are even touting housemade versions of these indispensable supplies).
Make It Seasonal and Local
As with food menus, many successful alcoholic beverage programs roll with the seasons, from refreshing rum punches and spritzers in the summer to heartier libations like whiskey sours and Irish coffee in the winter. And with the artisanal beverage movement growing by leaps and bounds, many operators are now able to tout homegrown products such as locally distilled spirits and local craft beer offerings.
Kegged Cocktails
There's no doubt that making a round of handcrafted cocktails takes time, which is the enemy of a satisfied customer. Enter the kegged or barrel-aged cocktail, which is not only faster to serve, but also allows an establishment to create a unique libation that can be mixed and aged to taste. Some ambitious bartenders are even creating house bottled cocktails.
Pairings
Wine pairings have been around for decades, taking away the intimidation factor and offering customers a curated food-and-beverage experience—and elevating suggestive selling to high art. Next came beer pairings, showcasing specialty beer selections with suggestions for specific brews to complement the food. Now operators are upping the ante by matching cocktails to menu items. It's all in the spirit of building sales and educating customers. Pairings also represent a great promotional opportunity along with wine dinners and the like. 
Lower Proof 
Given the push to build sales of alcoholic beverages, there's also a separate but equal need for operators to promote responsible consumption. Many customers won't or can't drink two high-proof martinis, but they'd like to have more than one libation during any one meal occasion. Lower-proof options are the win-win solution, allowing for "second round" sales and continued sobriety. This can take many forms, from lower-alcohol "session beers" (so-called because the customer can make a session of drinking them) to spirits and cocktails with a lower proof, such as European-style aperitifs, lighter wines (especially whites, such as Sauvignon Blanc and Pinot Gris), sangria, and even beer-based cocktails like the Michelada and the shandy (beer mixed with lemonade).
Wine Goes Casual  
In recent years, wine has morphed from a source of intimidation to one of inclusion and casual, everyday pleasure, with more extensive wine-by-the-glass programs, food-friendly wines, and growing interest in wine on tap. Keeping wine in kegs increases preservation time and speed of service (no more messing with balky corks) and allows for friendlier pricing. Meanwhile, wider availability of sparkling wines from around the world—not just the pricey bell-ringers of Champagne—has also put this category into everyday use. In fact, sparklers like Italian Prosecco and Spanish Cava are catching on in by-the-glass sales and as the base for cocktails like Bellinis and spritzes. Festive and refreshing, yet totally unintimidating (especially when listed on the wine list as "bubbles" or "sparklers"), sparkling wines have become as casual and appealing as any still wine.
Signature "Mocktails"
Designated drivers, pregnant women, dieters, and even kids are all target markets for beverages that are carefully crafted but free of alcohol. With soda sales falling, signature Mocktails can be an excellent source of profits and customer satisfaction. Hard Rock Café introduced new Mocktails including one called Rock You Like a Coconut, made with Salted Caramel syrup, Coco Real syrup, and caramel sauce blended with half-and-half and served over ice in a mason jar topped with whipped cream and caramel popcorn. 
Presentation Pays
With Instagram and Snapchat attracting photos of cocktails as well as food, operators are upping the ante on their drinks' appearance with attractive glassware, colorful garnishes, and other artistic touches, such as flowers, sugar stirrers, and designer straws. At steak and seafood chain Ocean Prime, the best-selling Berries & Bubbles signature cocktail even gets some video attention: It's made with dry ice and appears to be smoking. Beautiful appearance is also part of what's behind the tiki drink craze, with its retro glassware, tropical colored juices, and playful paper umbrellas.
Craft Beer
One of the biggest trends to hit beverage alcohol sales in recent years is the craft beer movement, encompassing both local microbrews and craft-style beers from the bigger beer companies. According to Technomic, the category may grow to as much as 20% of the total beer market by 2020. This is a development that affects not only small pubs and casual restaurants, but also fine dining. The California-based Yard House chain has built its reputation on the popularity of beer, with a regular selection of dozens of beers as well as rotating taps, chalkboard specials, and a robust commitment to educating its customers about the pleasures of brew.
Bloody Good Brunch Drinks
As the brunch meal period continues to heat up, expect to see more—and more distinctive—variation on classic brunch cocktails like Mimosas, milk punches, and of course Bloody Marys. 1313 Main in Napa, CA, is known for its brunch-time Bloody Mary bar, rolled to the table on a cart merchandising such à la carte garnishes as candied bacon and olives stuffed with blue cheese. The bloody mix itself is made from tomatoes grown in the restaurant's own garden. Legal Sea Foods introduced a Green Bloody Mary, made with vodka, the chain's own spicy tomatillo green Bloody Mary mix, and a pickled tomato.
Did You Know? Maggi® Spicy Seasoning is great for bringing spice and umami to Bloody Mary mix. And Maggi Seasoning is practically indispensable for a Michelada.