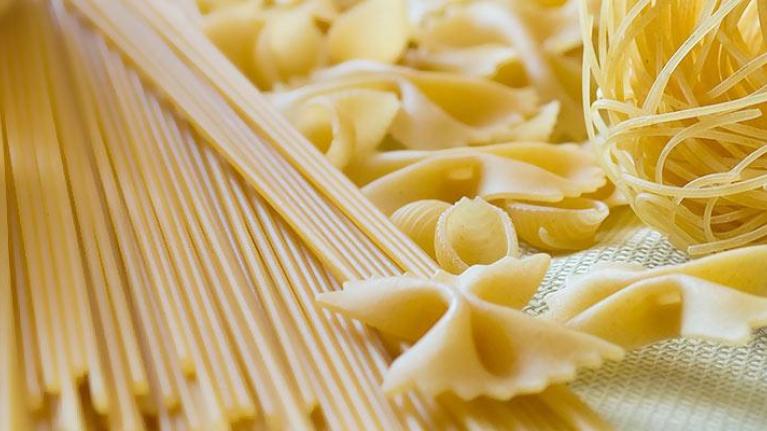 Use Your Noodle. New Ways to Serve Pasta.
October 19, 2014
Pasta is popular! Each American eats 20 pounds of pasta a year. Discover new ways to feed that appetite. Get these pasta and risotto recipes that will delight every patron.
Through it all—through the Atkins Diet, the emergence of the glycemic index, the advent of gluten free living—pasta has endured. In fact, according to the National Pasta Association, the average American consumes 20 pounds of pasta annually, making it the sixth most-consumed food per capita in the country.
The reason for the popularity of pasta (and related foods like risotto and polenta) is easy to figure out: People love it. Pasta is comforting, versatile, delicious, and affordable. It lends itself to flavors and cooking techniques from around the world, from Italy to Japan (hello ramen!) and back again. What's not to love?
If anything, the recent economic downturn put pasta more squarely on the front burner, as consumers sought solace for the challenges of recession-era meals, both at home and away.
Pasta, From Rustic to Elegant
One of pasta's greatest attributes is its versatility. Versatile pasta can be served as a main course or a side dish, in a soup, or even a salad.
Pasta can be cast as the ultimate "peasant food"—in a good way. Or it can be elegant enough for a white tablecloth or catering specialty, such as Mushroom Ravioli or Lobster Orecchiette.
And speaking of shapes and forms, there are dozens, from familiar spaghetti and elbow macaroni to sophisticated and distinctive cannelloni. Any of these pastas can easily become a favorite menu signature.
Pasta can also step outside its traditional Italian niche, into Asian, Latin, or all-American territory. The Nestlé Professional collection of recipes includes many cross-cultural pasta recipes, such as Taco Pasta and Lasagna Cupcakes.
Don't Forget: Ever-popular macaroni and cheese is pasta too—whether you make your own or use a menu-ready product from Stouffer's® or Lean Cuisine®. This recipe for Macaroni and Cheese with sundried tomatoes, caramelized onions, and baby spinach disproves the notion that mac and cheese is just for kids.
Healthy Variations
Sure, pasta's got a rep as being the ultimate energy-building food for carb-loadingathletes, but there are many other ways to position this category for health-conscious customers:
Use pasta as a vehicle for lots and lots of vegetables

Substitute whole grain or gluten free pasta

Emphasize healthy lean proteins like seafood and poultry

Serve smaller portions of rich, saucy pastas, as an indulgent appetizer or small plate
Get Started: Stouffer's and Lean Cuisine offer a number of ready-to-use whole-grain and vegetable-packed pasta specialties, including Stouffer's Chicken Fettuccine Made with Whole Grains.
Easy as … Pasta
In addition to providing great food costs, pasta has operational ease going for it. Sturdy shapes like penne and ziti can be cooked ahead, chilled, and held to be dipped into simmering water to reheat, or finished to-order in a pan of sauce (which also helps build flavor, especially with thinner pastas like spaghetti).
Lasagna and other baked pastas can be assembled ahead and baked off prior to service, or rethermed by the portion in a microwave or conventional oven.
Pasta salads, meanwhile, can be completely finished ahead of time and kept safely at temperature until service.
Lights, Camera, Action!
Pasta is a favorite vehicle for a display cooking station in catering, employee dining, hotel or restaurant buffets, or college and university specialty concepts.
Following the pattern laid out by the Nestlé Professional Action Stations program, offer a variety of different pasta shapes, as well as prepared cooked risotto, to be topped with the customer's choice of sauces, proteins, vegetables, and other ingredients. These can be warmed to-order in a pan, or scooped out into attractive bowls and kept warm. You may also want to consider rice pilaf or even the Italian rice specialty known as risotto.
Short pastas such as ditalini, as well as rice, can also be recast in Creole jambalaya or Spanish paella recipes, either made to the customer's specifications (for instance, a delicious jambalaya can be built with ingredients like sautéed peppers and onions, cooked shrimp, grilled chicken, and sliced sausage) or as a ready-to-serve combination such as Paella Valenciana.