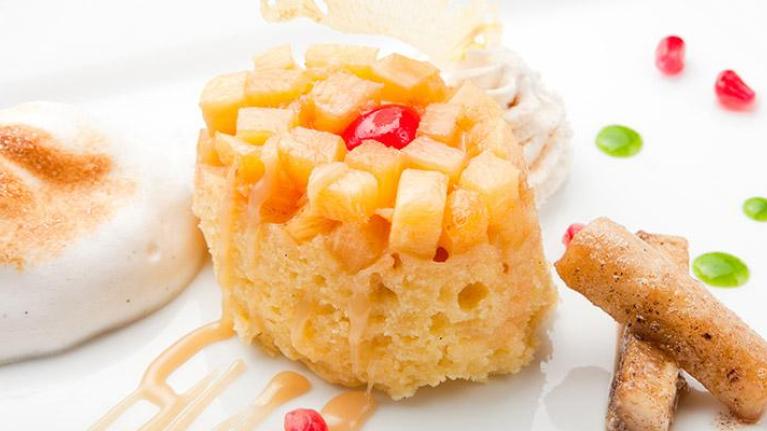 Unexpected Flavors Make Dessert More Craveable
November 1, 2018
Dessert is a great place to innovate. Try some new flavors, add soft serve to the menu, and get inspired by global sweets.
The Flavor Factor: Sweet Meets Savory
Ever heard of salted caramel? And that's just the start.
Savory elements such as herbs, cheese, chiles, or smoked ingredients add depth and interest to sweet flavors, and make for a craveable point of different in even the simplest desserts.
Use a crushed-pretzel crust instead of Graham crackers for a cheesecake or pumpkin pie
Bring some chile heat to chocolate specialties, or to a chocolate sauce
Add basil, thyme, lavender, or bay to fruit desserts via an infused syrup, poaching liquid or garnish
Splash a little balsamic, fig, or honey vinegar in berries or whipped cream
Incorporate brown butter in cake batters
Substitute smoked salt for plain wherever a pinch of salt is called for in desserts, such as brownies, cookies, rice pudding, or caramel sauce
Garnish a mousse, parfait, or ice cream sundae with candied bacon
Swap whipped cream for crème fraîche, Greek yogurt, mascarpone, or fresh ricotta
Offer a cheese plate on the dessert menu
Soft Serve
Soft serve is the hot new thing in frozen desserts. Softer and less dense than regular ice cream as a result of air being introduced during freezing, it's the perfect carrier for all kinds of interesting flavors and distinctive ingredients. Accidentally invented in 1934 when Tom Carvel's ice cream delivery truck got a flat tire, it's much more accessible now thanks to the widespread availability of affordable machines that can mix and dispense it.
Though chocolate and vanilla are the most popular flavors, fast-casual and chef-driven restaurants as well as college and university, B&I, and other noncommercial food service locations are experimenting with signature mixtures like green tea, coffee-banana, honey, and watermelon. There's even one food truck that serves something called Cheat-Oh, vanilla soft serve infused with Cheetos powder, then rolled in Cheetos dust.
Another way to create a specialty soft serve dessert: add inclusions and toppings like nuts, candy pieces, sprinkles, chopped fresh or dried fruit, and other ingredients.
Global Dessert Inspirations
The world is full of delicious desserts. Here are a few that can be easily translated to mainstream menus:
Caribbean—coconut macaroons, banana fritters
France—clafoutis, crème brulee, chocolate mousse
Greece—walnut syrup cake, yogurt cake with orange syrup
India—rice and milk pudding, mango kulfi
Italy—panna cotta, semifreddo, ricotta cheesecake
Louisiana and the South—pecan pie, bread pudding with whiskey sauce, Key lime pie
Mexico—caramel flan, tres leches cake, churros with chocolate sauce
Middle East—Turkish delight, halvah, sweet dates
Thailand—tapioca coconut pudding, tropical fruit salad, fried bananas
The information provided is based on a general industry overview, and is not specific to your business operation. Each business is unique and decisions related to your business should be made after consultation with appropriate experts.
Get Started
Nestlé has a number of dessert products that are perfect for adding to soft serve and other dessert specialties, such as cake and cupcake frostings and ice cream sundaes. These include Nestlé®Toll House® Semi-Sweet Morsels and new Nestlé Toll House Chocolate Chip Cookie Spread.
Did You Know?
According to the 2017 Flavor Consumer Trends Report from Technomic, 53% of millennials surveyed said they are more interested in trying new flavors now than they were a year ago, and across all demographics, 37% of survey respondents strongly agree that they're more likely to visit a restaurant that offers new flavors.