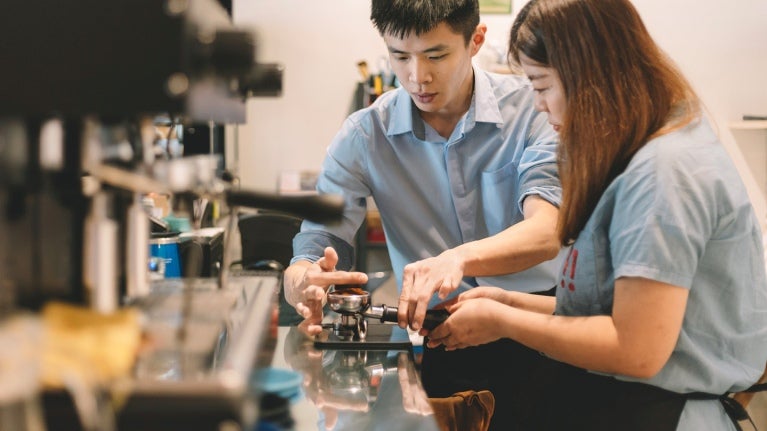 The Many Ways to Brew America's Favorite Beverage
May 1, 2023
As coffee customers return in force, make sure your operation is ready. Here are the brewing methods you need to know.
Coffee is more popular today than any other beverage, including tap water. Some 66% of Americans over 18 drink it, maintaining a two-decade high first reached in January 2022.1
And, while out-of-home coffee consumption (28% of past-day coffee drinkers) has yet to fully recover to pre-COVID levels (36% in January 2020), a third of coffee drinkers buy coffee away from home at least four times per week, and another 56% buy coffee away from home one to three times per week.1
With so many customers looking for places to grab their coffee away from home, now's the perfect time to brush up on this all-important category, starting with the basics.
The Basics
Looking for the easiest, most foolproof methods for making coffee? You've come to the right place. These are low-labor and can fit high-volume operations.
Drip Coffee

– Drip coffee makers are still the most popular preparation method.1 And today's commercial coffee machines can be the workhorses of any operation, requiring little training, quick maintenance, and allowing you to keep up with demand

Coffee Pods

– The ease of preparation that comes with self-contained, pre-measured pods has made them a popular option for foodservice. This is even more the case today in a tight labor market where intensive training is often a luxury

Coffee Bags

– Single-use coffee bags can be helpful for smaller-volume coffee operations or when you don't have time to train staff on coffee preparation. Basically, it's a foolproof way of preparing a quick cup of coffee

Instant Coffee

– Add a spoonful of instant coffee to hot water, stir and done. It's a great fit for office coffee stations, catering, and is also a versatile ingredient for on-trend beverage and culinary applications  
For each of these, remember to offer a variety of creamer and sweetener alternatives. Customers are especially looking for plant-based options and dairy alternatives, like oat and almond, which are now available as creamers, as are an ever-expanding array of flavors.
Specialty Coffee
Espresso and espresso-based beverages meet the demand for a more specialized and customized coffee experience, with high customer satisfaction and profit potential. The sky's the limit with these premium-priced coffee-café beverages.
According to the National Coffee Association (NCA), 54% of Americans 18+ years of age had a specialty coffee in the past week.1 The most popular include:
Latte

– One or two shots of espresso, steamed milk, and a thin layer of frothed milk on top

Espresso

– A concentrated form of coffee, served in shots and often the coffee base of many other specialty beverages such as cappuccinos, lattes, Americanos, and macchiatos

Cappuccino

– A delicate balance of espresso, steamed milk, and foam. This coffee is all about the structure and the even splitting of elements into equal thirds

Café Mocha

– A shot of espresso is combined with chocolate powder or syrup, followed by milk or cream. It's a variant of a latte in the sense that it's often 1/3 espresso and 2/3 steamed milk. However, a chocolate flavor is added, and this can be milk or dark

Americano

– A mixture of hot water and espresso, it can be created with 1/2 water and 1/2 espresso or 1/3 espresso and 2/3 water. It's different from most other espresso-based coffee drinks, which include milk

Macchiato

– An espresso coffee drink, topped with a small amount of foamed or steamed milk to allow the taste of the espresso to still shine through

Flat White

– A blend of micro-foamed milk poured over a single or double shot of espresso. This microfoam is steamed milk infused with air, to create a smooth and velvety texture and creamy taste
Other popular specialty coffee creations today include cortados, dalgonas, and if you're looking to add a coffee dessert to your menu, affogatos.
All these specialty coffees can be served hot or iced, caffeinated or decaf. And, for an Instagram-worthy touch, many can be prepared tableside using a Moka pot, AeroPress, or Clever Dripper.   
Cold Coffee
Cold coffee has been gaining in popularity with consumers over the past several years. In fact, the NCA says 30% of coffee drinkers enjoyed cold coffee in the past day.1 Ranked by most popular, these include:
Iced Coffee

24%

Cold Brew

14%

Frozen Blend

11%
Nitro coffee has also been seeing its share of growth in recent years, too. Texture is a key element in the popularity of nitro as it provides a different mouthfeel.2
Premium Upgrades
Coffee presentation techniques are image boosters that can support higher menu prices. They can be prepared tableside or in exhibition formats, such as customer counters and buffets.
French Press

– A French Press is a great way to involve guests in their own coffee preparation. Ground coffee is steeped in hot water and separated by pressing down on the filter. The process results in a flavorful brew capturing natural oils and fine particles from the coffee beans. The result is a rich and hearty coffee3

Pour-Over

– Pouring hot water over ground coffee in a filter allows the coffee to drip through the filter into a pitcher or directly into a cup. It offers more control over the brewing process—including temperature, water-to-bean ratios, and extraction time. Because it takes longer than drip coffee, the water has more time to extract the coffee's oils, which can produce a robust flavor4
Signature Coffee
And finally, no beverage menu is complete without a few signature creations. Here are a couple of ideas to differentiate your coffee menu from the competition. And remember, daily/weekly specials can be used to generate excitement, build sales, and trial new recipes.
Vietnamese Iced Coffee

– A cold coffee drink made with strong brewed coffee and sweetened condensed milk poured over ice. Vietnamese iced coffee has experienced strong growth in the United States in recent years, up 21% over the past year and growing 26% over the past four years5

Cowboy Coffee

– Cowboys have gotten their share of attention these days on hit television shows or in video games. Catch customers' eyes with your own version of cowboy—also known as campfire—coffee. Described as French press coffee without the use of a filter, cowboy coffee's  attraction is its simplicity, unique texture, and taste, which could drive trials and social media attention
Did You Know?
Coffee has reached record-high popularity with 18- to 24-year-olds, with 51% having drank coffee in the past day, surpassing the record of 50% set in September 20201
Customers love different flavors. In fact, 32% of Americans had flavored coffee in the past week. Vanilla is the most popular flavor, followed by caramel and mocha1
Sources: 1. National Coffee Association USA "Fall 2022 National Coffee Data Trends" (September 29, 2022). 2. Datassential "Buzz Topical Report: Nitro Coffee" (August 2022). 3. HandGround "How to Use a French Press: Tools, Ratios, and Step-By-Step Guide" (September 2022). 4. Real Simple "What's the Difference Between Cold Brew, Pour-Over, and More Types of Coffee?" (February 22, 2023). 5. Datassential SNAP! (March 14, 2023).
The information provided is based on a general industry overview and is not specific to your business operation. Each business is unique, and decisions related to your business should be made after consultation with appropriate experts.