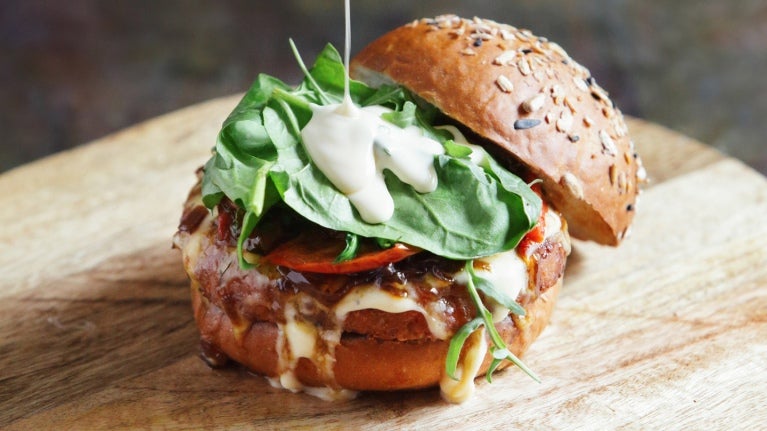 How to Get More Creative with Condiments
April 3, 2023
Condiments can be so much more than ketchup, mustard, and mayo. Indulge your patrons' need for adventure with creative signature condiments.
Gone are the days when condiments like ketchup, mustard, and mayo would suffice. Today's diners are seeking out unique and exciting sauces that elevate their dining experience.
Imagine a tasty garlic aioli, perfectly paired with crispy shoestring fries. The savory, smoky flavor of chipotle sauce drizzled over golden fried chicken is practically irresistible. And a homemade buttermilk ranch, served atop crisp greens and vegetables, is a perfect pre-meal indulgence.
Captivating customers with the newest flavor combinations can be as easy as adding a new condiment to the menu. Some condiment trends hitting retail shelves and menus this year include internationally inspired barbecue sauces, hot chili oils and honeys, fermented condiments, plant-based ranch, and kicked-up ketchup and mustard.1
Meanwhile, hot sauce continues to innovate. Manufacturers are introducing hot sauces formulated for use in coffee, created with liquor or beer hops, and a growing number of offerings in the swicy (sweet meets spicy) category.2
Dazzle Guests with Sweet and Savory Condiment Drizzles
Almost any dish can be elevated with a dollop, drizzle, or splash of sauce. Sandwiches, sushi, pizza, cocktails, and even coffee benefit from a tasty drizzle of sweet, savory, or spicy condiments. Start here.
Pizza:

A drizzle of olive oil, truffle oil, hot sauce, or pesto adds depth or heat to a customer favorite.

Sushi:

Soy sauce, ponzu sauce, chili oil, or sriracha boost the heat and umami factor.

Cocktails

: Flavored syrups such as mango or raspberry can add sweetness and color to cocktails, while a drizzle of hot sauce or sriracha can provide a spicy twist.

Coffee:

Dessert coffees would be incomplete without a drizzle of chocolate and/or caramel on top. And don't leave out cinnamon, nutmeg, and whipped cream.

Desserts:

A dollop of honey, chocolate sauce, or caramel sauce adds a layer of decadence to desserts like cake and ice cream. Surprise guests with hot honey.

Appetizers:

Appetizers look and taste better when accompanied by a complementary sauce that adds heat, sweetness, or a touch of vinegar.

Entrées:

Chicken, steak, tofu, and vegetables benefit from a glaze or sauce that brings out their natural flavors.

Sandwiches:

What's a sandwich without a hearty drizzle of thousand island dressing, garlic aioli, or sweet and savory barbecue sauce?
Give Common Condiments a Flavor Boost
Turn ketchup, mustard, and mayonnaise into creative new toppings and sauces. The possibilities are endless.
Start with ketchup and add:
Hot sauce, cayenne pepper, horseradish, or sriracha for a spicy kick

Worcestershire sauce, cumin, or soy sauce for depth and umami

Paprika or liquid smoke for a touch of smokiness
Start with mustard and add:
Honey or maple syrup for sweetness

Hot sauce or chili sauce for some heat

Mayonnaise for added creaminess
Start with mayonnaise and add:
Fresh herbs for depth of flavor and interest

Curry paste, XO sauce, or sriracha for Asian flair

Truffle oil and minced garlic for truffle aioli
Incorporating interesting condiments into the menu, including sweet, savory, and spicy creations that are on brand, sets a restaurant apart and offers a unique experience for diners.
Sources: 1. Whole Foods Market's Trends Council (June 2022). 2. Food Business News: Hot Sauce Innovations Heating Up (January 2023).
The information provided is based on a general industry overview and is not specific to your business operation. Each business is unique, and decisions related to your business should be made after consultation with appropriate experts.