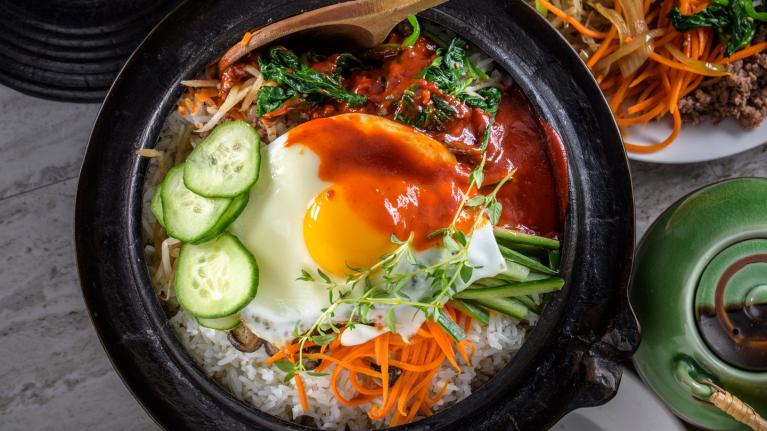 Asian Flavors Heat Up Hospitality
April 29, 2022
Spicy, sweet, savory Asian flavors continue to attract a growing fanbase. Learn which spices and menu items are trending, and how to add them to your menu.
Longtime Chinese staples are now welcoming Japanese, Thai, Vietnamese, Korean, Filipino, Malaysian, and Indian dishes into the fold with authentic entrées and creative mashups for adventurous diners. Coupled with the fact that consumers relish trying new dishes that they cannot or do not want to create at home, many are now seeking out Asian dishes in an effort to travel and explore new countries and cuisines from the comfort of their home. Soups, noodles, rice, and sushi will continue to reign supreme in Asian dishes, but consumers are also ready to explore new and trending offerings like poke, mapo tofu, moo yang, and tonkatsu.1
Asian entrées have always offered a unique blend of spices not found in other cuisines, but consumers are becoming more open to immunity boosting spices and additional heat. Growing on menus, some of the latest spicy condiments include chili oil, chili garlic, hot garlic sauce, and XO sauce.1 Spice mashups such as "swicy" (a mix of sweet and spicy) and "swalty" (a mix of sweet and salty) aren't far from joining the collective vocabulary, with the chicken chain NeNe already offering a swicy chicken.2
Changing Consumer Tastes
While Italian remains the favorite international cuisine, consumer studies have shown that tastes are shifting toward Asian and Latin cuisines. In fact, Gen Z is more likely to prefer foods like boba, ramen, and mochi than the average consumer, and Millennials have illustrated that they enjoy sushi and Korean BBQ more than those in other age groups. The reason? Experts believe part of it has to do with access to a variety of cuisines and the ethnic makeup of different generational groups.3 Asian Americans are currently the fastest-growing ethnic group in the United States, growing 81% (from 10.5 million to 18.9 million) between the years 2000 and 2019.4
Menu Mashups and Beverages
The familiar Asian flavors of chilis, vinegar, and curry are popping up in the most unexpected places as restaurants mashup cuisines to offer guests unique twists on authentic dishes. It could be a fried chicken sandwich topped with a General Tso's aioli or barbecue ribs showcasing the flavors of curry and sweet chili. Tacos take a trip to the Far East when they're stuffed with pork, gochujang, and kimchee. All are equally delicious and crave worthy.5 Look beyond boba as Asian beverages and coffees become more widespread, too, with Vietnam's robusta coffee showing up on shelves and more Vietnamese coffee shops open their doors across the country.3 India's turmeric latte and Japan's matcha latte are both coveted for their health benefits and comforting properties, and Asian rum is fast becoming a trend.4
Going Global Before Lunch
As more consumers add breakfast to their daily routines, Asian cuisine offers a diverse selection of appetite-satisfying breakfast dishes that can fit any dietary requirement. Indian Rava Upma is a hearty combo of durum wheat flour and vegetables; Japan's Omurice starts with vegetable fried rice and covers it with an egg omelet; and Ji Dan Bing takes a thin, crispy Chinese pancake and cracks an egg on top.6 Traditional breakfast items can go Asian with a few tweaks, too. Top breakfast tacos with a squeeze of gochujang, add Chinese sausage and scallion into biscuits with a hint of sriracha in the gravy, or experiment with savory miso oatmeal. Sources: 1. Datassential Asian Cuisine (2021). 2. New York Times: How Will Americans Eat in 2022? (2021). 3. Datassential 2022 Trends (2021). 4. Pew Research: Asian Americans Are the Fastest-Growing Racial or Ethnic Group in the U.S. (2021). 5. Bake: Consumers Travel the World Through International Cuisines (2022). 6. TeaBreakfast.com: 20 Asian Breakfast Recipes (2021).
The information provided is based on a general industry overview, and is not specific to your business operation. Each business is unique and decisions related to your business should be made after consultation with appropriate experts.
Popular Asian Menu Items
Soup

Fried Rice

Dumpling

Wing

Spring Roll

Curry

Sweet & Sour

Egg Roll
Source: Datassential, Asian Cuisine (2021)
Trending Asian Menu Items
Chinese: kombucha, Xian Bing, congee, rice rolls, mooncakes, ready-to-heat dumplings
Korean: kimchee, gochujang, bulgogi, banchan, banana milk, spicy buldak ramen 
Japanese: ramen, mochi, boba, milk bread, Yuzu, sudachi, onigiri, Taiyaki fish-shaped waffle cones
Indian: turmeric, cardamom, milagai podi, garam masala, hing, kande pohe
Thai/Vietnamese: Thai tea, Vietnamese iced coffee, butterfly pea flower tea
Source: Thought for Food: Are You Catering to the Asian Food & Beverage Demand? (2022)
Make It With Minor's®: Classical Reductions™ Reduced Vegetable Stock