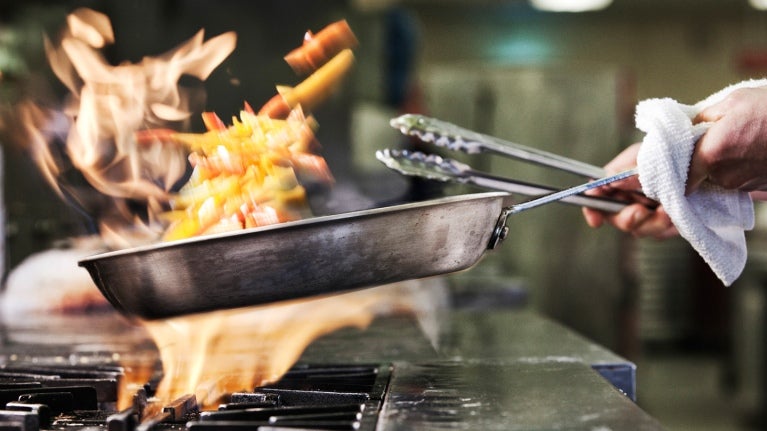 A Sauté Primer from Prep to Plate
November 1, 2023
Quick sautés deserve a place on every menu, their wide-ranging versatility and relative ease of cooking are a boon for busy kitchens.
Cook lines can get stressed during lunch and dinner rush hours, the rapid staccato of incoming orders nearly enough to stir up hot tempers, high tensions, and a general sense of kitchen chaos. Smart menus are designed around these situations, building a balanced slate of offerings that, at least theoretically, aim to divvy up the workload among the stations.
One of the smartest and best go-tos for cool-running kitchens: quick sautés that have all the prep done in advance and then make short work of the actual hit-the-fire cook time. Here's a primer for front-line work and then a list of easy and delicious menu ideas.
Primer: Sauté is a dry-heat cooking method that involves using a shallow, slope-sided pan to cook ingredients in a small amount of fat, usually over high heat, often, though not always, while tossing around the ingredients (the word sauté comes from French for 'jump'). A broad range of dishes rely on it, starting with something as basic as a fried egg and progressing through to skillfully executed stir-fry preparations. As a method, it's broadly applicable to many tender proteins, either solo, with aromatics such as garlic and onions or joined at some point in the cooking by complementary vegetables, grains, or starches to make one-dish presentations. With much versatility built in, a standard formula sauté can be added to menus, its specifics changing throughout the seasons to keep the offering fresh and appealing.
Prep: All mincing, slicing, and dicing can be completed pre-shift, the ingredients kept close at hand and at the ready. Vegetable additions that require blanching should also be prepped ahead of time; likewise, pasta, beans, grains, or other add-ins should be cooked to an al-dente state. The protein, say a boneless chicken breast or trout fillet, can be trimmed, seasoned, and sliced or left whole depending on the preparation and plating.
Cook: Pan size and heat level are top considerations, with cooking fat type and amount rounding out the top three. A skillet with gently sloped sides and efficient heat conductivity is ideal, the size large enough to comfortably hold ingredients. The chosen oil or fat is added and allowed to heat before cooking begins. For searing proteins, red-hot is preferred although more moderate levels are often used to soften aromatics. Pan sauces can be made, taking advantage of the browned bits in the pan by deglazing and then finishing as desired. Alternately, an intensely flavored finishing sauce can be added to the pan at the end of cooking or built into the plate presentation.
Get Inspired:
Pan-Seared Wagyu Beef Carpaccio with Roasted Sunchokes, Grana Padano Cheese, and Crisp Sunchoke Chips

Linguine with Cockles, Pancetta, Garlic, and White Wine

Veal Milanese with Arugula and Heirloom Tomato Salad

Seared Frog Legs with Fish Sauce and Lemon-Garlic Butter

Sweet Corn Triangoli Pasta with Sautéed Golden Chanterelles, Corn-Cob Butter Sauce, and Truffles

Ancho Chili-Rubbed Seared Salmon with Cilantro Pesto and Queso Fresco

Chicken-Fried Beef Steak with Sausage Gravy

Sautéed Dover Sole Meunière with White-Wine Lemon Sauce and Seasonal Vegetables

Chicken Breast Sautéed with Cherry Tomatoes, Red Onions, and Roasted Bell Peppers in Tomato Cream Sauce Served Over Penne Pasta

Sautéed Trout Amandine with Brown-Butter and Lemon Sauce

Madeira-Glazed Mixed Mushrooms with Fresh Herbs

Quick-Sautéed Wilted Spinach with Creamed Spinach
The information provided is based on a general industry overview and is not specific to your business operation. Each business is unique, and decisions related to your business should be made after consultation with appropriate experts.