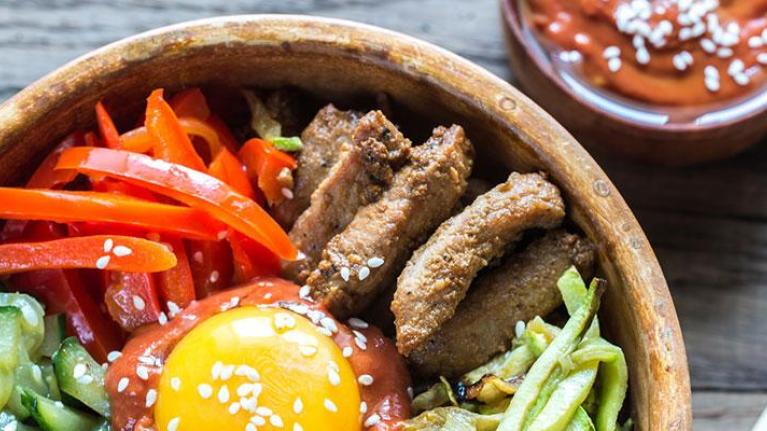 8 Hot Food Trends You Need to Know
October 19, 2016
Flavor trends can be fickle, but in the long run it pays to stay current. Make friends with these eight super-hot trends.
1. Poke It
The hot new appetizer and healthy main course is poke, the Hawaiian-style fish salad that appears in restaurants, supermarkets, and at parties all over the islands, and is now sweeping the mainland. Pronounced poʊˈkeɪ, this flavorful seafood specialty takes off where sushi and sashimi leave off, traditionally featuring raw fish such as yellowfin tuna combined with seasonings such as sea salt or soy sauce, sesame oil, and chili pepper. New-style poke, however, can be translated and enlivened in a variety of ways, to feature salmon, cooked shrimp, clams, avocado, spicy mayonnaise, kimchi, fresh chiles, and much, much more. It's also being turned into entrée-size bowls over rice with all kinds of customizable additions.  
2. Next-Gen Chiles
Jalapeños, we love you but these are not the only chiles on the block. From mild Anaheims to incendiary ghost peppers, chiles are everywhere, bringing heat and romance to foods far beyond the traditional global origins of countries like Mexico, India, and Peru. Hotheads love not only the varying degrees of heat contained in so many different peppers, but also the flavors, which can range from fruity (dried ancho) to smoky (chipotles). And peppers such as Peruvian aji panca or Thai chiles are an instant reference to global flavors and international food specialties.
Get Started: Nestlé Professional offers a number of products that put the heat within range of any kitchen, including Minor's® Chipotle Flavor Concentrate, Fire Roasted Poblano Flavor Concentrate, Fire Roasted Jalapeño Flavor Concentrate, and Ancho Flavor Concentrate. 
3. Smoke and Flavor
The flavors of fire are heating up, from smoking and charring to browning and blackening. The cooking process of smoking references barbecue, from the American South to Korea, and can encompass a variety of different woods (sweet fruitwoods or pungent mesquite) as well as other fuels such as vine cuttings and herbs. Charring and searing—once reserved for proteins—are now being used to bring signature treatment to vegetables, while items like brown butter and blackened prime rib take advantage of other flavorful cooking techniques.
4. The Power of Sour
Citrus and vinegar, pickles, fermented foods like kombucha: This is your food on acid. These and other bracingly tart ingredients add balance and interest to foods, elevating recipes beyond the expected. Even sour beers, such as gueuze, are taking off in popularity as customers seek this once-overlooked element of flavor. The desire for sour flavors is behind the growing popularity of Greek yogurt, sauerkraut, balsamic and other specialty vinegars, and citrus desserts like lemon meringue pie.
Did You Know? Minor's Lemon Wine Sauce represents an easy way to bring the uplifting flavor of lemon to a variety of foods.
5. Grits and Polenta Go Upmarket
Just don't call these comforting, on-trend products "mush." Corn grits are moving beyond the growing popularity of Southern cuisine, where they broke into the mainstream as part of shrimp and grits, while polenta is riding the wave of interest in Italian regional cuisine. Today, grits and polenta have become delicious, cross-cultural side dishes, as well as the basis for signature small plates and appetizers. Their relatively neutral flavor and creamy texture means that they can be customized in a variety of different ways, with the addition of flavorful ingredients like sauce or gravy, grated cheese, chiles, and more.
Try This: Serve soft polenta or grits as a base for saucy foods like short ribs, instead of mashed potatoes. Or pour cooked polenta into a sheet pan, chill, cut into squares and use the resulting "crostini" for a variety of other foods, such as melted Gorgonzola cheese or pâte.
6. What's in a Brand Name?
From cheese made by local artisans to popular spirits brands specialties (see, for example, TGI Friday's longtime-popular Jack Daniel's Grill), operators are having tremendous success giving menu shout-outs to well-known or prestigious brands. Showcasing brands adds a quality statement that confers value and differentiates your offerings from the competition's. Popular brands are also "pre-sold" to customers, in the sense that they are already familiar, which makes them especially handy for introducing new menu items or flavor platforms.
7. Allergy-free
With more than 160 foods that can cause allergies, and an estimated 15 million Americans affected, food allergies are a big safety issue for operators. Moreover, the situation is evolving quickly: Many consumers, particularly Millennials, view foods that are free of certain trigger foods as healthier and more appealing. This is particularly true of gluten free foods (and also, to a lesser extent, foods that do not contain lactose/dairy). That's the reason for the tremendous surge in gluten free menu items on food service menus in recent years—according to one source, the target audience for gluten free food may be 44 million strong.
Did You Know? Nestlé Professional has nearly six dozen gluten free products, ranging from Minor's and Maggi bases and sauces to Stouffer's® fully prepared foods and Coffee-mate®.
8. Bowling for Dollars
Far from being a flash in the pan, food served in bowls has grown to encompass all manner of menu concepts, from breakfast oatmeal and porridge to dinnertime Korean barbecue, from healthy grain bowls and salads to dessert-like acai bowls. For the customer, bowls are fun, portable, and endlessly customizable; for the operator they offer menu variety and back-of-the-house versatility in a format where the individual components can be prepped ahead and cross-utilized almost endlessly.