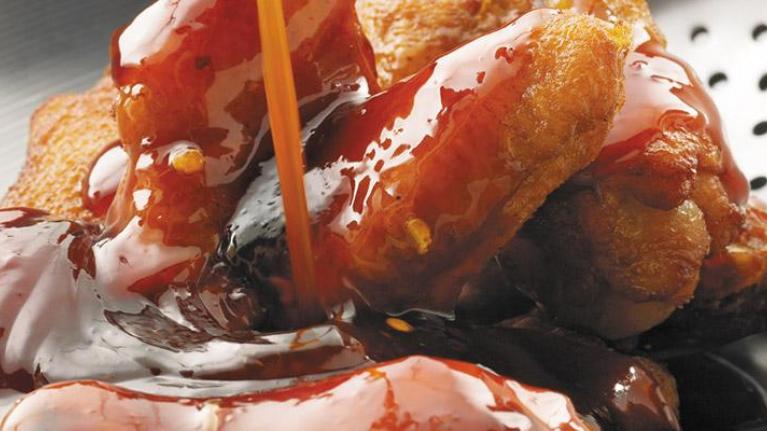 Use Speed Scratch For Fast Flavor
October 19, 2016
Get the flavor of scratch in a fraction of the time with our speed-scratch tips and hacks. Find out which fully prepared and ready-to-use components will work for you.
From high-quality recipe components to fully prepared and ready-to-use menu items, value-added products can be a boon to any foodservice kitchen. This is the power of speed scratch.
Bases and sauces represent one of the most common speed-scratch strategies. In addition to being used to create stocks and soups, Minor's® and Maggi® paste bases can be used as rubs for meats, flavor boosters in braised dishes, and as building blocks for marinades and sauces. These bases can be added to any item that would benefit from a little extra flavor. Add a complementary base to cooked vegetables or bean dishes, enliven hash browns, or enrich egg dishes such as quiche.
Minor's Flavor Concentrates represent another building block for signature dishes, particularly when introducing complex Latin or Asian flavors to the menu.
Get Started: Flavor Means Business includes many tips and recipes for using Minor's products in a variety of different ways. In addition, check out these handy Plus One guides for more ideas on how to use Minor's sauces, flavor concentrates, and bases, as well as Maggi Seasoning and Stouffer's® Alfredo Sauce.
Ready-made sauces are easy to use as is, whether you choose traditional options like Chef-mate® Cheese Sauces or add a signature touch to recipes with Minor's RTUs, such as Honey Citrus Pepper RTU Sauce and classic Teriyaki.
Did You Know? With the official launch of Minor's four-year, multimillion-dollar Ready to Flavor™ initiative, the brand's bases, flavor concentrates, and sauces can now be safely used in both hot and cold applications, without the added step of cooking. 
Sauces can also be tailored to your own menu needs with interesting additions. For example, start with a basic béchamel; add a bit of curry powder or some fresh chopped herbs such as parsley and dill for a sauce for fish, marinara to create a creamy pasta sauce, mustard, sautéed mushrooms . . . the list goes on. Stouffer's® Alfredo Sauces can be treated in the same way, as a flavorful, creamy starting point for other signature-making applications, including pasta specialties. Or:
Use in a casserole or au gratin

Flavor mashed potatoes or other vegetables by substituting a flavored white sauce or Alfredo for some of the liquid

Customize with the addition of pesto, caramelized onions, crumbled bacon, and so on

Use in cream soups, such as Creamy Chicken and Wild Rice or Seafood Bisque

Mix with vegetables and a protein (optional) for a main course stuffed baked potato
Fully Prepared Convenience
Fully prepared items also make great starting points for signature dishes. Macaroni and cheese is already a multitasker, perfect for a side dish, entrée, or kid's meal item—as-is or embellished with other ingredients, such as stewed tomatoes or Buffalo chicken ingredients—but look what else it can do:
Use as an over-the-top topping for burgers or a "mac dog"

Layer with meat and bake, to serve lasagna-style

Use in place of, or addition to, sliced or grated cheese in a grilled cheese sandwich

Serve with a caddy of garnishes, such as chopped cooked bacon, scallions, shredded cheese, and sunflower seeds, so guests can customize

Fry into mac-and-cheese fritters, with or without a dipping sauce such as marinara

Add breadcrumbs and bake in mini muffin tins for a bar snack or catering item
Tip: Nestlé Professional has several varieties of ready-to-go macaroni and cheese, including Stouffer's Traditional Macaroni and Cheese, Macaroni and Cheese made with Whole Grains, and Lean Cuisine® Macaroni and Cheese.
Stouffer's has other products that can be used in speed-scratch applications. Try Spinach Artichoke Dip as a stuffing for mushrooms or other vegetables, or as a creative layer in a vegetarian lasagna. Cheese sauce has an adaptable flavor profile that lends itself to signature preparations, with the addition of ingredients such as beer, chopped bacon or crumbled cooked chorizo, or chunky tomato sauce; it can even be used as the base for a lively Mexican-style cheese soup.
It's All Gravy
Talk about a menu workhorse: Gravies of all kinds are the ultimate speed-scratch solutions. Convenient gravy products from Trio, Minor's, and Chef-mate, as well as Minor's Beef Demi Glace, can be used in ways that go way beyond the mashed potatoes.
As a dip for fries or "tots," or for a classic poutine

In casseroles, shepherd's pie, and pot pies

As a binding for meat loaf or meatball mixtures, and in croquettes

As a flavor-building thickener for soup

For au jus, French dip, open-face, and other whole-meal sandwiches

In a simmer sauce for pot roast, chicken fricassee, and other braised proteins