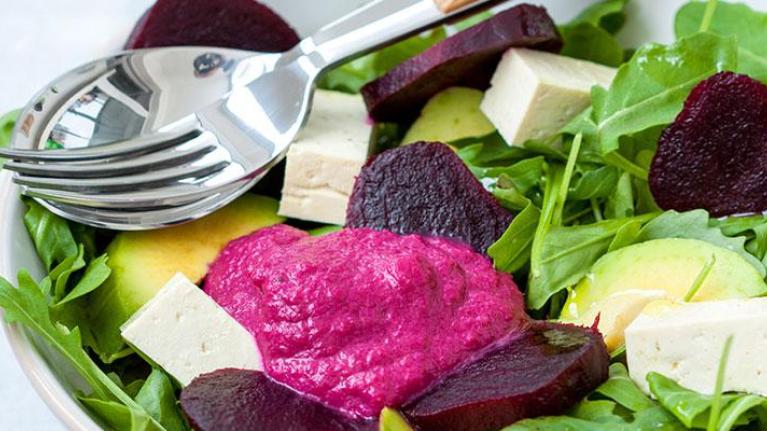 Nutrition, Health & Wellness
12 Ways to Add Health and Appetite Appeal to Your Menu
April 19, 2017
What do patrons want, better-for-you menu items or indulgent ones? Learn how to balance the two and please more customers. We have pointers and recipes.
Patron concern about nutrition, health, and wellness has been an ongoing source of confusion for many food service operators. Do customers want to stick to their eating patterns when they're dining out, or are they looking to break the boredom with an indulgent treat? Do they want calorie information before ordering, or would they prefer to look the other way? If they are following a special diet, is it high-protein, plant-based, superfoods, gluten-avoidant, eating "clean," portion control, Paleo, or . . .
All signs seem to be pointing to a very free-range approach. According to The NPD Group, in fact, US consumers will take a personal approach to their health and wellness in 2017. Wearable devices that track footsteps and apps that track calories help consumers develop their own personal plans to meet their individual needs, and even though traditional dieting is on the decline, "my own diet" is still rising as the most common way consumers take control of their intake. It's not so much that any one eating style is more healthy than another, but that various customers believe that their particular diet is best for them.
Don't Forget: Healthier beverage options are an important part of any feel-good menu strategy. For some ideas on what to offer, see below.
There's a balancing act of course. When dining out, customers are not necessarily looking for healthy options. In fact, according to the 2016 Datassential New Healthy Keynote Report, consumers are more likely to seek out variety and value. This is because many Americans view away-from-home dining as a treat, and while they may look at the more healthful options, they may order something more indulgent instead. In many instances, however, what these consumers may actually be looking for is something to eat that's not only healthy, but that's also flavorful, interesting, and feels like a reward.  
Here are some ways to answer the call for foods that customers can feel good about, without feeling deprived, by offering:
Plant-based or vegan menus that eschew animal products altogether, or vegetarian models that include eggs and cheese.
Alternate protein sources such as beans, nuts, and seeds, as well as seitan and tofu.
Menu categories or items that showcase healthy grains, vegetables, and fruits, including appetizers, soups, salads, entrées, side dishes, and desserts.
Foods associated with specific health benefits, such as salmon, berries, pomegranate, kale, and yogurt.
Paleo and other protein-diet items utilizing lean beef, fish, and eggs, as well as fresh fruits and vegetables accompanied by seeds, nuts, and oils such as olive and flaxseed.
Organic and natural ingredients, as well as products like free-range beef, cage-free eggs, and pastured chicken.
Nutrition-based initiatives, such as replacing sugar with natural sweeteners, or reducing fat and salt in recipes.
Portion-size choices, including full and half-portions, multiple small plates, minis such as sandwiches and desserts, and indulgence items for sharing.
Allergy-friendly items that allow patrons avoiding such foods as gluten, nuts, soy, dairy, and so on.
Cooking methods designed to reduce additional calories, such as poaching, roasting, and grilling rather than frying.
Local, sustainable, and ethical sourcing methods, such as fair trade.
Benefits of partnership on an initiative such as Menus of Change (a joint project of the Culinary Institute of America and the Harvard T.H. Chan School of Public Health) to create healthy, sustainable menus.
Any of these eating models can accommodate the kind of variety, quality, and overall experience that's normally associated with mainstream restaurants and other food service venues:
Menu categories that allow for multiple courses within an overall dining experience, including appetizers, small plates, and shareables such as pizza; meatless entrées such as zucchini lasagna or marinated portabello mushroom steak; and sandwiches and other more casual fare
Creative, chef-driven recipes utilizing high-end ingredients and sophisticated cooking methods, such as sauté and wood-oven roasted
Alcoholic beverage programs, where appropriate, including cocktails, wine, and beer
Information and transparency via such vehicles as point-of-sale materials, website/app, menu copy, available nutritional counseling, and so on
Did You Know? In addition to helping hungry diners find feel-good dining options, the Healthy Dining Finder works with operators to help them make their menus and recipes more compliant.
Sources: www.npd.com; Datassential New Healthy Keynote Report, 2016; Flavor and the Menu, www.getflavor.com; www.healthydiningfinder.com; www.menusofchange.org
DID YOU KNOW?
Better-for-you beverages are an important part of any strategy to meet customer demand for healthier options. These include:
Juices and juice blends, including Sunkist 100% Frozen Juice Concentrates
Organic, natural, and biodynamic wines
Hot and iced tea
Nut milks and other nondairy beverages
Brewed coffee, iced coffee, and espresso
Reduced- or zero-calorie beverages
Reduced-calorie or -carbohydrate beers
Enhanced flavored waters
GET STARTED
Nestlé Professional provides dozens of gluten free products as well as a number of gluten free recipes.