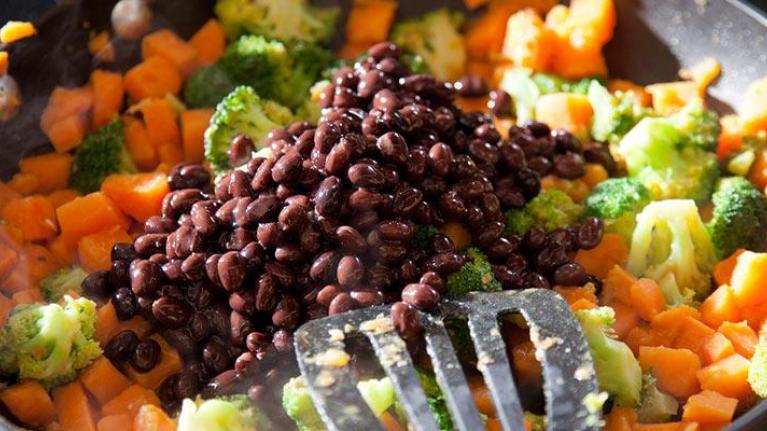 Vegetarian, Flexitarian, Vegan. Plant-Oriented Diets Are Growing
October 19, 2016
Hard-to-please Millennials and others are embracing plant-based diets. Learn why the trend fits into the pattern of sustainability, clean-eating, freshness, and global flavors. And how it fits your operation.
The plant-based trend represents a kind of perfect storm incorporating everything that resonates with consumers and is also trending in the food world right now: sustainability, freshness, global flavors, clean eating.
For Americans, plant-based diets have been an outlying trend since the 1970s, with readers of books like Diet for a Small Planet, followers of macrobiotics, and vegetarian types. Over the past four-and-a-half decades, however, lots of factors have pushed the plant-based diet into the mainstream:
Growing numbers of vegetarians and vegans (who eschew animal products of all kinds)

Demographic trends including the aging of the Baby Boomers with their obsession with longevity and healthful living, and the ascendancy of the huge Millennial (Gen Y) cohort, with its demanding approach to eating
Did You Know? According to the Hartman Group, Millennials are the most likely demographic to choose plant-based proteins when dining in restaurants, and 14% of Millennial diners said they would be most likely to order an all-plant-based meal when dining out. Members of Generation X were second most likely to order a plant-based option, with 10% saying they would choose a meatless meal, and Baby Boomers followed slightly behind at 9%.
Increased interest in flexitarian or part-time vegetarian eating patterns, including the popularity of Meatless Mondays and VB6 (vegan before 6 pm) diets

Mainstreaming concerns about sustainability, global warming, and the environment

A complete rewrite of the USDA Food Pyramid and the creation of My Plate, which advocates increased consumption of fruits, vegetables, and grains, and less meat

Focus on the heart-healthy Mediterranean Diet with its healthy fats, grains, and produce

A growing realization that "diet" does not equal "deprivation" and is not necessarily about counting calories or omitting certain foods. It's about a healthy pattern of eating that allows for indulgence and the enjoyment of all foods, in moderation

Growing reliance on local, seasonal ingredients—almost all of which are either farm-grown or wild

The rise of the vegetable-centric menu
Rising Menu Popularity
Vegetarian offerings are becoming increasingly popular, with 35.4% of menus offering a vegetarian item, according to Datassential Menu Trends. As the trend toward vegetable-centric dining grows, these offerings are moving beyond typical salads and side dishes, to include entrées that put vegetables at the center of the meal. Indeed, Datassential reports that 36.6% of all restaurants feature a veggie main entrée, and that figure has grown 6.3% over the past four years.
Surging interest in global cuisine, much of which is either vegetarian (such as Indian) or heavily reliant upon grains, legumes, and produce with meat added as a condiment (such as Chinese)

A new generation of chefs that bring style and flavor not only to vegetarian and vegan foods, but to more inclusive menus that also accommodate food allergies, gluten-free eating, Paleo diets, and more. In fact, many high-profile chefs are taking up the challenge to make plant-based meals more delicious—think of them as activists for the movement

The "clean eating" trend toward minimally processed, natural, "real," and clean-label products
In the past several years, the very conversation itself has shifted, from "vegetarian/vegan" to "plant-based." Though there are many different definitions of what constitutes a plant-based diet, for many people it does not omit meat entirely, but rather minimizes its consumption, making it easier to follow.
This is an easier path for restaurants to follow, too, since it can be hard to make money on a vegan/vegetarian menu. In today's climate, many consumers will still pay only so much for "just vegetables." Meat-based items or specialties with some meat in them balance out food costs, and also attract omnivores. In fact, the key to finding success within the plant-based space is creating food that's craveable enough to appeal to all diners, not just those avoiding meat. That may even mean avoiding the use of the v-word.
Opportunities
Although the plant-based trend has infiltrated virtually every corner of the food service universe, two major engines have been fast-casual restaurants and college/university (C/U) dining—not coincidentally, both of these are focused on the Millennial diner.
Both of these channels also typically share a culture that supports social consciousness, sustainable sourcing (often including organic and/or local produce and natural and/or humanely raised meats), and eco efforts such as recycling and waste reduction. And while the ingredients may be plant-based, the culinary emphasis is on flavor.
Get Started: Tap the global vegetarian and vegan repertoire with the help of Minor's® sauces and flavor concentrates with such products as Cilantro Lime Flavor Concentrate and Chile Garlic Sauce.
Here are some of the ways that operators are embracing the plant-based trend:
Silver Diner, a chain of American family restaurants based in Rockville, MD, is approaching its 20th anniversary with a menu that chef and co-founder Ype Von Hengst refers to as "flexitarian," with more options for vegans and vegetarians, and an immensely successful Healthier Selections section

At the University of California, Berkeley, Cal Dining has converted its popular Café 3 dining commons into what executive chef Jose Martinez describes as a 90% vegan/vegetarian facility that provides dozens of tasty, healthy options. These range from Lentil Bolognese Pizza and Thai Coconut Curry to Vegetarian Smoked Salmon Benedict and Moroccan Freekeh with Chickpeas. The only traditional animal-based proteins are offered on the signature Carving Station, which includes a daily seafood option and a roast such as chicken, turkey, beef, or lamb

At vegetarian fast-casual Superiority Burger in New York City, chef Brooks Headley—former pastry chef at Del Posto—set out to reinvent the veggie burger, and in the process helped to create a revolution in creative meatless burgermaking

In Sierra Vista, AZ, new plant-based menu items in the Canyon Café at Canyon Vista Medical Center include items like Vegetable Casserole, Veggie Lovers Pizza, and Garden Pasta Soup, designed to meet the needs of visitors as well as staff who prefer meatless meals. The new menu items were incorporated after staff participated in a two-day, hands-on training event held in partnership with the Humane Society of the United States

Fast-casual Hip City Veg, in Philadelphia, creates favorites like burgers, cheesesteaks, chicken clubs, and more in vegan versions, using plant-based foods like tempeh and tofu

Students at P.S. 224Q in Flushing, NY, have been enjoying an all-vegetarian menu since 2013—as well as healthier BMIs (body mass indexes) and fewer sick days, which has led to improved test scores and academic performance. This year a second school has followed suit with the help of the Coalition for Healthy Food School

Wildflower Bread Company, with 14 units in the Phoenix area, sports a fast-casual menu that doesn't advertise itself as vegetarian or vegan—and isn't peppered with V symbols—yet the selection is full of produce-forward items like Seared Cauliflower Steak and Three Cheese Mushroom & Tomato Fritters

Desimone's, the employee cafeteria for Facebook in New York City, features multiple meatless menu items every day, ranging from Ecuadorean Corn and Egg Scramble with queso fresco and cilantro to Sweet & Spicy Cauliflower, plus a Clean Bar with such choices as steamed freekeh and dandelion greens

Fast-casual Lemonade, based in California, touts such seasonal California comfort food as Black Kale + Mushrooms with Red Chili + Kumquat Vinaigrette. This "modern marketplace" also utilizes "mix and match" across its entire core menu to allow patrons to design their own meals