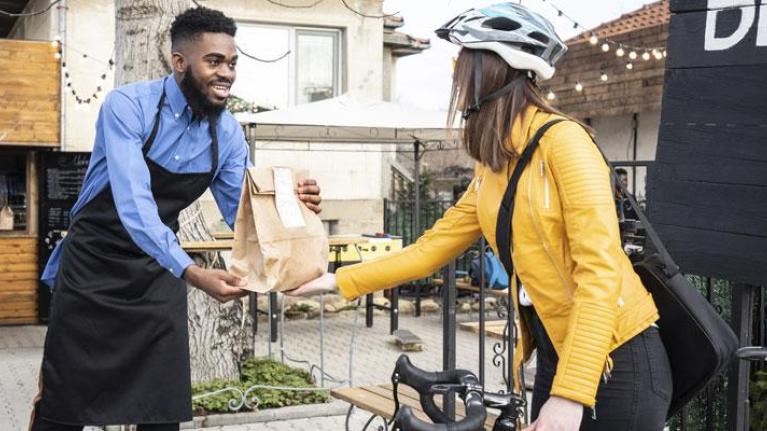 15 Innovations That Came From the Pandemic
July 1, 2021
The pandemic forced foodservice to innovate. Some of the best ideas are likely to stick around for a long time. Read which can work for you, plus find out the trends to watch.
For all its trials, the pandemic era has had a silver lining for the foodservice industry: tremendous innovation. As operators pivoted, and pivoted again, to keep the cash registers ringing and staff employed, many hit upon ideas that will likely outlive the coronavirus.
There's a reason, for instance, that mentions of "grocery stores" in restaurant reviews rose 22% according to the Yelp 2021 Trend Forecast. And that 55% of consumers say they would be likely to participate in a meal subscription program if it was offered by one of their favorite restaurants, as revealed in the National Restaurant Association's 2021 State of the Industry Report. These ideas and more revealed customer appetite for new conveniences, and innovative operator solutions to staying in business.
Create an Order My Usual button on a web-enabled takeout menu that allows patrons to easily place a recurring order of favorites.
Sell sauces, dressings, signature condiments, fresh pasta, pizza dough, and heat-and-eat menu signatures from a commissary kitchen's regular prep.
Turn a private parking lot into a carhop-style dining venue; create retro food and beverages like milkshakes and chili dogs to continue the fun.
Set up a screen and projection capabilities in a place for customers to watch events—cult movies, "live music," local sporting events, election results—with themed food and beverages both alcoholic and non—at special prices.
Offer takeout beverages such as iced coffee and tea, flavored lemonade, enhanced water, and other signature refreshers by the (customer-supplied) growler or thermos.
Provide secure parking or storage for all the bicycles now being ridden by urban dwellers who swapped public transportation for pedal power.
Convert the yurts, mini greenhouses, and other temporary outdoor structures into permanent venues for small parties, perhaps with a tasting menu and beverage pairings.
Offer a special value-priced family-style or group menu of the week for dine-in or takeout.
Host virtual cooking classes, foraging or farmer's market expeditions, or wine tastings, either independently or through a curator like Resy or Airbnb.
Form a collaborative with colleagues to offer multiple small-batch prepared foods that allow customers to pick and choose.
Use a subscription model to raise cash and simplify forecasting, where customers pay ahead at a discounted price for future meals.
Get on a searchable list of local restaurants that offer contactless pickup, curbside delivery, outdoor dining, or other pandemic-era conveniences and features.
Sell fresh menu ingredients like premarinated meats, oysters, prepped side dishes, and fresh-from-your farmer produce, cheese, eggs, and dairy products.
Offer a menu signature like chowder priced by the portion-size ladleful, portioned into a patron's container.
Continue a program indefinitely where patrons can buy a meal for a local healthcare worker, first responder, or other essential worker—or create a vehicle whereby regulars can buy the staff an after-shift round as a special gratuity.
The information provided is based on a general industry overview, and is not specific to your business operation. Each business is unique and decisions related to your business should be made after consultation with appropriate experts.
PANDEMIC CHANGES, BY THE NUMBERS
52% of consumers say they're more likely to mix restaurant items—such as a main dish, side, or dessert—into their home-prepared meals than they were before the pandemic.1
52% of consumers say they'd be likely to purchase fresh, uncooked food items such as meat, produce, dairy, bread, or pasta, if they were offered by one of their favorite restaurants.1
35% of off-premise customers age 21+ (53% of Millennials) say they'd be more likely to choose a restaurant if they can get an adult beverage with their takeout food order.1

Continued on next slider
PANDEMIC CHANGES, BY THE NUMBERS (CONT.)
38% of on-premise and 33% of off-premise customers say their restaurant choices will be influenced by whether the menus include the comfort foods they crave.1
Long-term, 56% of people say they will continue to avoid crowds; 52% will avoid unnecessary travel; 46% will spend less time inside stores; and 45% will dine out less often.2
Nearly 75% of consumers are shopping more online than they were a year ago.3
Bicycle sales jumped 50% in 2020 vs the year before, triggering a years-long shortage.4

Continued on next slider
PANDEMIC CHANGES, BY THE NUMBERS (CONT.)
U.S. travel spending was expected to fall by more than $500 billion in 2020 and is not expected to recover to pre-coronavirus levels until 2024.5
33% of Millennials have found that they like cooking at home more, which may make it harder to entice them back to restaurants.6
42% of guests will crave engagement, but 32% will prioritize convenience.7
Nearly a quarter (24%) of Americans report eating more breakfast foods during the COVID-19 pandemic than they normally would. Further, nearly four in five Americans (79%) have eaten breakfast foods outside of the traditional breakfast meal in the past year.8

Continued on next slider
PANDEMIC CHANGES, BY THE NUMBERS (CONT.)
Sources: 1. National Restaurant Association, 2021 State of the Restaurant Industry Report. 2. Modern Restaurant Management, Pandemic Effect on F&B Marketing Trends (2021). 3. Attentive, 2021 SMS Marketing Consumer Trends Report: What Brands Need to Know. 4. The NPD Group (2021). 5. U.S. Travel Association (2020). 6. Datassential COVD-19, Report #47. 7. NPD. Health Aspirations and Behavioral Tracking. 8. Harris Poll (2021).