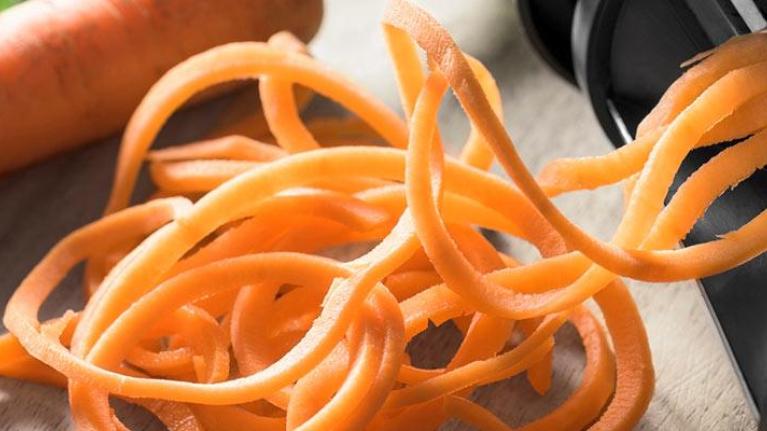 20 Ingenious Hacks for You
October 19, 2016
Call them tricks, tips, or hacks: you'll love these ingenious timesavers. We have 20 ways to speed prep, reduce waste, and generally make life in the kitchen simpler.
In the food service kitchen, a minute saved is a minute earned—or even more. Here are some quick ideas for making life easier, as well as a few easy menu-making tips:
Instead of hard-boiling eggs, cook them in the oven, a hands-off method that also yields a creamier texture (perfect for salads and appetizers). Place eggs in mini muffin tins and bake at 325 degrees for 30 minutes, then transfer to cool water for 10 minutes.

Choron sauce is an easy, colorful hollandaise sauce variation that's delicious on both protein and vegetable specialties.
Get Started: Hollandaise sauce is easy when you start with Minor's®. But the choron concept also works with Trio® White Sauce & Cream-Style Soup, and Stouffer's® Alfredo.
When grilling a steak, chicken breast, vegetables, or thick piece of fish, cover the food with an upside-down sheet pan or stainless steel bowl to infuse it with extra smoky flavor.

Spiralizers are fun and quick, and you can make vegetable "noodles" and lots of garnishes with them. Freeze softer cheeses like goat cheese to make them easier to grate or crumble.

When making biscuits, crowding the pan tightly with the dough rounds will force them to rise higher in the baking process.
Get Started: What goes with biscuits? Chef-mate® and Trio country-style gravies.
For a quick way to add a spritz of acid to foods, keep seeded lemon wedges handy: Slice off both ends of a lemon, cut in half lengthwise and cut each half into four wedges; lay each wedge on a flat side and trim away pith and seeds.

While you're at it, turn lemon (or other citrus) rinds leftover from juicing into a flavorful dressing or marinade by finely chopping the rind into a standard lemon-based vinaigrette flavored with garlic, or purée in a blender.

Fennel is growing in popularity as both a vegetable and a flavor enhancer, but the vegetable is notoriously hard to prep. Here are some knife tricks to share with kitchen staff.

Finish or reheat cooked pasta in its sauce to produce a more melded, flavorful result.

Keep a squeeze bottle of water (or broth) at every station on the line—to keep sauces from over-reducing, for deglazing, or to add a splash of creaminess to pasta.
Get Started: Bases from Minor's and Maggi® are perfect for making stock, in a variety of different flavors.
Cook large batches of bacon in the oven, on a rack over a sheet pan.

If a savory recipe is boring, out of balance, or just "needs something," try adding a little Maggi Seasoning. It's the secret ingredient that adds umami and oomph.

Use Nestlé® Toll House® Chocolate Chip Cookie Dough or batter to make waffles.
Get Started: Nestlé Toll House offers a variety of chocolate morsels for any kind of preparation.
Wrap unused cheese loosely in a paper towel dampened with vinegar, and then in a plastic bag, to keep it from drying out.

Save vegetable peels such as beet, carrot, and ginger, then roast in a hot oven, grind and mix with sea salt for a custom finishing salt.

Save the liquid drained from canned beans (aqua faba) to thicken sauces and stews, or to make a vegan "mayonnaise."
Did You Know? Most Minor's products are Ready to Flavor, meaning that they can be used in both hot and cold applications without the added step of cooking first.
Fully prepared entrées from Stouffer's® and Lean Cuisine® make quick work of employee meals.

To extend saffron, toast the strands in a dry pan, then "bloom" in warm water, in a ratio of one cup of water to ½ teaspoon saffron. Two tablespoons of water will be as flavorful as that original pinch of saffron.

For fluffier quinoa, steam the grain after simmering it, which can be done to order.

Fresh whole, chopped, or sliced chiles in season can be frozen, to use in salsa, soups, and other chopped, puréed and/or cooked applications.