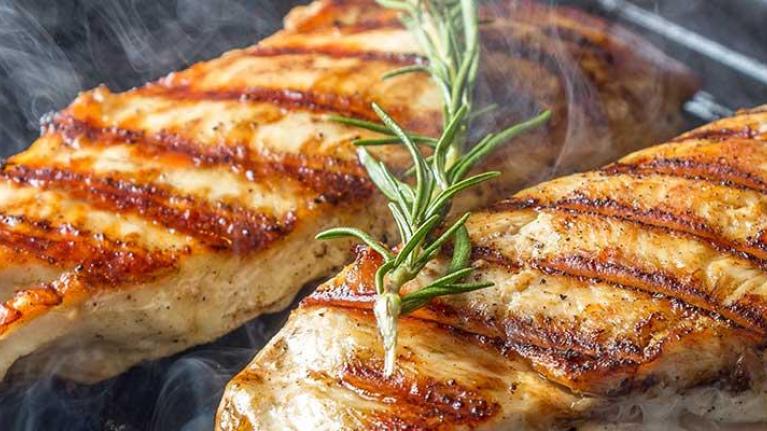 9 Great Ways to Menu More Chicken
October 19, 2021
Operators and customers love chicken for its versatility and low food cost. Keep everyone happy with nine great ideas on how to build poultry profits.
Chicken has always been an all-American favorite, but now that prices for other proteins, especially beef and seafood, are on the rise, food service operators are looking for new ways to serve the bird. Chicken's neutral flavor and healthy nutritional profile make it especially adaptable to consumer demand and multiple menu styles.
Chicken and Waffles
A Southern soul food tradition, fried chicken served with waffles and chicken gravy or butter and syrup is making the transition onto brunch and supper menus nationwide; even Chick-fil-A is testing them. There's also a Pennsylvania Dutch version that subs in roast or stewed chicken and gravy for the fried (a great usage for extra cooked chicken). The waffles can be varied with the addition of ingredients like cornmeal or sliced scallions, making the dish easy to turn into a signature recipe.
Get Started: Trio® and Chef-mate® offer a wide variety of tasty, easy-to-use gravy products, including Au Jus, and Chef-mate Country Sausage Gravy.
Fried Chicken
The ultimate high/low chicken specialty is showing up everywhere from quick-service to specialty restaurants, where it's often served family-style or as a Sunday blue plate special, with accompaniments like biscuits, greens, mac-and-cheese, and other homestyle sides. Brines and rubs like pickle juice, buttermilk, and mixed spice rubs not only add flavor and moisture, they also help create a signature menu item. There are even restaurants, like Blue Ribbon Fried Chicken, that specialize in this food that everyone loves, but no one cooks at home.
Get Started: Minor's® Flavor Concentrates are perfect for brining chicken and other meats, from Herb de Provence to such Latin specialties as Fire Roasted Poblano.
Salad Variations
Sure you can top a Caesar salad with grilled chicken breast strips, but there are so many other ways to offer this popular protein in healthy main course salads. Traditional inspirations include Cobb Salad (often topped with cubed or shredded chicken or turkey) and Chinese Chicken Salad, but concepts like Chicken Salad Chick and BJ's offer a raft of mayo- and greens-based chicken  salad variations.
International Inspirations
Chicken is enjoyed the world over, a happy fact that means there's no shortage of interesting menuing ideas, including:
Vietnamese chicken pho

Caribbean jerk chicken

Hungarian chicken paprikash

Japanese chicken teriyaki

Russian-style chicken Kiev

Creole chicken and sausage gumbo

Mexican chicken enchiladas

Indian tandoori chicken

Filipino chicken adobo

Italian chicken Parmesan

Greek chicken souvlaki
Wings and Things
For a menu specialty that's been around so long, it's amazing how much the demand for chicken wings and related handheld products—tenders, boneless wings, chicken poppers—just keeps growing and growing and growing. Small wonder: These delicious little finger foods can be grilled or dried, spicy or mild, and seasoned in literally thousands of different ways, from familiar Buffalo-style to more exotic Thai green curry and Honey Sriracha. There's even a specialty restaurant in New York City, called Sticky's Finger Joint, which serves boneless chicken fingers and poppers in flavors like garlicky Vampire Killer and sweet-salty Salted Caramel.
Chicken Sandwich Upgrades 
According to restaurant research firm Food Genius, chicken is the most-featured protein in the super-hot sandwich and wrap category, at 83% and 80%, respectively, thanks to increasingly creative menuing. Examples include items like the Southwestern Baja Flatbread at KFC's new eleven sister concept, and the Wadmalaw Chicken Sandwich at Pawleys Front Porch in South Carolina, dressed with chipotle barbecue sauce, fried pickle chips, applewood smoked bacon, and cheddar cheese. Nest Burger, which boasts of "the best chicken sandwiches in Dallas," serves three: grilled teriyaki chicken, crispy marinated chicken breast, and pan-fried pecan crusted chicken breast. 
Did You Know? It's easy to add the excitement of chiles and other distinctive ingredients to your menu when you start with Minor's Flavor Concentrates, in such formulations Chipotle and Cilantro Lime.
Better Roast Chicken
If you think roast chicken is roast chicken, think again. Chef-driven restaurants are upping the game with elevated takes on this favorite meal, often served for two or more, part of the "large-format" menu item trend that's sweeping the country. At newly remodeled Tosca Cafe, in San Francisco, for instance, there's a crowd-pleasing cooked-to-order Chicken for two served on crisp toasts with ricotta, pine nuts, and Marsala sauce. And at the NoMad in New York City, the dish to have is the stuffed roast chicken served two ways: the roasted breast, and a separate sauté-finished cocotte of dark meat, accompanied by foie gras brioche, corn, chanterelles, and the ancient grain known as freekeh. That'll be $82 for two, please. 
Comfort Food
Chicken is the star of some of the most comforting foods around, from traditional favorites like Chicken Pot Pie and Chicken Fricassee  to ethnic favorites like Puerto Rico's beloved Arroz con Pollo (chicken and rice) or Brit-Indo Chicken Tikka Masala (chicken marinated in yogurt and spices and then served in a tomato cream sauce).  Comforts also represent an ideal utilization for products like extra rotisserie or roasted chicken, precooked chicken breasts, and value-priced dark meat—in fact, full-flavored chicken legs and thighs retain moisture well and are more forgiving to cook than delicate white meat. 
Get Started: The Nestlé Professional recipe file is filled with comforting chicken-based recipes, including Country Chicken Pan Pie and Chicken and Rice Soup. 
Chicken Soup
This is it: The most enduringly popular soup variety of all. But beyond traditional chicken noodle and chicken rice, there are dozens of different kinds of chicken soup, running the gamut from elegant cream of chicken soup to exiting Tortilla Soup and spicy tom kha gai from Thailand, rich with chili paste and coconut milk. In fact, you could easily have a different chicken soup for every day of the month and never repeat. And even if you use a recipe that's called chicken soup, this category represents an excellent vehicle for other healthy ingredients, including beans, greens, vegetables, and grains like barley and wheat berries.
Get Started: Minor's Gluten Free Bases—including Gluten Free Chicken Base made with Natural Ingredients, and Low Sodium Chicken Base Gluten Free—are the start of all sorts of healthy and delicious soups.