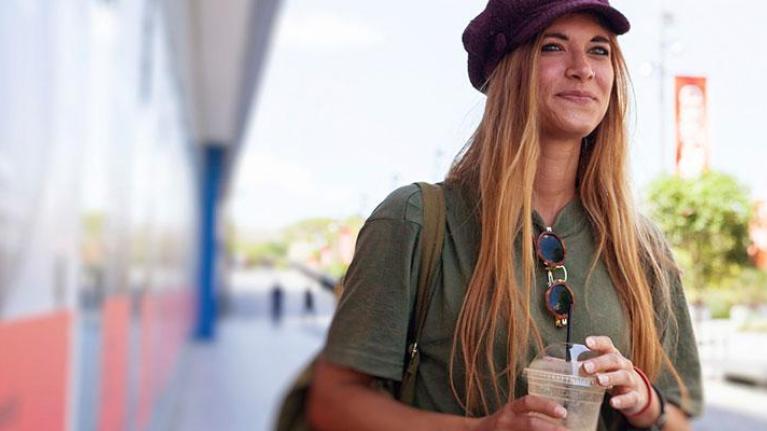 Customizing Convenience
October 19, 2016
Millennials want made-to-order drinks and they want them fast. Can you deliver?
Foodservice operators face a challenge: today's busy Millennials want their beverages fast, but also fresh, healthy, and in some cases, customized to personal needs and desires. These appear like conflicting demands, but innovative products and service models make balancing convenience and quality easier than ever.
Millennials' consumer demands are unique because Millennials consume in a unique way. The traditional boundaries between home and work have dissolved. Today's generation is likely to hold business meetings at a coffee shop, host friends at their office, and grab a snack — while sending a few emails, checking social media sites and sharing their latte art — on the road in between. And these days, they're increasingly snacking on a drink — 27% of the time, in fact, according to a FONA study.
Millennials' top motivation when getting beverages away from home is convenience, according to Datassential. And yet, the rise in specialty coffee and healthy, functional juices and smoothies means today's consumers expect these drinks to be high quality; coffee is no longer a simple morning pick-me-up and juice is more than mere refreshment.
Even doughnut shops added smoothies to their menus for a more nutritious alternative to a glaze and coffee. Now blenders whirr at a variety of quick service restaurants to meet the demand for fast and fresh. In fact, places like these make up 40% of the $3.5 billion juice and smoothie market, according to the Juice and Smoothie Association. But consumers want more than speed. Handmade juices and smoothies are more appealing than ready-to-drink options, says Datassential, and so are those free from artificial ingredients like high-fructose corn syrup, preservatives, and artificial sweeteners. Datassential reports that the most popular juice flavors remain traditional: think orange (found at over 60% of quick service restaurants), apple, and cranberry. But data from Datassential and Technomic also shows consumers are interested in "innovative and less common flavors," including wholesome, vegetable-based juices.
The humble coffee break, too, is now expected to be a more nutritious, refined — even luxurious — experience. Data suggests that specialty coffee is considered a "treat" and coffee is often a social or business motivated purchase, not just a routine jolt to start the day. That means simpler pour-overs and espresso-based drinks have elbowed sweetened, flavored blends off of menus, and come with new choices of alternative milks and sugars. Soy, coconut, and almond milk, and sweeteners such as stevia and agave syrup allow for health-focused customization.
But new technology helps coffee shops keep up. Machines like the Clover, the Blossom One, and NESCAFÉ offer innovations like pre-set recipes and adjustable brewing controls to cater to customer tastes. They also prepare drinks faster, with less technological expertise and training required of the barista. Moreover, creamers in trendy flavors like Pumpkin Spice and Peppermint Latte, as well as sugar-free Coffee mate and all-natural Coffee-mate natural bliss let customers adjust drinks to their diet and flavor preferences.
Hip new juice flavors come ready-to-drink as well — premade juice and smoothie mixes go beyond orange and apple with mango, mixed berry, and even piña colada, adding exotic twists without artificial flavoring. The hum of a blender trumps the snap of a sealed bottle cap, but even though mixed-to-order drinks have more appeal, bottled blends are more convenient and have evolved apace with customer demand. The market for bottled functional drinks has exploded 166% since 2009, according to FONA. These crossover drinks are more than just a gulp on the go; vitamin-infused flavored waters and performance-focused juices serve multiple purposes — refreshment, energy, and even workout recovery.
Millennials want to have their cake and drink it, too — and they want it nutritious, functional, and customized. With new ready-to-drink offerings, alternative all-natural choices, and innovative, customizable technology, food service institutions can deliver the fresh, exotic flavors customers want at the speed and convenience they demand.
About Nestlé Professional Beverages
Nestlé Professional Beverages offers an exciting and growing portfolio of hot and cold, non-carbonated beverages including juices, teas, enhanced waters and black and specialty coffees. Our leading brands, including Coffee-mate, Nestlé Vitality and NESCAFÉ in combination with proprietary dispensing technology and custom solutions backed by an unparalleled service network, are all designed to help customers maximize their beverage sales and profits. Nestlé Professional Beverages is part of Nestlé S.A. in Vevey, Switzerland—the world's largest food and beverage company—with sales of over $98 billion.
 
Sources: Fona International http://www.fona.com/resource-center/blog/millennials-functional-beverages, (2015) | Datassential • BUZZ Coffee & Tea Tracker, Q1 2014, 2015 • Nestlé Cold Beverage Tracker 2015 | QSR Magazine and JASA  https://www.qsrmagazine.com/consumer-trends/bringing-juice (2013)