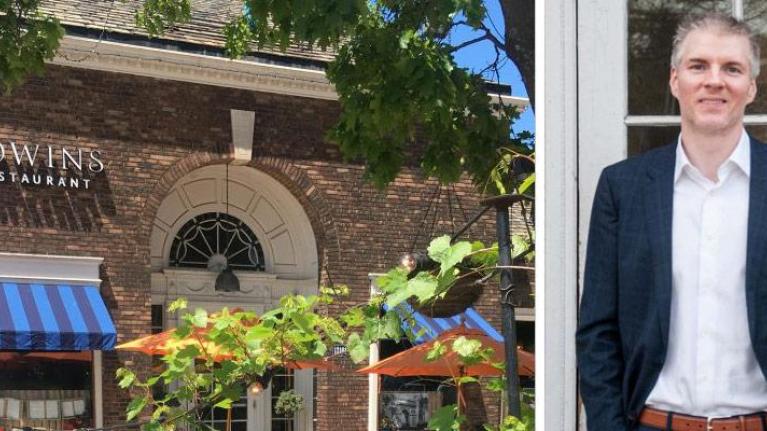 EDWINS Making the Pivot to Takeout
April 19, 2020
Demanding times require swift innovation. The kind EDWINS, a training and fine-dining operation, did. They went to 100% takeout and delivery in about one day. Read how.
"When you decide to move forward with takeout, decide what you're fighting for, and act on it aggressively," says Brandon R. Chrostowski, founder, president, and CEO of EDWINS Leadership & Restaurant Institute, in Cleveland, OH. 
If the name sounds a little unusual for a restaurant, it's because EDWINS is not just a restaurant—it's also a life skills center where formerly incarcerated adults can get the training and the leg up they need to transition into a culinary or hospitality career. The fine-dining French restaurant EDWINS, which opened in 2007, is part of the curriculum.
More recently, Chrostowski opened EDWINS Butcher Shop and EDWINS Bakery on the campus of the living and learning center. While these new venues—plus a quality-oriented diner in the works—were meant to integrate the supply chain for the restaurant and provide more training opportunities, they also proved pivotal when the organization switched to a takeout model in March 2020 in the wake of the coronavirus pandemic. 
"We had three goals when we made the switch," says Chrostowski. "Keep our employees working and safe, feed Cleveland, and provide hope with a mission in an uncertain world." In the process, EDWINS has not only managed to stay in business and cover its expenses, it has actually increased sales and is reaching a new customer base with its all-inclusive approach.
Chrostowski and his team moved quickly to adapt. A day after Ohio governor Mike DeWine ordered restaurants to close for dine-in business, the upmarket French restaurant introduced an innovative 4 for $40 daily special, a three course meal for four people with such entrées as Shrimp étouffee, Cassoulet, Blanquette de Veau, and Whole Roasted Chicken, with appropriate sides, salad and bread, and a dessert. A selected wine pairing for each evening is available for $12 a bottle, and delivery is free with a minimum order, redeploying existing employees as drivers. In addition, daily Off the Grill Specials feature items like Pork Ribs, BBQ Chicken, and Friday night Fish Fry & Chowder.
Over at the Butcher Shop, the daily specials are homier: Pulled Pork, Roasted Salmon, Lasagna, Chicken Parmesan. A large grill for events was set up in a tented area outside, dispensing steaks, burgers, sausages, and other butcher shop products, and there are also hot and cold sandwiches, hot food like fried chicken and smoked brisket, sandwiches. The bakery offers a large variety of breads, cookies, pastries, and desserts, as well as breakfast items and coffee specialties. The hours have been increased to seven days a week, for both venues, to as late as 6 p.m., and third-party ordering and delivery is available.
In addition, extra reach-ins have been installed for prepared foods and fresh meats, as well as grocery items like milk, eggs, and other staples—things that had been in short supply in the neighborhood. 
Business is booming. Although the average ticket is smaller (in part due to lost alcohol volume), sales have doubled, and Chrostowski has actually had to hire more people. More importantly, the approachable food and affordable prices have been bringing in a whole new group of customers, including more families, locals, and younger diners, a crowd that Chrostowski hopes will stick around for the long haul. "We literally are feeding Cleveland now," he says, to the tune of 400 to 500 meals a night, versus 60 to 80 normally.
Yes, there has been some learning. "Act like you are just opening a brand-new restaurant," advises Chrostowski. "You've got new systems in place, and new innovations. You have to get the whole staff on board, and you have to retrain them. But for us, we've tapped into a tremendous need in the community."