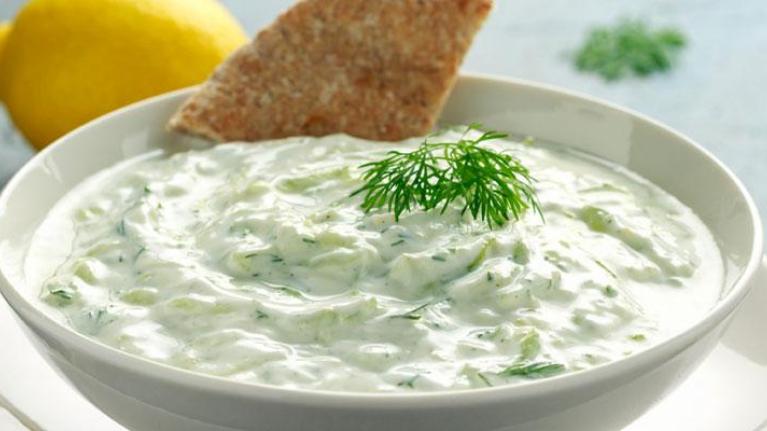 Familiar & Exotic, Dips and Spreads Are Super Popular
October 19, 2017
Delicious dips and tasty spreads add so much to starters, sandwiches and more. Discover how global flavors have expanded this segment and how patrons have responded. 
Who in the world doesn't appreciate a tasty dip or a delicious spread? If global cuisine is any indication, almost no one.
In fact, there are entire culinary cultures built around these versatile and distinctive specialties, which can easily be appropriated for mainstream menus as appetizers, shareables, toast and sandwich toppers, and more.
Eastern Mediterranean
From Greece to Lebanon, this part of the world is famous for its delicious dips and spreads, many of which are served as part of a mezze, the collection of appetizers and small dishes traditionally served before a meal. Variations of these popular recipes exist throughout the region.
Tzatziki – Known by various other regional names, including cacik, is made with yogurt mixed with cucumbers, garlic, and herbs and spices such as dill, mint, or parsley and is served as both a dip and an accompaniment to flatbread sandwiches
Hummus – Traditionally made with mashed chickpeas, tahini (sesame paste), lemon juice, and garlic, this widely loved dip has been reinterpreted with a variety of different ingredients, from black beans to beets to pumpkin
Baba ghanoush – Smoky and rich, with roasted and puréed eggplant, garlic, olive oil, lemon juice, and tahini, with the occasional addition of mint, onions, and various spices
Italy
The great bagna cauda ("warm bath") of the Piedmont region is an olive-oil-based dip that is gently warmed and flavored with garlic cloves and anchovies. It is typically served with the so-called pinzimonio di verdure, an assortment of raw, boiled, or roasted vegetables, such as fennel, artichokes, peppers, carrots, cauliflower, celery, onions, and cucumber.
Morocco
Consider branching out beyond the more familiar dips and spreads of the Eastern Mediterranean with recipes from this North African culinary hotspot.
Bessara – Similar to hummus, this thick spread is made with puréed split peas or dried fava beans, seasoned with olive oil, lemon juice, and garlic, with paprika and cumin on the side
Zaalouk – Part side dish, part spread, this flavorful salad is made by cooking eggplant, tomatoes, garlic, and flavorings such as cumin, paprika, coriander, and parsley
Chermoula – This versatile marinade, dip, and condiment consists of lemon juice, olive oil, coriander, parsley, garlic, cumin, paprika, and chile peppers. Chermoula can also be mixed with cooked mashed vegetables like eggplants and carrots to create other dips
France
Brandade is a warm spread made from emulsified salt cod, olive oil, garlic, milk or cream, and potatoes, traditionally eaten with toasted bread and crudités. It can also be made with smoked trout, whitefish, or salmon, instead of the more divisive salt cod.
Peru
Salsa is the Spanish word for sauce, and Peruvian salsas are smooth and thick, and frequently quite spicy. They are useful as dips for cooked vegetables and chips or a spread for sandwiches, as well as traditional sauces for meats.
Salsa huancaina – This thick Peruvian salsa is made with aji amarillo peppers or paste, onions, garlic, oil, evaporated milk, queso fresco, and hard-boiled eggs, thickened with plain cracker crumbs as necessary. It is often used as a dip for french fries, boiled potatoes, corn, and fried yucca
Salsa de rocoto – Spicy and ubiquitous, this popular sauce/dip is prepared with fiery red rocoto peppers, oil, and lime juice, with the occasional addition of parsley, cilantro, or milk. Use the salsa with a variety of fish and meat dishes, potatoes, or try it in sandwiches
Salsa de aji amarillo – Prepared with Peruvian yellow chili (aji amarillo), vinegar, sour cream, bay leaf, garlic, and oil, this sauce often accompanies Peruvian meat and fish dishes, but is great as dip for tequeños, French fries, chips, and fried yucca
Mexico
Beyond the obvious chips and salsa, there are two popular and versatile Mexican dips that also work as spreads and sauces. Guacamole is, of course, the most well-known—and the most authentic—and can be a smooth or relatively chunky mixture of ripe avocado and salt, plus or minus onion, lime juice, cilantro, chiles or cayenne, garlic, and tomato. Queso fundido ("molten cheese") is a more recent invention, consisting of one or more types of cheese—such as Chihuahua, Oaxaca, or Monterey Jack—melted together with chopped onions, tomatoes, roasted bell or poblano peppers, chiles, and often chorizo.
The information provided is based on a general industry overview, and is not specific to your business operation. Each business is unique and decisions related to your business should be made after consultation with appropriate experts.
GET STARTED
Compound butters are versatile flavor enhancers that can be spread on sandwiches, canapés, toasts and tartines, and specialty baked goods, in addition to being used like an à la minute sauce to finish grilled meats, freshly cooked vegetables, baked potatoes, and other hot items.