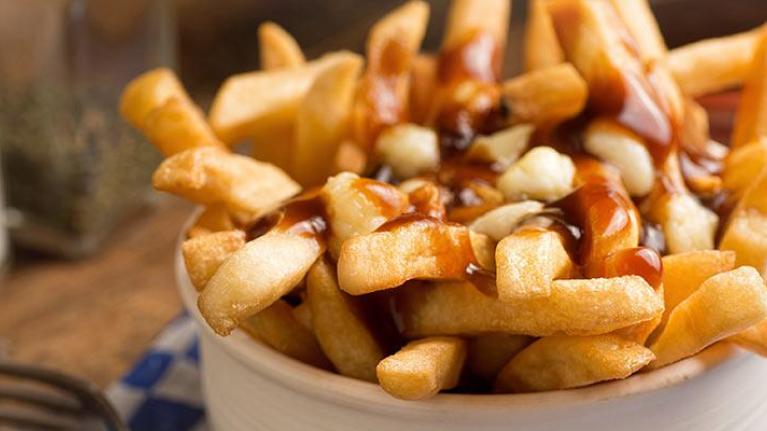 Five New Ways to Update the Classic Potato
August 7, 2015
Learn how to coax new profits out of the classic potato. We have the latest recipes for everything from trendy poutine to simple fried potatoes tossed in sea salt and herbs.
From comfort food classic to cutting-edge small-plate ingredient, potatoes are one of the most versatile ingredients in the food service kitchen. Beyond the obvious fried, mashed, and baked, America's favorite vegetable is at home throughout the day and everywhere on the menu.
Smashed, Hashed, and Mashed
Mashed potatoes elevated with flavors or ingredients like roasted garlic, cheddar cheese, or buttermilk and chives have been popular for years, but there's still so much ground to cover. Next-gen flavorings like miso, olive tapenade, or bacon and caramelized onions add value and interest to menu offerings, whether they're included with entrées or offered as an à la carte side.
Keeping things rustic by roughly smashing skin-on red potatoes by hand or with a mixer (using a processor makes them gluey) creates a side-dish specialty with a completely different feel.
Speaking of smashing, cook small whole red or yellow potatoes until tender, then drain and flatten (with the palm of your hand or the bottom of a bowl). Fry or roast until crisp, turning now and then, to create a unique potato specialty that can be served sprinkled with sea salt or loaded with sour cream and the works.
Hashed potatoes are another item that holds the same comfort-food appeal as mashed potatoes, and they're also perfect for breakfast menus. In addition to being served as-is, hash browns or home fries can be "loaded" with any number of add-on, à la carte ingredients, to create a customizable morning specialty or vegetarian menu option. Hash browns are also great for layering, folding into frittatas, or topping off casseroles.
Smothered
Chili cheese fries, gravy fries, poutine. The lexicon of potato dishes that involve smothering French fries with sauce or another topping offers lots of menuing potential.
Many of these items are regional specialties. In Austin, Texas, The Shady Grove is known for live music and Green Chile Cheese Fries topped with queso and Hatch green chile sauce. German fries with sausage gravy are a time-honored Midwestern favorite. And while the poutine trend has spread across the United States, these fries topped with gravy and cheese curds are a Canadian import (there's even a Toronto-based chain, Smoke's Poutinerie, planning United States expansion).
These are just starting points. Dress up poutine with a topping like crumbled blue cheese or duck confit. Serve fries with a choice of toppings that customers can mix and match at will. Swap out chili for another protein-based "sauce" like Sloppy Joe or even spaghetti sauce.
Fried
French fries continue to be a staple of almost every conceivable food service operation—in fact, like the hamburgers they're often served with, there seems to be no end to the different ways fries can be prepared, specialized, and merchandised.
Toss freshly fried potatoes with flavored sea salt, chopped fresh herbs, grated cheese, or a spice mixture such as ranch seasoning or vadouvan

Offer with a choice of different mix-and-match dipping sauces that can be as simple as flavored ketchup, mayonnaise, mustard, or sour cream, or as complex as truffle butter

Serve in a paper cone or mini fryer basket lined with a sheet of greaseproof paper

Fry in a flavored medium such as duck or bacon fat

Menu an upscale fry alternative (such as a seasoned fry or a curly shape) as a premium side dish alternative to fries

Use instead of potato skins or tortilla chips for a bar snack or shareable plate

Swap out regular fries to a sweet potato version or even "tots"