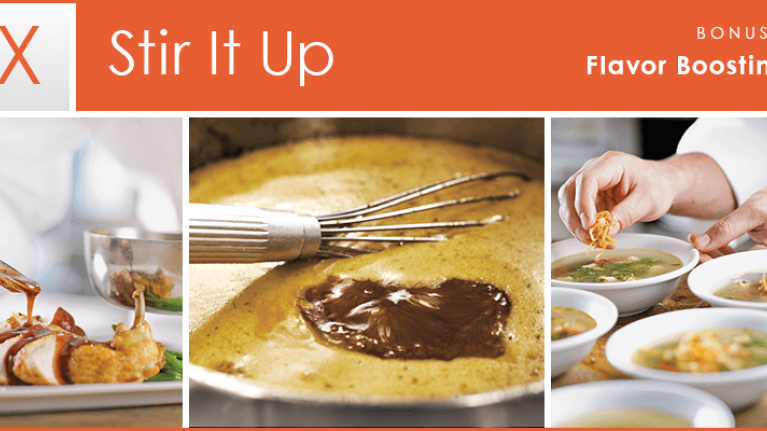 Flavor Power: Easy Plus-One Ideas
March 17, 2017
THIRD IN A SERIES: Plus One is a simple concept: Take a basic flavor-building ingredient and make it better by adding a second one. This gives you even more ways to multiply your flavors.
Specialty sauces and condiments are one of the most effective ways an operator has to add flavor and signature appeal to food service offerings. They're also remarkably easy to create when you have the right products at your disposal.
Think of honey mustard sauce: Honey + Mustard = one of the most versatile and popular flavor profiles around, delicious as a dressing, marinade, basting sauce, and more. Same with mayonnaise and Dijon mustard, which yields a Dijonnaise that adds an upscale twist to sandwiches and dips. Or tequila and lime, so reminiscent of margaritas but now used on everything from tortilla chips to broiled salmon.
This is not a new idea, either. The French concept of mother sauces codified all the ways in which five basic sauces could be adjusted to create countless variations, back to Escoffier's time in the late 18th century. Creamy white béchamel sauce becomes Nantua sauce with the addition of shrimp butter, or Mornay sauce when you add Gruyère and Parmesan cheese. Among the sauces that begin with Hollandaise there is Bearnaise (with tarragon and shallots), Choron (tomato), and Mousseline (whipped cream).
Get Started: Get a jump on sauce making with products like Minor's® Hollandaise Sauce. Minor's Demi Glace and Espagnole are two other mother sauce variations with infinite customizability.
It all starts—as many things do—with a well-stocked pantry. Nestlé Professional has made the process simple with a series of resources that make it easy to create innovative riffs on sauces, condiments, and other flavor builders.
The Maggi® Seasoning Plus 1 Ingredient Matrix (PDF) shows how to use this umami-loaded condiment to enhance everything from basic mayo to Asian ponzu sauce
Stouffer's® Alfredo Sauce is known for its versatility, but One Alfredo Sauce 15 Ways (PDF) shows exactly how it's done
The Plus-One Ingredient Matrix (PDF) for Minor's Latin Flavor Concentrates provides ideas for adding Latin excitement to butter, yogurt, guacamole, cheese sauce, and more
Dressings, salads, and other prepared foods will never be boring again with Deli Plus-One Ingredient Ideas (PDF)
Minor's Ready-to-Use Sauces like Chile Garlic, Sesame, and Zesty Orange can be used to enliven staple ingredients such as vinegar, barbecue sauce, and sour cream, as shown in this Plus-One Ingredient Matrix (PDF)
The product sheet for Minor's Demi Glace provides application ideas for creating new signature sauces, including Madeira, Green Peppercorn, and Mushroom Sauce; these ideas also work for the brand's Brown Sauce Prep with Beef (Espagnole)
Likewise, get more application ideas (PDF) for using Minor's Hollandaise in new sauces from the product sheet
Here are more easy ideas for customizing Nestlé Professional products to create signature flavor profiles:
Bump up any Chef-mate® cheese sauce with crumbled bacon, chopped cilantro, and dark beer.
Stouffer's Alfredo Sauce and a favorite barbecue sauce create a creamy sauce for ribs or pulled pork.
Add puréed spinach to Chef-mate ¡Que Bueno! White Cheddar Cheese Sauce as a topping for macaroni and cheese, nachos, or poutine.
Create Chipotle Gravy by mixing prepared Trio Turkey Gravy with Minor's Chipotle Flavor Concentrate and a touch of cinnamon.
Substitute Maggi Seasoning anywhere you would use Worcestershire or soy sauce to boost flavor.
Add crabmeat, pitted sliced olives, cream or plain yogurt, and chopped chives to Stouffer's Spinach Artichoke Dip for an upscale pasta sauce.
Combining two cups of Minor's Au Jus Prep and 1-1/2 oz. Roasted Garlic Flavor Concentrate creates a marinade for steak.
Mix brown sugar and Minor's Ancho Flavor Concentrate as a baste for candied bacon to use in sandwiches or as a salad garnish.