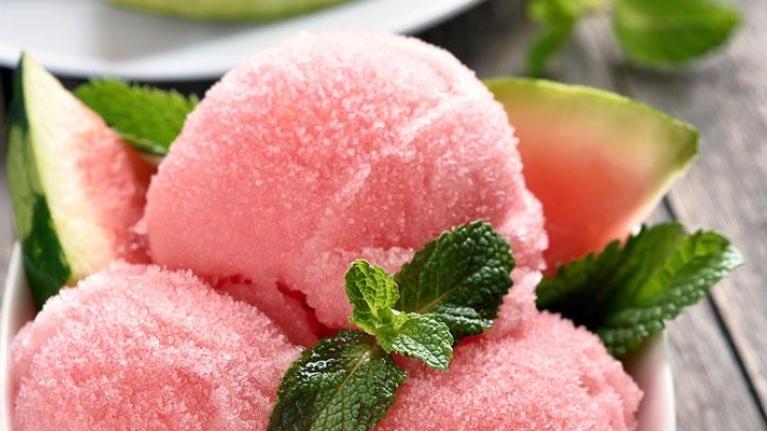 Get Ready for Summertime Dessert Sales
May 6, 2016
Don't let dessert sales take a summer vacation. Ice cream, milkshakes, smoothies, and slushies are your warm weather friends. Learn how desserts can make summer sales sweet.
The weather may be warm, but that shouldn't dampen dessert cravings. In fact, if anything, operators can sell to the summertime vibe with ice cream and other frozen desserts, crossover dessert-beverages, festive options like waffles, and lighter selections including popular-again pudding. And it goes without saying that there should be fruit and fruit desserts.
The Big Freeze
Ice cream and other frozen treats are perennially popular, but their consumption grows in the summer. In fact, retail dollar sales of ice cream and frozen desserts are projected to grow at a faster pace than foodservice sales, to almost $12.9 billion in 2016, according to Packaged Facts. Production kicks up in March and April to fill retail and foodservice pipelines in the late spring and early summer.
Most operators offer the option of several different flavors of ice cream; the smartest ones make a big deal of their ice cream, offering a variety of different signature and seasonal varieties. Add sauce, whipped cream, toppings and mix-ins, and other embellishments and you've created a specialty.
If you make your own ice cream in-house (an excellent means for using up products like overripe fruit or extra Greek yogurt) or buy from a local or artisanal producer (many of whom will create proprietary flavors), be sure to call it out on the menu and/or in point-of-sale.
Get Started: Let customers design their own sundaes, either at a self-service bar or by specifying their choice from a menued array of ice cream flavors and garnishes. Or menu a DIY sundae for sharing, with bowls of ice cream on a tray surrounded by dishes of toppings such as sauces, flavored whipped cream, chopped fresh and dried fruits, nuts, chocolate chips and candy bits, jam, and more. Branded toppings from Nestlé Toll House®, Butterfinger®, Nestlé Crunch®, and Wonka® Nerds® add fun and value.
As satisfying as a dish of ice cream or a sundae is, there's also a lot of action in ice cream specialties like pops (including on-trend, Latin-style paletas) and ice cream sandwiches. Both are easy to make in-house; in fact, an ice cream slider can be made by sandwiching softened ice cream between two cookies, then refreezing.
And remember that Italian ices, frozen yogurt, frozen custard, and soft serve are also popular frozen treats that can be used to create sundaes, shakes, and other frozen dessert specialties.
Try This: Affogato (meaning "drowned" in Italian) is picking up steam; Starbucks even has them on its secret menu. This easy, light dessert alternative is made by pouring a shot of hot espresso over a scoop of vanilla gelato or ice cream to create a creamy cold/hot pick-me-up. But any flavor of ice cream can be used, or even another hot liquid, such as spiced chai or hot cocoa.
Liquid Indulgences
Specialty milkshakes and malteds, as well as smoothies and slushies, are wonderful additions to the summertime dessert lineup, straddling a line between beverage, snack, and dessert, giving them real currency for a variety of different types of operations. The Red Robin burger chain has had tremendous luck with its Milkshakes, Malts, and Smoothies, including customizable classic shakes and malts, and specialties like Mint Brownie. There are also alcoholic versions, including shakes made with beer, Bailey's, Kahlua, and more. Sonic is another chain that has been very successful with its array of 23 different shakes and Blasts, which are promoted at half price after 8 p.m. to spur dessert sales.
Smoothies, too, are perfect for summertime desserts and sweet snack sales. In fact, if you're serving a lot of seasonal fruit, you can also be repurposing extras as well as the inevitable imperfect specimens into a value-added, dessert-worthy beverage.
Get Started: Nestlé Professional has a number of innovative products that can help operators cash in on the popularity of iced-blended beverages in the summertime. Turn to Sunkist® and Sunsational® for smoothie solutions. And Nestlé® Carnation® Malted Milk is the start of many specialties.
Crepes and Waffles
Reminiscent of country fairs and other summertime celebrations, these made-to-order specialties are low in food cost (like pancakes), but high in appeal and versatility. Waffles, especially, with their crispy texture and fluffy hot interior, can be very appealing with a simple garnish of ice cream or whipped cream and fruit. Sugar and Plumm, an indulgence-oriented restaurant in New York City, offers an extensive dessert menu that showcases sweet crepes and waffles in such guises as mixed berry, cajeta caramel, Nutella (with and without banana), and Apple Pie with roasted apples, vanilla bean ice cream, and salted caramel.
Did You Know? You can tap into the huge customization trend with an attended Dessert Bar Action Station (PDF) featuring attention-grabbing display plating and toppings for such concepts as cakes, ice cream, doughnuts, and more.
Pudding Plots a Comeback
Classic custards and puddings occupy a niche at the intersection of comfort and indulgence for customers, and chefs love them because they're versatile and easy to make, especially ahead of time. No wonder they're coming back into fashion. Scales, in Portland, ME, features such classics as butterscotch and Indian pudding, an old-fashioned New England treat made with cornmeal and molasses. Schulzies, in San Francisco, specializes in bread pudding in a rotating array of more than 100 varieties, including lots of fresh, seasonal fruits. In Charleston, Carmella's dessert menu features a number of different mousses, including orange, white chocolate, and strawberry. And the Italian dessert lexicon includes several pudding-like specialties, including not only popular tiramisu but also panna cotta (meaning cooked cream) and budino, which is trendy enough to support both sweet and savory variations.