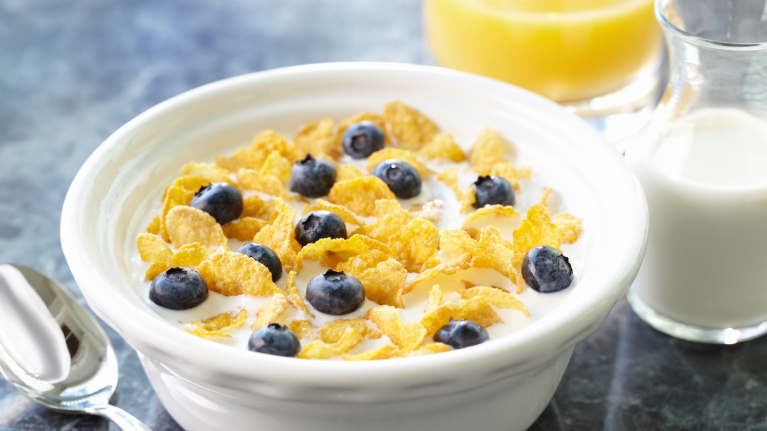 Get the Top 10 Breakfast Trends
June 8, 2016
Patrons are looking for something new and exciting for breakfast. Serve it up with these top 10 breakfast concepts. Start your day with some profits.
Trends in breakfast? The morning meal is just eggs and bacon or toast and a cup of coffee, right? Well, not only. Success at breakfast means besting the competition with unique menu choices, and staying on top of consumer demand and food trends.
Breakfast is still the fastest growing food service daypart and accelerating, according to The NPD Group, representing tremendous opportunity. This is especially true for convenience- and takeout-oriented operations; for instance, breakfast items account for nearly half of sales at Hardees, which just released a signature Pretzel Breakfast Sandwich.
An item like this typifies successful innovation in the breakfast daypart—it's both familiar (breakfast sandwich) and one-of-a-kind (distinctive bread, two different cheeses).
Breakfast 24/7: McDonald's success with all-day breakfast helps verify that "clockless" lifestyles and continued desire for the comfort of breakfast spell growth beyond the traditional daypart. In fact, Technomic has found that 48% of people enjoy eating breakfast foods at nontraditional times. At the University of New Hampshire, in Durham, Philbrook Dining Hall is home to an all-day breakfast bar that features a rotating assortment of egg dishes, a breakfast sandwich bar, baked goods, oatmeal, and a waffle bar.
Tip: If all-day breakfast isn't feasible, late night or brunch specials may attract more traffic. Check out the all-day brunch selections at the 13-unit Silver Diner chain.
LTOs: IHOP's robust calendar of limited-time offerings (LTOs) has helped keep the 58-year-old family restaurant chain relevant by always offering something new, and serves as a testing ground for new core menu additions. The latest is the Bakery Favorites collection of Red Velvet pancakes and crepes, sprinkle-topped Cupcake Pancakes, and decadent Cinnamon Swirl Brioche French Toast.

Customization: From create-your-omelets to oatmeal topping bars and condiment stations, the giant customization trend also holds sway at breakfast. According to Mintel, a huge factor in consumers' choice of restaurants is the ability to customize their food; this is true for more than 80% of all consumers, and 85% of Millennials. That feeling of control comes with a certain satisfaction and makes the item less price-sensitive.
Did You Know? The Action Station platforms developed by Nestlé Professional include a Breakfast Bar (PDF) concept that is totally customizable.
Breakfast Bowls: Build-your-own bowls are a thing right now, and that includes breakfast bowls. Grain bowls, power bowls, smoothie bowls . . . they're all adaptable to breakfast foods, as well as to special diets and dietary needs. University of Pittsburgh students can serve themselves veggies and proteins and hand their bowl to a chef at the 360 Degrees venue, which specializes in DIY meals.

Ethnic Offerings: Everyone in the world eats breakfast, a fact that food service operators here in the United States can take advantage of. It's smart thinking, not just because this country's demographics are changing, but also because more customers are interested in learning about global foods. Whether authentic or mash-up, here are some ideas:
Tex-Mex breakfast tacos and quesadillas

Japanese miso soup and broiled fish

Chilaquiles, a traditional Mexican dish of eggs scrambled with quartered tortillas and salsa

Churros and hot chocolate, Spanish-style

Swiss muesli, cereal with nuts and dried fruit
Get Started: Nestlé Professional has a number of products designed to bring global flavor to all kinds of foods, including Maggi® Thai Style Red and Green Curry Pastes, Minor's® Flavor Concentrates and RTU Sauces, Stouffer's® Alfredo and Alfredo Parmigiana Sauces, and Chef-mate® Cheese Sauces.
Eat Your Porridge: Hot on the heels of oatmeal's rising popularity comes the porridge trend, cooked grains mixed with fruits, nuts, dairy, proteins, and just about anything else chefs or customers have in mind. Mush is hip, according to Food Republic, and it's also healthy, comforting, customizable, and fun to eat. With roots in Chinese congee, the trend is easy to translate to a variety of grains, from oats to amaranth, couscous to teff.

Getting Toasted: Two years ago, avocado toast got popular; the trend hasn't gone away, but it has expanded into other kinds of toast, for lunch, snacks and breakfast. The reasons? Demand for artisanal and whole grain breads coincides with the ever-present need for portability and breakfast, and toast with different toppings is the result—from smoked fish to cream cheese and jam. There's also versatility and great cross-utilization of ingredients like cheese, fruits, and more. The breakfast and lunch menu at the new Bamba Café has an entire section devoted to Bamba Toasts.

Healthy Alternatives: According to The NPD Group's most recent "Eating Patterns in America" report, sales of better-for-you breakfast fare in food service are up 13%. How consumers define "healthy" may be a little less clear, but one certainty is that the hotel industry is reaching out to the health-conscious traveler with healthier breakfast options. Westin's global Well Being Movement promises, among other things, SuperFoodsRx choices such as Egg White and Young Spinach Omelet, and Blueberry and Orange Granola Pancakes.
Did You Know? Nestlé Professional has a complete portfolio of products that are gluten free, low sodium, whole grain, and more.
Better Baked Goods: Bagel, English muffin, toast. They're fine, but specialty baked goods, from European-style breads to biscuits, housemade cinnamon rolls, and specialties like Indian naan and the French kouign amann pastry attract attention—and premium prices. With its own onsite bakery, it's no surprise that catering at the University of Connecticut (PDF) in Storrs includes a generous selection of baked goods for its Continental breakfast, including Danish, tea bread, scones, muffins, and cinnamon coffee cake.

Vegans Included: With more consumers embracing plant-based diets, the need for meatless options is growing. But this is especially challenging for vegans, who also avoid animal products like eggs, yogurt, and cheese. Try menuing these vegan-friendly foods:
French toast or bread pudding (use silken tofu and soy milk instead of eggs and milk)

Breakfast bars made with grains, nuts, and dried fruit

Avocado Toast

Muffins

Oatmeal and grain bowls

Scrambled tofu

Baked sweet potatoes

Indian specialties like idli (lentil and rice dumplings)

Juices and smoothies fortified with vegan protein
Tip: Stouffer's Escalloped Apples are vegan, but appealing to all.