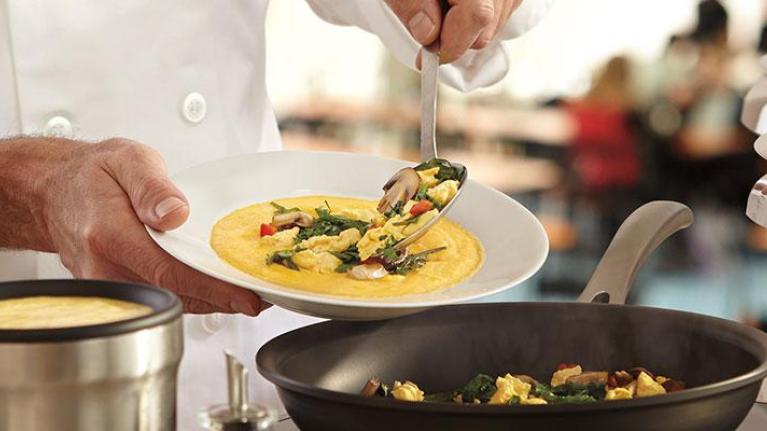 Get Your Taste of the $9 Billion Catering Business
June 15, 2014
Leverage the equipment you already have and create increased sales from catering. From simple self-service to events, catering allows you to cook more, serve more, and make more $$.
Looking for a source of incremental sales and profits? While food and beverage sales for social caterers has been growing steadily for the last six years, according to statista.com, to a forecast high of more than $9 billion for 2015, there's plenty of room around the margins and between the cracks for commercial and noncommercial operators to generate sales from catering.
For instance, according to Technomic, chains that have invested dedicated resources toward catering report that it represents more than 20% of their sales. According to FoodService Director, 78% of noncommercial operators surveyed revealed that they offer some kind of on- or off-premise catering.
Like takeout, catering takes advantage of "sunk money"—resources you already have available, such as inventory, labor, prep space, and equipment—so you're doing yourself a favor by using it to full advantage. You may also be able to give valued employees additional paid hours at a time when they need the money.
Catering not only creates sales and goodwill, it also helps reach potential new customers—guests of the event giver, for instance, who may have never tasted your great food otherwise.
Self-Service Catering – One of the easiest and most effective ways to build sales from catering is by supplying menu items that customers can pick up and go with, including party platters, box lunches, prepared family meals, and more. Technomic coined the phrase Large Orders Off Premise (LOOP) for this sales opportunity, suggesting that it's a natural extension for anyone who already offers takeout. You'll be competing with many other entities, including not only specialty catering organizations but also restaurants and retailers, but a regular customer base is the perfect target market.
Meetings Market – Corporate catering can be full-service or self-service, especially in urban areas or office parks where local businesses may want large orders of breakfast pastries and coffee, prepared sandwiches and salads, boxed meals, or other amenities for meetings or late-night deadline crunches. Offering a "house account" will make it easier for customers.
Customizable Concepts – Trends may come and go, but one thing to be aware of is patron demand for more choice and variety in catering. Consider breaking up standard catering menus into mix-and-match components that allow for more customization. Offer a sandwich platter, for instance, with any combination of different fillings for the same per-person price.
Try This: Offer customizable martinis or walk-around cones featuring mashed potatoes, Stouffer's® Mac-and-cheese that guests can top with items like bacon bits, shredded cheese, chopped fresh herbs, and more.
Theme Catering – Establishing a specialty that resonates with the local marketplace or differentiates your catering options will help you set yourself apart from the competition, whether that's Down East lobster bakes, Texas barbecue, or a selection of ethnic concepts like Mexican or Spanish paella. Examining your on-premise menu closely for existing specialties or tapping expertise among staff members is a good place to start.
Chef Stations – Social caterers and hotel banquet providers are big on attended stations where staff can provide guests with everything from carved-to-order meats to stir-fry, mix-and-match pasta and sauces, omelets, and sizzling salads with cooked-to-order toppings. Such features are equally appropriate as the centerpiece of a special event or an icebreaker at a meeting.
Did You Know? Nestlé Professional has created a number of Action Station concepts that make it easy to implement an attended catering feature.
Meals-to-Go – Consider offering employees or students individual or family-style prepared meals to bring home after their work or class day, from the cafeteria line or a lobby satellite or cart. Restaurants can extend a regular nightly dine-in special to takeout. Or take a page from dedicated businesses that offer meals to go to clients on a weekly or nightly basis—perhaps to accommodate a special diet such as gluten free or vegan, which are difficult for many consumers to prepare on their own.
Tip: Use popular prepared items like Stouffer's Lasagna with Meat & Sauce to add variety to a catering menu, without creating additional prep time.
Healthy Options – In catering as in food service in general, demand for healthier options is growing. Be sure to offer healthier options, such as smoothie bars, salad buffets, fresh and dried fruit displays, or granola and yogurt for breakfast meetings. For self-service catering, salad mixes can be packaged in a large-format container, with smaller containers of chopped vegetables, meats, and cheeses, other toppings such as croutons or nuts, and a choice of dressing on the side.
Tip: Nutripro offers healthy recipes for any kind of menu.
Box Lunches – Picnic and snack boxes in attractive all-in-one logo'd packages, complete with disposable napkins and cutlery, are great for operations near entertainment or recreational venues. Some upscale hotels and restaurants even pack meals to go in picnic baskets or mini-coolers, which can be returned for a deposit.
Roll with a Food Truck – If you have a food truck, whether for a college campus or an extension of a brick-and-mortar restaurant, take it to where the party is, such as weddings, company picnics, or—with appropriate permits—street fairs, sporting events, and other public gatherings.
Care Packages – Campus caterers can offer student care packages such as muffins, cookies, and other baked goods—especially welcome at exam time or other periods of stress.
Try This: Make cupcakes and other sweets more exciting by embellishing them with Nestlé Dessert Ingredients.
For Additional Resources: