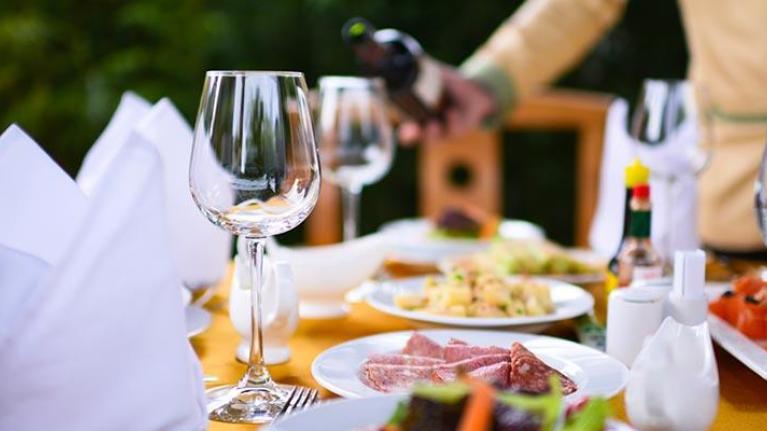 Hotel Restaurants: Profit 'Round the Clock
March 6, 2015
Quality, innovative hotel food service operations draw overnight guests as well as locals for breakfast, lunch, and dinner. Get tips and trends for profits that will have you sleeping easy.
It's been a long time since hotel food and beverage was treated as nothing more than a necessary convenience for the traveling guest, rather than an innovative and exciting source of profits, as it is today.
And that has made for a vibrant hotel food service scene. Hotel operators are doubling down on their food and beverage operations in order to boost profits and occupancy rates, and to help defray the cost of onsite restaurant and bar facilities. Destination restaurants that appeal to locals as well as guests, upgraded breakfast programs, convenient self-service and upscale vending options, multipurpose lounges, and a renewed emphasis on catering and special events are just some of the trends driving this renaissance in hotel dining.
Breakfast Is Booming
Including breakfast in the price of a room has long been a selling point in the value-oriented lodging sector, but an increasing number of higher-end properties are promoting breakfast, with the result that the entire segment is upping the ante on the morning meal.
Hotel Max, part of the Provenance Group, has simplified its popular in-room breakfast in order to make it better. Having brought in the team from the locally popular Miller's Guild restaurant to handle its food service, the boutique Seattle hotel now offers a pared-down but appealing menu that can be delivered in a branded brown paper bag

The Sanderling Resort, a small luxury property on the beach in Duck, NC, kicked off a more regionalized approach to food and beverage with a breakfast menu that supports premium pricing and drives higher sales. Focusing on unique local and regional food specialties such as the crab-cake-based Eggs Sanderling and Grilled Country Ham Hash has boosted revenues significantly

Meanwhile, Country Inns & Suites by Carlson has upgraded its Be Our Guest complimentary breakfast program to offer more variety, with a rotating menu that includes waffles, custom omelets, biscuits and gravy, and yogurt parfaits
Get Started: A hot breakfast program featuring specialty items like corned beef hash and biscuits and gravy is easy when you start with products like Chef-mate® Corned Beef Hash and Country Sausage Gravy. And what's brunch without eggs Benedict and its related variations? Look to Minor's® Hollandaise Sauce for help with that.
Local Heroes
Savvy hotel operators are inviting local restaurateurs to operate their onsite food service facilities—including room service and sometimes banquets—in an effort to boost sales and create buzz. In exchange for doing the buildout, the hotel benefits from the operator's established following, and also from the interest of a traveling public that increasingly plans trips around dining opportunities.
Marta, in Manhattan's newly renovated Martha Washington hotel, is a Roman-style pizzeria and part of Danny Meyer's high-profile Union Square Hospitality Group. Although marketed as a freestanding restaurant, Marta is in fact located right in the hotel's lobby and provides breakfast, lunch, and dinner as well as private dining, banquets, and room service

At the hip new Line Hotel in Los Angeles, the chef on duty is none other than Roy Choi, who made food trucks and Korean tacos famous with Kogi BBQ. Commissary is his greenhouse-themed, all-day restaurant (the menu is heavy on fruits and vegetables, and drinking water is served from a garden hose). Pot, meanwhile, specializes in contemporary Korean food, as befits the hotel's location at the edge of L.A.'s Koreatown
Multi-use Food Service Facilities
Gone are the days when real estate prices allowed hotels to allot vast spaces to segmented lobbies, check-in desks, lounges, meeting rooms, and other public spaces. Now these areas have to serve double- or triple-duty, especially in smaller properties or secondary markets that can't support an old-style, full-service ground floor.
Pacific Hospitality Group has been using a concept called Blend Café to serve as a gathering place and grab-and-go meal facility, as well as a place for guests to purchase retail items and sundries. The décor and specific offerings are adjusted to meet the needs of each individual property and its clientele. At the Wyndham Anaheim, for instance, where families tend to be value-conscious, there are more à la carte items at a lower price point; guests at Bacara Resort in Santa Barbara are willing to spend more to order from an all-inclusive menu.
Self-Service and Vending Get Trendy
Hunger and thirst don't stop just because the kitchen staff went home—especially in the hotel sector, with its late arrivals and patrons who may still be on different time zones. Enter a chic new breed of 24/7 F&B options that include upgraded vending, c-store, and round-the-clock pantries where guests can help themselves to something to eat or drink (and help fill the coffers during off-hours).
Among the amenities at The Hotel at Arundel Preserve in Hanover, MD, is a 24-hour pantry where guests can purchase a forgotten tube of toothpaste or a ready-to-eat snack or beverage. An invitation to "plunder the pantry" at the Woodmark Hotel, Yacht Club & Spa in Kirkland, WA, touts guilt-free, late-night snacking as part of the appeal of staying there.
Even vending is different nowadays, as evidenced by Marriott's healthy vending machine innovation, which features better-for-you sandwiches, salads, and snacks that are available to nutrition-oriented road warriors 24/7.
Get Started: Hot Pockets® brand stuffed sandwiches are perfect for vending and other self-service concepts, as well as grab-and-go lobby food service. 
Boosting Up Banquets and Catering
As much as hotel restaurants and other public venues are making news these days, private parties, meetings, and other catered events are also coming in for an upgrade.
Get Started: High-quality specialty catering operations start with high-quality basics, including bases from Maggi® and Minor's, as well as Minor's Ready-to-Use RTU Sauces and other flavor solutions.