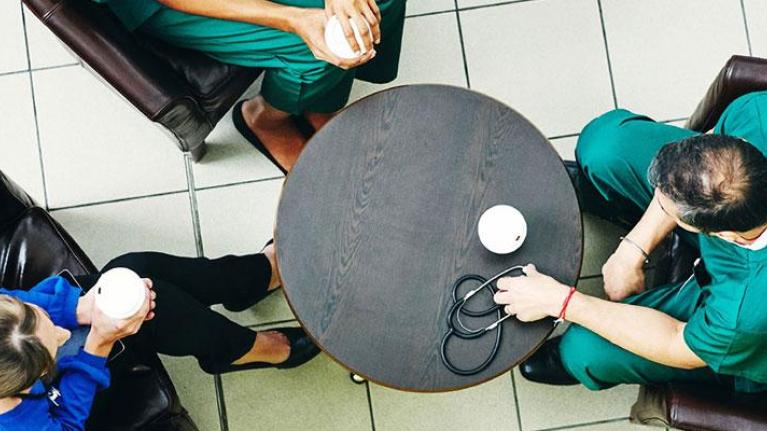 How to Improve the Efficiency of Your Healthcare Coffee Program
February 26, 2019
Did you know that hot coffee is a favorite beverage among patients and guests at healthcare facilities? It's true. In fact, nearly half of American adults drink brewed coffee in a given day, making it the most consumed beverage other than tap water.
With healthcare foodservice growing at a rapid pace, hospitals, long-term care, and senior living facilities are serving more food and beverages, like coffee, than ever before.
So how do you keep up with the growing demand and make it easier for staff to quickly serve guests? By choosing the right commercial coffee maker.
Streamline Coffee Service During Hectic Mealtimes
Guests line up at the cafeteria. Residents gather in the dining hall. Staff prepares tray service. Every mealtime at a healthcare facility is a challenge, and this is when coffee consumption is the highest.
Drinking coffee is greatest in the morning and at mealtimes. So whether your staff serves individual cups of coffee on trays or refills mugs from carafes, there's a large number of people to serve in a short amount of time.
This is where an efficient, multi-purpose coffee machine like the NESCAFÉ® Mini XL comes in handy. The ability to use one machine to brew multiple varieties of black coffee, such as regular and decaf, as well as dispense hot water for tea helps foodservice staff work efficiently. Add in the single-cup or full-carafe functionality, and staff can serve coffee faster, increasing patient, resident, and guest satisfaction.
Easily Satisfy Coffee Cravings In-Between Meals
Coffee consumption peaks in the morning at breakfast time, but it continues throughout the day. In fact, people drink an average of seven beverages every single day. When you factor consumption with a 24-hour operational schedule, it can be difficult to deliver coffee service to thirsty patients, residents, and guests outside of normal mealtimes.
An automated coffee machine at or near the nurses' stations can help fill the void between meals when consumption is unpredictable. This makes it easy for staff to freshly brew a single cup of coffee on demand with very little effort.
To help free up your staff's time, you can also add self-serve coffee stations in areas with less traffic, such as waiting rooms and common areas. Choose an easy-to-operate coffee machine like the NESCAFÉ Mini XL. It enables patients, residents, and guests to brew a single cup of coffee in three optional strengths – light, medium, and dark – with the simple push of a button.
Simplify Ordering, Inventory, and Training
When it comes to commercial coffee makers, the first instinct may be to purchase machines in different sizes and capacities for the diverse needs of a healthcare facility. However, there are several advantages of using the same versatile coffee machine for all your applications.
For starters, when you use the same machine throughout your location, it's easier to order, stock, and track inventory. Rather than having a mixture of grounds, liquid concentrates, soluble coffees, and pods, you can purchase all of your coffee in one format from the same supplier.
Using the same machine in the kitchen, on the line, at the nurses' stations, and self-serve areas also requires little staff training. Once employees learn to operate one machine, they can run them all. This is especially important in the healthcare industry, where operators view staff's skill as a top consideration when deciding how to prep beverages.
Meet Multiple Demands with a Single Coffee Machine
To streamline coffee service at your healthcare facility, choose a versatile coffee machine that configures for front- and back-of-house operations. A solution like the NESCAFÉ Mini XL makes it easier for foodservice staff to quickly serve great-tasting coffee to patients, residents, and guests while keeping up with the increasing demand.
Sources: Technomic Healthcare & Senior Living Insights, July 2017; Datassential Healthcare Keynote Report, February 2017; Datassential Buzz 2018; Datassential Coffee Landscape, 2017