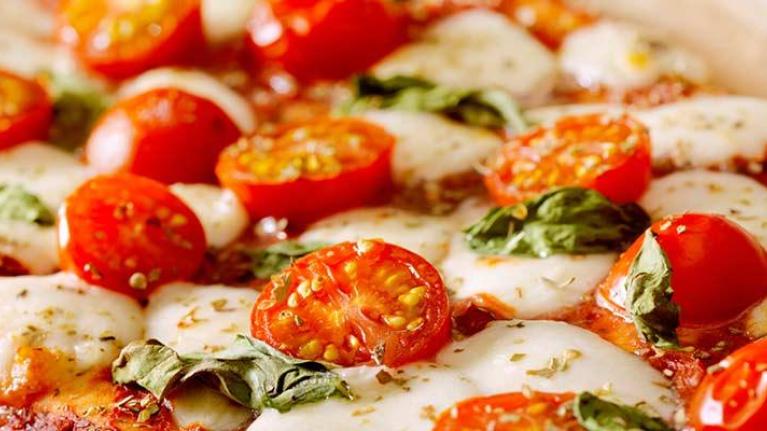 Menu Superstars: Pizza and Calzone
January 28, 2015
Discover how to feed the pizza frenzy with exciting new variations. From unusual toppings, to distinctive forms like calzone and flatbreads, it's versatile and always popular. Get trends and recipes
Crust. Sauce. Toppings. How could something so simple be so endlessly versatile and universally popular? Because it's pizza, a food that's fun, affordable (for both operator and customer), and an item that's not all that easy for the average person to make at home. Add related products like calzone, stromboli, and flatbread, and you've got the makings of a menu superstar.
And these days pizza can mean anything from the familiar pepperoni takeout pie, to sophisticated artisanal products topped with ingredients like duck confit, imported Taleggio cheese, and truffle oil. It's definitely a changing landscape for this decades-old favorite.
Every Day, Every Way
It's hard to think of a daypart, menu style, or operational segment pizza doesn't fit in with—that's one of the reasons it occurs on 40% of all chain and independent menus across the United States, according to Food Genius. It's also extremely popular in every noncommercial segment, from college campuses (where takeout and late-night delivery are significant sales builders) to employee cafeterias and even senior living.
The fast-casual segment has really upped the pizza game, answering consumer demand for variety—particularly in toppings—with such "Build-Your-Own" pizza concepts as 800 Degrees, Blaze Fast Fire'd, and Uncle Maddio's Pizza Joint. These hip, new-generation pizzerias allow customers to build their own pies from a large array of à la carte crust options (including gluten free), sauces, and toppings; high-speed specialty ovens deliver the completed creation in just a few minutes.
At Emily, an artisanal pizzeria in Brooklyn, NY, there's no shortage of choice (PDF) even with a set menu: no fewer than 19 different varieties of Red, White, Pink, and even Green pies—from classic tomato-basil-and-mozzarella to kale, citrus, Fontina, and ricotta—plus an unusual S'mores Calzone for dessert. Wine and beer on tap and trendy cocktails make Emily a popular local hangout, not just a place to grab takeout.
Did You Know? According to Technomic data, 41% of consumers say they are eating pizza once a week, compared with 26% just two years ago.
Gluten Free Pies
It's taken some time to get it right, but demand for gluten free pizza options has spurred the creation of good-tasting new crust varieties made without wheat, rye, or barley. This has helped push pizza into second place as a gluten free item on menus.
Gluten free pizza has emerged as a significant enticement to Gen X consumers, including college students and young office workers. With 29 different dining outlets across campus, Northern Arizona University, in Flagstaff, offers numerous pizza options, from a Pizza Hut Express to the Wedge Market and Pizza, which serves as a convenience market. Any of the Wedge's 10 pizzas can be had with gluten free crust for $2 extra. Managed by Sodexo, the dining services departments offers an app that helps students make sense of all their dietary requirements, and the Simple Servings platform in its Hot Spot residential facility offers not only gluten-free options but also other foods that are food-allergy friendly.
Get Started: Minor's® has an extensive selection of gluten free products that are perfect for creating signature pizzas and other menu items, including Sun Dried Tomato Pesto and Fire Roasted Jalapeño flavor concentrates.
Flatbread Fever
As a more rustic, free-form variant of pizza, consider the flatbread—which is loosely defined as an unleavened version of the traditional-dough pizza, with even fewer rules about the toppings. For this reason, flatbreads have become extremely popular in non-pizza restaurants, particularly on bar menus and as shareable appetizers, as well as in catering.
At The North Point, a wine bar in Portland, ME, stuffed flatbreads have become a popular, sandwich-like offering on the food menu, with such hearty fillings as Havana Cubano (a sandwich variation made with ham, smoked pork, Swiss, pickle, Dijon, and chili sauce). And at JDK Catering in Camp Hill, PA, signature action stations include gourmet flatbreads topped to order with the likes of shrimp, sundried tomatoes, and spinach with roasted peppers, goat cheese, and basil.
Try This: Take advantage of the flatbread's freewheeling spirit by experimenting with sauces beyond the traditional marinara, including pesto, Stouffer's® Alfredo, Trio® White Sauce, Chef-mate® White Queso Sauce, or even Country Sausage Gravy.
The Calzone Connection
The other kind of pizza that's picking up steam is the calzone, a kind of pizza-meets-sandwich that invites variation and creative fillings.
At Pazzo! Calzone Bakery in Birmingham, AL, the signature oversize, overstuffed namesake is offered in a build-your-own format with a choice of more than two dozen different kinds of vegetables, meat, cheese, and sauces.
And at Campus Calzones near Eastern Carolina University in Greenville, NC, the menu lists more than 50 different calzones, from breakfast Stuffed Omelet and the hamburger-based Hangover (spiked with Mexican seasoning, hot sauce, and jalapeño) to Loaded Potato and Steak & Cheese.
Get Started: If you're thinking of adding a calzone to your pizza repertoire, why not test the waters first with a calzone-of-the-day item? Even easier: Menu any of the many varieties of Hot Pockets Brand Stuffed Sandwiches.