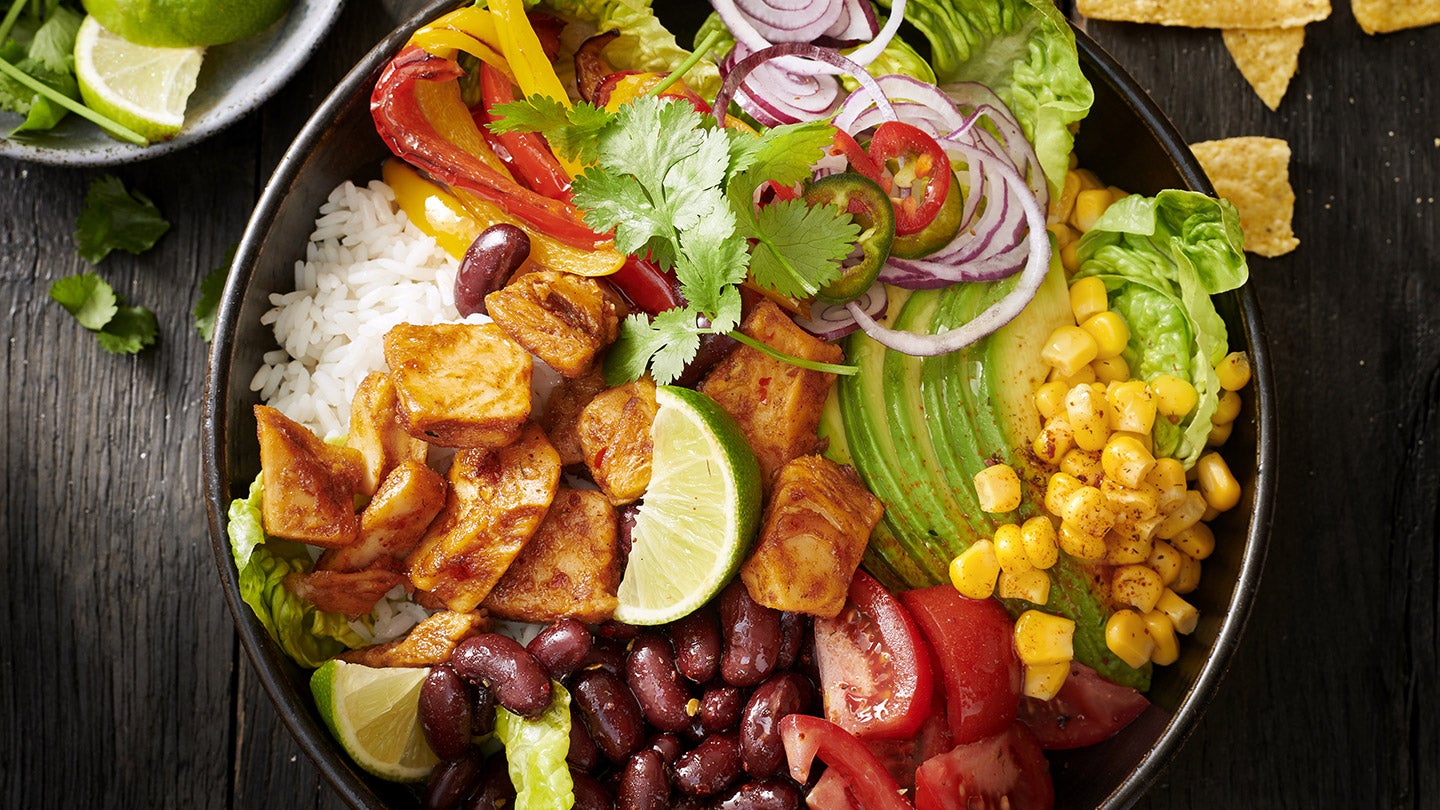 Mindful Eating: Menu Tweaks for New Year's Resolutions
January 3, 2023
Many patrons usher in the year with firm resolve to eat more healthfully. Here's how to build menus that will help them meet their goal.
In a predictable ritual, New Year's resolutions will seep into nearly all segments of the foodservice industry as consumers go full throttle with efforts to make meaningful diet changes. The list of goals—improving fitness, shedding pounds, more-conscious eating—continues to expand as the whole idea of what contributes to a healthy lifestyle is approached holistically. And while true that many resolutions will soon be abandoned, this larger health-minded ethos will carry through with consumers through 2023 and beyond. Here are five surprisingly simple menu tactics to help them succeed.
1.    Well Centered
Those large portions of meat that long have anchored the center of nearly every plate? In many cases, they're moving off to the side, sharing space with grains, fresh vegetables, and sometimes broth—this balance believed to be a smart move for healthful eating. Consumers respond well to the shift, with one study finding that for many, smaller meat protein portions are preferable to eating meat less often. Added bonus: it's food-cost friendly.
On the menu:
Chicken Pho with rich roasted chicken stock, pulled meat, banh pho rice noodles, cilantro, scallions, and red onion, with garnishes of pickled garlic and housemade hot sauce

Sesame-Soy Salmon Bowl of soy ginger-glazed salmon, Brussels sprouts, orzo, edamame, spring mix, and crispy onions with sesame vinaigrette
2.    Low Sodium
Health advocates are ardent champions for pulling way back on added salt and sodium and diners are getting hip to it, too. Pumping up flavor with herbs, spice blends, and a fresh acidic tang of citrus, tamarind, or vinegar makes it hard to tell that salt was added sparingly if at all.
On the menu:
Grilled lamb chop with farro risotto, marinated artichokes, cipollini onions, mint chimichurri, and jus

Vegan mushroom steak with parsnip purée, crisped potato hash, petite vegetables, foraged mushrooms, fried parsnip, vegan demiglace with sherry vinegar
3.    Nutrient-Dense Foods
From superfoods to tofu, egg whites, lentils, chickpeas, quinoa, and nuts, many foods pack extra nutritional bang for the buck. Loaded with vitamins and minerals, they often come with a benefits package rich in such things as antioxidants, phytonutrients, and omega-3 fatty acids. Younger generations especially show high interest in such foods.
On the menu:
Crisp falafel served atop citrus-turmeric brown rice with cucumbers, tomatoes, pickled red onions, hummus, and roasted pepper sauce

Sambal tofu with spicy garlic-chili sauce, kale, broccoli, collards, mushrooms, edamame, brown rice, and peanut sauce
4.    Plant Ideas
The evidence is indisputable: orders of plant-based meats, poultry, seafood, eggs, and dairy products come from meat eaters, omnivores, vegetarian and vegans alike, a truth that solidifies their place on menus. As familiarity and appreciation for them grow, so does interest in ordering them.
On the menu:
Lettuce cups with spiced plant-based "pork sausage," crispy rice, flash-seared avocado, and chipotle salsa

Walnut "chorizo" tacos with melted Monterey Jack, tropical pico, red cabbage slaw, and tomatillo salsa, on corn tortilla
5.    Have It Your Way
Increasingly, operators need to be ready and able to respond to customers who want to tailor orders to their tastes or diet needs. Adding a few items with easy swap-outs and options that meet special diet and allergen needs is smart business.
On the menu:
Pizza with garlicky olive oil, three-cheese blend, Portobello, cremini, and button mushrooms, finished with fresh arugula, goat cheese, and balsamic reduction all built on classic, gluten-free or cauliflower crust

Build your own salad with choice of romaine, iceberg, spinach, arugula, quinoa, and brown rice with add-ins such as chickpeas, tortilla crisps, red peppers, pepperoncini, honey-mustard pretzel croutons, dried cranberries, and pickled onions
The information provided is based on a general industry overview, and is not specific to your business operation. Each business is unique and decisions related to your business should be made after consultation with appropriate experts.