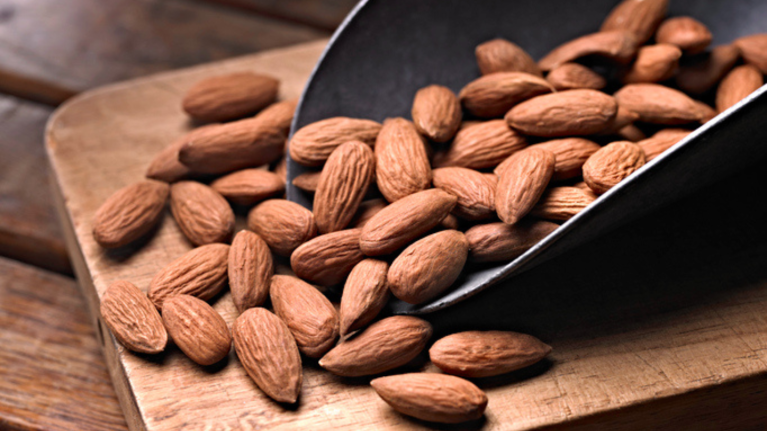 Nutrition, Health & Wellness
Nuts, Seeds, and Grains Add Menu Inspiration—and Value
October 19, 2016
A handful of nuts, seeds, or grains adds a huge measure of texture and protein. See how they add interest to a wide range of dishes, some you didn't expect.
Here's an ingredients category with loads of potential. From almonds to walnuts, chia seeds to wheat berries—nuts, seeds, and grains add texture, flavor, nutrition, and inspiration to menu items.
Many are protein powerhouses, which make them particularly useful for vegan and vegetarian menus, but their usefulness is by no means limited to meatless specialties.
Nuts to You!
Nuts are for crunch; in fact, few foods add so much texture. They're also healthy and almost addictively tasty. And a little of this premium ingredient goes a long way.
Use chopped or slivered nuts to crust proteins like chicken and fish

Add nuts to salads and vegetables for a crispy boost

Add body to sauces like romesco (a rustic Spanish sauce made with tomatoes, almonds, olive oil, and vinegar) and this distinctive Lemon Arugula Pesto

Roast, spice, and menu nuts as an à la carte snack, or add to an upscale bar mix

Stir into pilafs, pasta, and other "soft" dishes

Sprinkle over pizzas and flatbreads, as in this Thai Red Curry and Lamb Flatbread

Glaze nuts and use in a sweet topping for both savory and dessert items

Add chopped nuts to frostings and fillings

Experiment with different kinds of nuts in different recipes, from mellow walnuts to luxe macadamias
The Seeds of an Interesting Menu
Poppy seeds and sesame seeds have always been around, in bagel toppings, hummus (which usually contains tahini, a Middle Eastern sesame paste), and more. But lately these and other seeds have become more prominent as a source of nutrition as well as flavor and texture—some are even touted as superfoods, including hemp, chia, and flax seeds.
Some ideas for incorporating them:
Add pepitas (pumpkin seeds), sunflower, or pomegranate seeds to salad for color and texture

Offer smoothies with additions like chia, hemp, flax, or pumpkin seeds

Take a page from the American south, where they are called benne, and use sesame seeds in vegetables, wafers, and crackers

Add chia seeds to yogurt and fruit mixes

Make a chia seed pudding or mix into pancake batter

Mix hemp seeds into granola

Use poppy seeds in a sauce for pasta

Bake seeds into or onto breads and rolls

Blend hemp seeds into nondairy dressings

Add seeds of almost any kind to bar cookies and other sweet baked goods

Substitute or augment flax seeds in any recipe calling for sesame seeds
Tip: Don't forget sesame seed oil, which adds savory flavor and smooth texture to these recipes for Stir Fried Green Beans and Asian Pepper Steak Slider.
Great Grains
Grains are getting a lot of love these days, from professional kitchens and customers alike. In fact, once-pedestrian grains have become superstars in menu categories as far-ranging as breads, breakfast specialties, and side dishes. Learn how to cook them with this Ancient Grains Cooking Table (PDF).
Use whole grains as a base for on-trend customizable grain bowls

Give customers a whole grain option for pastas

Offer multigrain breads and rolls; they're delicious and healthy

Menu a grain-based side dish such as quinoa or farro

Add grains to hearty soups

Use grains in a salad, instead of the more predictable pasta salad

Experiment with oatmeal and other grain-based porridges on a breakfast menu

Use cooked grains instead of breadcrumbs in items like meat loaf

Substitute brown rice or brown jasmine rice for regular white rice
Try This: Give grains a head start to flavor by preparing them with bases from Minor's® and Maggi®, as well as Minor's Flavor Concentrates, all of which are gluten free.