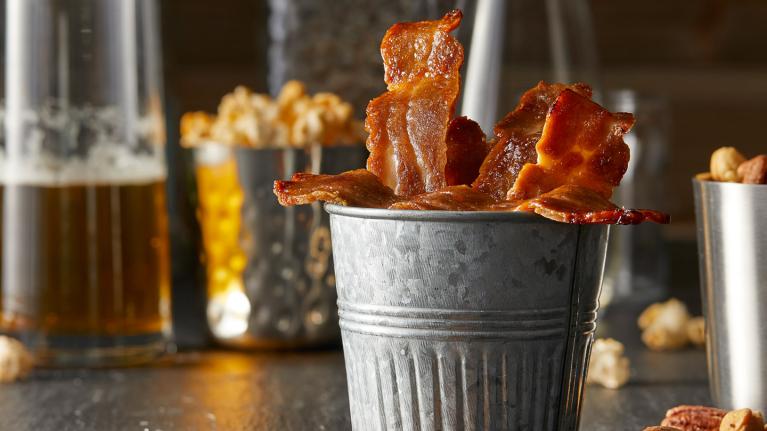 Meeting the Appetite for Plant-Based Snacks
March 1, 2022
It pays to take notice when two foodservice trends intersect and, right now, snacking and plant-forward are holding strong. Play both at once for a big power move.
Wait, did someone say traffic was up during late afternoon and overnight hours—more familiarly known in the industry as snack dayparts? In fact, they did, NPD Group's tracking of consumer restaurant use identifying it as a welcome bright spot in a landscape that has seen two years of mostly stalled growth. From 3 p.m. to 5 p.m. and 9 p.m. to 5 a.m. are sweet spots for snacking with both timespans seeing traffic increases of several percentage points. Part of it is consumers' predilection to eat whenever the urge hits with pandemic-influenced habits also contributing. Work, school, and commuting schedules remain fluid and so, too, does what used to be fairly predictable dining times and habits.
At the same time, interest in plant-based menu options continues. The trend, turbocharged by large and hugely influential Millennial and Gen Z demographic groups, has spurred strong demand for new menu items. Chains, independents, and noncommercial operations all have taken note, highlighting existing offerings and adding a slate of new options.
Plant-forward is the watchword, a tag that holds equal appeal among omnivores, flexitarians, vegetarians, and vegans. With the decision often driven by concerns such as health-mindedness, environmentalism, sustainability, and animal welfare, many patrons are intent on adding plant-based meat alternatives to their diets, even if it's only a sporadic feel-good habit. Whether or not it's acceptable for the preparation to also include dairy, egg, or even small amounts of animal fat varies among consumers. With vegans and vegetarians accounting for just 5% of the US population, it's often okay to mix non-vegan fare with plant-based menu items as long as ingredient listings are fully transparent with callouts for pure vegan offerings.
In many operations, adding more plant-based fare, snack or otherwise, is easy, with items that fit the requirements often in-house or already on the menu. Bagels, biscuits, rolls, salads, fresh fruit, vegetables, olives, rice, quinoa, hummus, guacamole, salsa, granola, sorbet, smoothies, and yes, even the perennially popular onion rings and French fries fall under the fully plant-forward heading.
Here are globally inspired options to amp up snack menus even more:
Latin America and Mexico
Jackfruit taco al pastor, tajin-dusted fresh pineapple, and chipotle aioli
Taco with chorizo-spiced minced walnuts, roasted sweet potatoes, and cilantro
Sopes with crisped avocados, shaved red cabbage, smoked jalapeños, and crema
Flautas with chicken or beef substitute tossed with chipotle-spiked roasted tomato sauce
Arepas with spiced refried beans, charred bell peppers, pickled red onions, and cilantro
Quesadilla with toasted corn galette, harissa-glazed eggplant, confit of red peppers, cashew cheese, and hoja santa
Crisp Puerto Rican tostones
Asian Cuisines
Samosas with cumin-spiced white and sweet potatoes, caramelized onions, and raita
Savory Indian-spiced chaat, a large family of street snacks that combine a variety of crisp, crackery bits with add-ins such as potatoes, chickpeas, cilantro, onions, and more
Filipino arroz caldo with crispy garlic and calamansi
Griddle-cooked roti bread with melted, curry-spice cauliflower
Banh mi with grilled, soy-glazed tofu, mushroom pâté, pickled onions and jalapeños, cucumbers, carrots, and cilantro
Vegetable egg roll with beets, tofu, cabbage, mushrooms, carrots, and bean thread noodles, mango sweet-and-sour sauce
Dragon California roll with banana blossom tempura, avocado, carrots, beets, wasabi mayonnaise
Italian
Mushroom and slow-cooked Tuscan kale flatbread
Arancini
Pizza with arugula pesto, oil-poached burst tomatoes, and pine nuts
Crostini with spiced carrot pâté and fresh basil
Vegetable fritto misto with lemon aioli
Cheesy macaroni with tomato fondue and herbed bread crumbs


The information provided is based on a general industry overview, and is not specific to your business operation. Each business is unique and decisions related to your business should be made after consultation with appropriate experts.