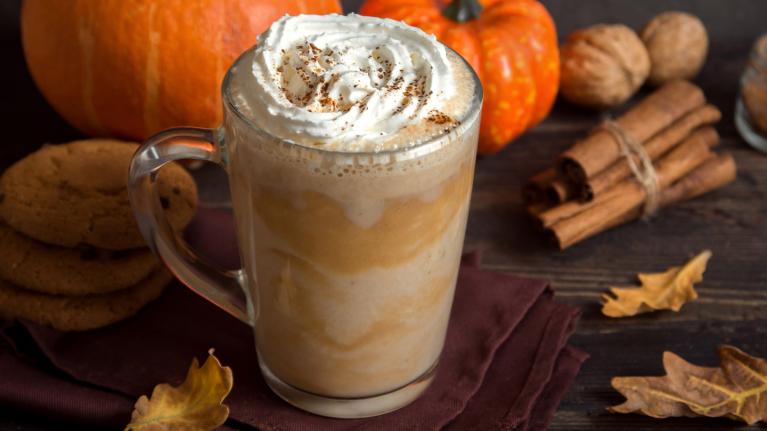 Top 10 Cappuccino and Latte Menuing Tips
October 3, 2022
These landmark coffee beverages continue to hold their own as menu mainstays. Here's some ways to keep yours on-trend.
Lattes and cappuccinos have been favorites of coffee-lovers for decades. It's no wonder—these iconic drinks are endlessly versatile and always evolving with customer tastes.
Recently, the buzz has been around seasonal flavors—waiting for that first pumpkin latte of the season has become an annual tradition that drives traffic (and lots of free media attention!). 
In fact, in its 2022 "LTO Thought Starters" report, Technomic says, "As the holiday season grew nearer, 4 of the top 20 most craveable items in December 2021 were holiday-themed coffee drinks. Successful items levied descriptions that exuded comfort and called on the traditionality of certain flavors, like baking spices, chocolate, caramel, and vanilla. These items also drew attention for their fun holiday names, such as Snowball Latte (from Biggby Coffee)."
Also driving the continued popularity of these beverages is the ability to swap out dairy milk for one of the many plant-based options, which have become so popular. 
But it is the business-friendly characteristics of these beverages that have also made them regular features on foodservice menus. Both lattes and cappuccinos contain the same core ingredients—espresso and milk, only requiring a little know-how and training to get up and running.
And they also afford operators the chance to get creative with their coffee menus, coming up with their own signature versions, usually with the addition of simple flavorings or toppings, which can then be sold at a higher margin.
With all this going for them, is it any surprise that cappuccinos and lattes are tied today as America's most popular coffee beverages?1 Lattes are found on 22.3% of menus, a 13% increase since 2018, while cappuccinos are found on 27% of menus.2
Here are ideas that will keep coffee customers lining up for more.
10 Tips to Drive Latte and Cappuccino Menu Excitement
Think year-round.

Pumpkin lattes are now expected in the fall. But don't stop there. Seasonal flavorings year-round can pump some excitement into your latte and cappuccino offerings. Options already gaining popularity include maple, eggnog, and peppermint. Take a cue from 7-Eleven's Gingerbread Latte, a cozy holiday treat which blends "a sweet creamy coffee latte with ginger, honey, allspice, and molasses."

Consider food pairings and meal combos to drive up sales.

Forty percent of specialty coffee meal occasions away from home were consumed with food.3

Menu your own "signature latte," for a premium price.

For example, a large Dunkin's Cake Batter Signature Iced Latte retails for $5.29 compared to $3.99 for a regular large, iced coffee and $5.09 for a regular large, iced latte.

Stock plenty of plant-based alternative creamers.

Their usage and appeal continues to increase. In fact, they currently represent a third of creamer usage. The most popular, in order, are almond, soy, coconut, oat, rice, and cashew milks. Coconut milk usage is growing faster than all other plant-based varieties.3

Tap into global flavors.

One trending example: Tahini, a Middle Eastern condiment is now finding new menu placement in coffee drinks, says Technomic Ignite's Q3 2022 "Emerging Eats" report, which explains, "it adds nutty, earthy complexity to hot, iced, and frozen beverages."

Be sure to menu the most popular latte flavors, too.

These include, in order of popularity, vanilla, caramel, mocha/chocolate, cinnamon, and hazelnut.2

Don't skimp on quality.

It is by far the top reason for venue choice for specialty coffee, followed by (in order) price, convenience, variety, customizability, a loyalty program, environment/ambiance, and gift card/prepaid card.3

Include popular spins on traditional coffee lattes.

One example, a Dirty Chai Latte, where a shot of espresso is added to Chai tea and milk. 

For a fun spin, try an on-trend flavored breakfast-inspired latte.

French toast, waffles, and pancakes all are a source of inspiration for iced coffees today, according to Datassential's "The World of Cold Coffee," March 2021, which adds that these treats often use maple syrup and have buttery notes to play on the nostalgia of weekend breakfast.  

Add salted caramel to your latte.

It is an LTO trend to watch, says Technomic in its "Winter 2022 LTO Seasonal Review." The caramel and sea salt combine for a complex, salty-sweet flavor profile. Caramel adds extra indulgence, while salt helps balance sweetness.
Seen on Menus—Getting Creative with Lattes and Cappuccinos
Tim Horton's Maple Bacon Iced Capp: An iced cappuccino topped with whipped cream, maple flakes, and bacon bits.
Caribou Coffee's Iced Sweet Thai Latte: Espresso and cold milk combined with sweetened condensed milk and notes of cardamom.
Peet's Coffee's Iced Golden Latte: The chain's signature hand-pulled espresso with a touch of turmeric, honey, ginger, and poured over ice.
7-Eleven's Churroccino Latte: The company says it "combines the sweet cinnamon flavors of a classic churro with a creamy, delicious coffee taste."
Starbucks Iced Sugar Cookie Almond Milk Latte: Sugar cookie-flavored syrup combined with Starbucks Blonde espresso and almond milk over ice, topped with red and green sprinkles.
Dunkin's Cake Batter Signature Iced Latte: Espresso blended with cake batter flavor and topped with whipped cream, rainbow sprinkles, and a drizzle of mocha sauce.
And, cappuccino is showing up in beer, too. A collaboration between Sheetz and Evil Genius Beer Company in Philadelphia, the Project Vanilla Shteam Machine is brewed with Sheetz's vanilla cappuccino. This cream ale has a light vanilla flavor with subtle coffee notes and a delicate hop aroma.
Interesting fact:
25% of growth chains (higher-end casual dining) pair iced lattes with spiced flavors or ingredients.4 
Sources: 1. The National Coffee Association of USA's National Coffee Data Trends (Spring 2022). 2. Datassential's SNAP Food Profile (July 2022). 3. Datassential's "Buzz 2022 Annual State of the Category" (March 2022). 4.  Technomic Ignite's "New Item Trends" (Q2 2021).
The information provided is based on a general industry overview, and is not specific to your business operation. Each business is unique and decisions related to your business should be made after consultation with appropriate experts.