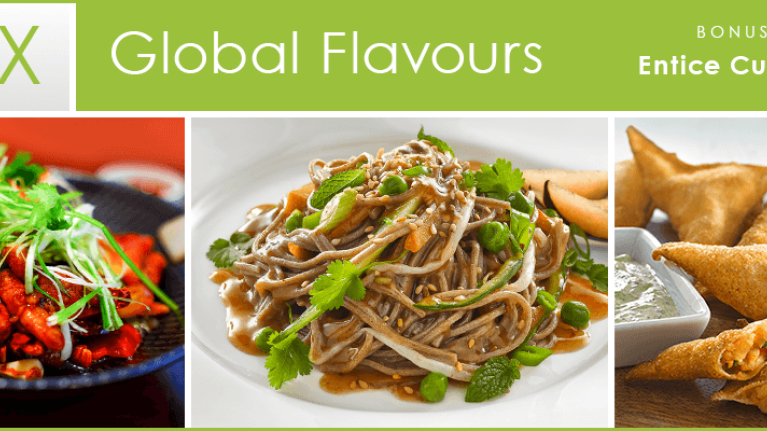 Your Guide to the Hottest Flavour Hot Spots
July 1, 2016
FIRST IN A SERIES: Where are the flavour capitals of the world these days? Find out where the action is both internationally and at home. We have recipes!
The global food trend is moving out beyond Americanized versions of Italian, Mexican, and Chinese food. Menus in almost every segment are starting to take inspiration from the Mediterranean, Southeast Asia, Latin America, and beyond. There's also a growing appreciation of the regional food traditions right here in our own backyard.
According to a National Restaurant Association study Global Palates: Ethnic Cuisines and Flavors in America—the first exploration into global cuisine that the organization has done since the late 1990s:
80% of consumers (four in five) eat at least one ethnic cuisine per month

One-third of consumers tried a new ethnic cuisine in the last year

Two-thirds of consumers eat a wider variety of ethnic cuisines now than five years ago
Italian, Mexican, and Chinese still constitute the Big Three (frequently eaten by 61%, 50%, and 36%, respectively, of consumers in the NRA study). But in recent years the world of global cuisine on menus has grown to include Regional American, Mediterranean, Japanese, Thai, Vietnamese, Brazilian/Argentinean, Greek, and other Southeast Asian specialties.
These new global hot spots are where operators can set themselves apart from the competition. Here are the gateway foods into each of these cultures:
Regional American
Cajun/Creole gumbo, po'boys, and jambalaya

Southern barbecue, fried chicken, biscuits and gravy, and shrimp and grits

New England chowders, lobster rolls, and baked beans

Philadelphia-style soft pretzels and cheesesteak sandwiches

Cincinnati chili

Texas-style chicken fried steak

Midwest fried cheese curds, deep dish pizza, and corn dogs

West Coast poke, Cobb and seafood Louis salads, cioppino, and fish tacos

Tex-Mex chimichangas, enchiladas, fajitas, and burritos
Get Started: Many Tex-Mex specialties call for a spicy finish of cheese; choose from any of these Chef-mate® ¡Que Bueno!® cheese sauces. And for chili items, there's Chef-mate Original Chili Con Carne with Beans and Original Chili Con Carne without Beans.
Mediterranean
Couscous (a grainlike pasta cooked with meats and vegetables, often served with spicy harissa sauce)

Tagine (various meat and vegetable stews flavoured with fragrant spices)

Provencale-style ratatouille (stewed vegetables including eggplant, zucchini, peppers, and tomatoes)

Spanish paella

Tabbouleh (refreshing cold salad made with cracked wheat, parsley, and lemon)

Kebabs
Did You Know? Many Mediterranean cuisines include dips of all sorts, including hummus, which has become virtually mainstream on American menus.
Japanese
Sushi and sashimi

Ramen noodle soup

Tonkatsu (breaded, deep-fried pork or chicken drizzled with a piquant sweet sauce)

Tempura
Tip: Teriyaki sauce is one of the signature ingredients in Japanese cuisine—and Minor's® has a great one.
Thai
Pad Thai noodles

Tom yum gung (soup made with shrimp, mushrooms, tomatoes, lemongrass, galangal, and kaffir lime leaves)

Green chicken curry

Red curry (made with various types of meat and coconut milk)

Chicken in coconut soup
Vietnamese
Pho noodle soup

Fresh spring rolls

Banh mi sandwich (baguette traditionally stuffed with pork and other meats, with pickled vegetables)

Caramel chicken or fish (braised in fish sauce and sugar, traditionally in a clay pot)
Try This: Maggi Seasoning is used all over Asian to boost the umami quotient of foods. A new 6.75-oz. tabletop version puts flavour in the hands of customers.
Brazilian/Argentinean
Feijoada (hearty black bean and pork stew)

Moqueca (spicy shrimp stew cooked in coconut milk)

Empanadas (stuffed savory pastries)

Asado (grilled meats)

Parrillada (mixed grill)
Did You Know? Many Latin meat dishes call for the protein to be marinated first; trust any of these Minor's flavor concentrates to do the job.
Greek
Moussaka (layered eggplant casserole, with or without meat)

Pastitsio (custardy baked pasta casserole)

Spanikopita (phyllo dough stuffed with spinach and feta)

Souvlaki/Gyros (turnspit roasted lamb, beef, pork, or chicken, often served in a pita with a cucumber yogurt sauce called tzatziki)

Greek salad
Try This: Traditional Greek flavours and ingredients—olives, feta, lemon, fresh oregano—enliven this Lemon Oregano Chicken Salad, which also includes Greek yogurt in the dressing.
Up-and-Coming Indian
Samosa and pakora (savory filled pastries)

Naan flatbread

Tandoori chicken (marinated in yogurt and spices, then baked)

Mulligatawny (curried chicken soup)

Vindaloo (spicy curry, often made with lamb or chicken)

Chicken Tikka Masala (marinated chicken in a creamy sauce)

Kofta (vegetarian "meatballs")