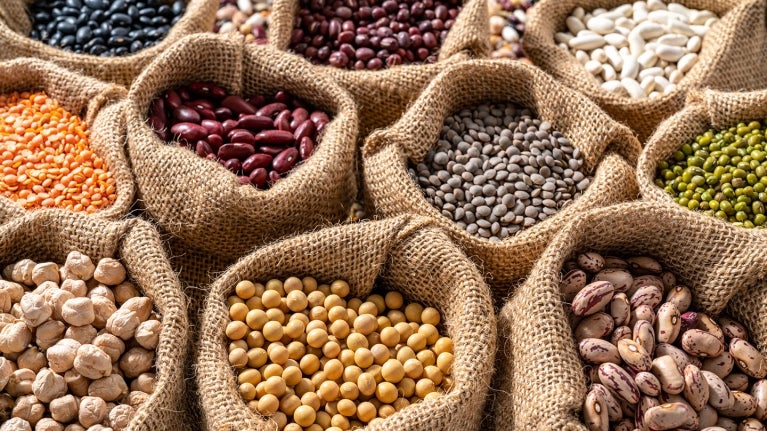 The Plant-Based Appeal of Beans and Legumes
July 3, 2023
With interest in alt-proteins strong, dried beans and lentils offer menu options that are healthy, versatile, and friendly to food costs.
Driven by a desire to add more plant-forward and plant-based foods to diets—for their health and that of the planet, diners seek a full spectrum of choices that meet their mood on any given day. Enter legumes and lentils.
Though these humble, inexpensive ingredients, either canned or cooked from dried, may once have lacked the pizazz of flashier fare, they're ho-hum and predictable no more. With dozens of varieties and a deep, delicious legacy of global recipe inspirations, lentils and dried beans are more than able to meet the challenge in ways that are more than kind to food costs.
The belief that only vegetarians and vegans seek meatless menu options has been proven wrong, evidence coming from all demographic groups, younger ones especially leading the charge. A study by the Hartman Group and reported by Supermarket News indicates that fully 79% of Gen Zs go meatless once a week and 65% of them say they want a more plant-forward diet. With plant-based options that mimic beef, poultry, and seafood pretty much mainstream on menus and selling well to a growing group of flexitarians, it makes sense to further capture this interest by adding more choices, including beans.
The variety of dried beans, field peas, and lentils available has expanded, with heirloom and less common types moving to the fore. With them come differing flavors and textures, from French cassoulet beans to flageolets, Christmas limas, black garbanzos, and lentils with roots as far away as India, Italy, and France.
Chili, baked beans, navy bean soup, and hummus already are deeply embedded on foodservice menus, but they only touch on the possibilities of fully plant-based dishes or plant-forward sides served in tandem with other proteins. These items can build out breakfast, lunch, snack, and dinner dayparts.
Here are trend-forward ways restaurants are bringing panache to the category and turning plant-forward options into menu superstars.
Greek green lentil soup with barrel-aged feta cheese and balsamic reduction

Wild Atlantic salmon with French lentils, green beans, and romesco sauce

Indian yogurt-and-spice-marinated tofu bowl with black lentils, quinoa, and fresh spinach 

Medu Vada, savory black lentil (urad dal) fried fritters flavored with cumin and whole peppercorns

Thai red lentil burger with sweet potatoes, oats, curry, and fresh basil lemongrass

Bourbon burger with housemade lentil patty, mushroom bacon, Bourbon reduction, and a giant onion ring on brioche bun

Southwest egg rolls with black beans, cheese, char-roasted corn, onions, and bell peppers served with spicy slaw, tomatillo salsa, and jalapeño-cilantro dipping sauce 

Slow-cooked chili with black and pinto beans, tomato, poblano peppers, beer, and molasses, topped with sour cream, green onions, cilantro, and radish, served with cornbread

Greek gigantes beans baked in oregano-spiked tomato sauce with red chilies, carrots, onions, and celery topped with crumbled feta cheese

Paneer chaat with fried field peas, chilies, fresh mint, yogurt, sweet chutney, and chaat masala

Five-grain falafel with spiced organic wheat, amba aioli (flavored with pickled mango, turmeric, and chilies), red pepper chutney, and garlic sauce with fattoush salad of pickled mixed vegetables, turnips, beets, peasant fattoush salad, with signature hummus, and crispy chana chor chickpeas (flattened, fried, and spiced chickpeas)

Turkish salad of chickpeas with plum tomatoes, carrots, celery, cucumber, bell peppers, scallions, and red onion dressed with smoked paprika emulsion

West African red bean and black-eyed pea stew cooked with plantains, beef, lamb, and curry spices
The information provided is based on a general industry overview and is not specific to your business operation. Each business is unique, and decisions related to your business should be made after consultation with appropriate experts.