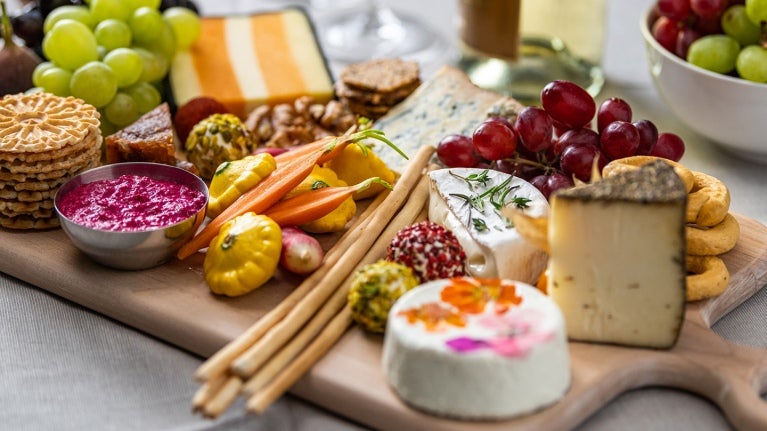 How to Make a Charcuterie Board Fit Any Menu
September 1, 2023
Charcuterie boards come in all varieties, from meat-centric to vegetarian or even sweet. Discover unlimited creativity with this growing trend.
The perfect accompaniment to a bottle of wine, charcuterie ranked as the No. 1 appetizer and a Top 3 hot menu trend in the National Restaurant Association's What's Hot 2023 Culinary Forecast due to its staying power and versatility.1
Once consisting of simple cured meats, charcuterie became more mainstream when cheese, crackers, dips, and pickled vegetables jumped on board. Now, these perfectly sharable appetizers and small plates are quickly becoming an anything-goes concept.
If you haven't taken advantage of the charcuterie wave yet, below are a few ways any restaurant concept, from pizzeria to bakery, can use existing ingredients to create a sharable charcuterie board for its guests.
Pizzeria: Commonly referred to as an antipasto platter when served in an Italian restaurant or pizzeria, charcuterie boards in an Italian atmosphere can include any pizza toppings you have on hand served with fresh breadsticks or flatbread. Try pepperoni, prosciutto, green and red peppers, olives, an array of cheeses, olive oil, and honey. Pair with red wine.
American Restaurant: Everyone loves breakfast, so create a board for brunch fans. Feature breakfast staples such as smoked salmon, cream cheese, bagels, bacon, tater tots, mini quiche, and a selection of fresh fruit. Pair with coffee, mimosas, or Bloody Marys.
Barbecue Restaurant: BBQ meats were born for charcuterie. Imagine thinly sliced summer sausage nestled beside chunks of smoky beef brisket and juicy pulled pork. Complete the experience with diced cheddar and Monterey jack cheeses, pickled onions, a bowl of vinegary sauce, sliced pickles, and hot, buttery rolls. Pair with iced tea or craft beer.
Seafood Restaurant: Nicknamed seacuterie, think of the charcuterie at a seafood restaurant as a fish-lover's dream board. Fan out oysters, salmon tartar, shrimp cocktail, crab dip, mussels, capers, cornichon, sardines, and crackers on a chilled marble platter with drizzled complementary sauces. Pair with white wine or rosé.
Vegetarian Restaurant: Charcuterie boards can truly be anything you like, which means they can also be meat-free. Highlight fresh, local fruits and vegetables or serve an array of meatless protein options, marinated tofu, or mushroom pâté alongside dairy-free cheeses, homemade breads, and savory nuts. The options are endless. Pair with tea or functional beverage.
Brewery: Many breweries and gastropubs infuse food with beer. Try pairing a beer flight with beer-infused charcuterie. Think beer brats, beer cheese, fancy mustards, local cheese, olives, and salty pretzels.
Bakery: One of the easier ways to inspire full-size dessert sales is to let customers sample your creations. With a bakery charcuterie board, you can offer mini sizes of cakes, cupcakes, brownies, breakfast treats, and more. Pair with coffee, tea, hot chocolate, or a smoothie.
Elevate Your Board Game
Charcuterie boards make ideal retail items for a grab-and-go pantry, catered events, or a gift option to be delivered the same day or shipped overnight

Seasonal charcuterie boards work as limited-time offerings, too. Think Halloween char-BOO-terie with pumpkin hummus and caramel-dipped apples, Valentine's Day boards with chocolate-dipped strawberries, or a s'mores board with peppermint candy sprinkles

If you already offer a build-your-own sandwich or salad bar, invite customers to build their own charcuterie boards or boxes, too, with a variety of meats, cheeses, dips, and sides

Boost sustainability, lower costs, and curb food waste by utilizing excess inventory and showcasing your creativity with a margin-friendly charcuterie board

Collaborate with local wineries, breweries, or cheesemakers to create charcuterie boards that are curated to highlight their offerings

Host a charcuterie board workshop or post a class online, where guests can learn the art of creating their own boards while also discovering what they can order in your restaurant
Source: 1. National Restaurant Association: "Charcuterie Makes the Cut for 2023" (December 2022).
The information provided is based on a general industry overview and is not specific to your business operation. Each business is unique, and decisions related to your business should be made after consultation with appropriate experts.