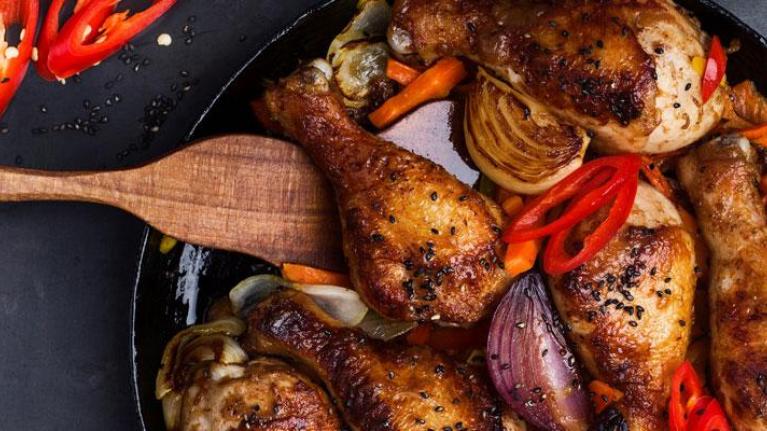 Get Spicy With Your Recipes
October 1, 2021
Spices, seasonings, marinades, and rubs make a huge difference in flavor. Learn what's trending today and take your menu appeal to new heights. It's an easy upgrade.
Of-the-moment condiments, sauces, and spice blends can upgrade standard recipes into menu signatures.
Beyond the ever-present sriracha, gochujang, and aioli, there are a number of newly trending flavor boosters that are transforming the way chefs innovate. In fact, according to the NPD Group, consumption of spices, seasonings, marinades, and rubs increased by more than 50% between July 2019 and July 2020.
Building a recipe around one of these specialties or adding it to a more familiar favorite can have a big payoff.
Ajvar – This Serbian roasted red pepper sauce adds smoky depth with the added tang of garlic and vinegar, and sometimes eggplant. Serve as a dip with crusty bread, crackers, or raw vegetables; as an accompaniment to sausages; as a sandwich spread alone or mixed with mayo; or anywhere ketchup is called for, such as French fries or burgers.
Chili Crisp/Chili Oil – The Big Kahuna of current condiments started in China with an invigorating, fiery red blend of crispy shallots, garlic, and red pepper flakes infused into oil, but DIYers might add Sichuan peppercorns, ginger, cinnamon, cumin, and more—straining out the ingredients leaves a vivid oil. Use it to add umami and color to everything from egg dishes to vegetables to Asian noodle soups to Italian pasta.
Dukkah – A crunchy Egyptian blend of ground nuts, coriander, fennel, cumin, sesame seeds, and dried mint, dukkah is delicious added to oil for dipping bread; to nut and olive mixes; and to add depth to poultry, meat, and other proteins. Mixed with panko, it makes an excellent breading for fish and chicken.
Everything Bagel Seasoning – Off the top of bagels and into everything from salmon rubs to sweet-savory ice cream, this blend of sesame seeds, poppy seeds, dried onion flakes, and kosher salt—some include caraway, garlic, and other flavorings—adds toasty flavor and intriguing texture to foods.
Fish Sauce – The "secret ingredient" that gives a lift to a variety of contemporary chef-driven recipes is actually an ancient Asian blend of fermented fish and salt, or its Italian equivalent: colatura di alici, made from the concentrated, bronzed droplets of liquid squeezed out from barrels of anchovies fermenting with salt. Use as a sophisticated sub for Worcestershire, or wherever umami is desired.
Hot Honey – As the name implies, this honey steeped with some type of hot pepper (red pepper flakes, Thai chiles, jalapeños, etc), adds spicy heat to foods. It's essential in some fried chicken and fried chicken sandwich items, but it also works on wings, pizza, in softened butter for biscuits, salad dressings, desserts, and even in cocktails.
Kewpie Mayonnaise – A rich, yolk-only Japanese mayo that's smoother and sweeter (despite containing no sugar) than standard commercial mayo. Many chefs consider it the closest thing to fresh housemade mayonnaise.
Yuzu Kosho – This fragrant Japanese blend of citrus zest, garlic, chile, and salt adds aromatic acidity (and some heat) to rice dishes, noodle soups, fish, and chicken. It's also great on Mexican-style street corn and in fish tacos. Substitute lemon, lime, and/or grapefruit zest for the hard-to-find yuzu, a Japanese citrus.
XO Sauce – Umami-rich and originally hailing from Hong Kong, XO sauce is an iconic condiment made from dried seafood (namely, dried shrimp, and scallops), salty ham, shallots, garlic, chile, and oil. Use in Asian recipes such as fried rice, of course, but also as a barbecue or steak sauce, sandwich spread, or in roasted vegetables or chili.
Zhoug – This exhilarating Yemeni green chile and garlic sauce, verdant with fresh chopped parsley and coriander, lifts any salad, sandwich, or falafel pita. It's also useful as a dip (added to yogurt or vinaigrette, or as is), especially for fried foods or crudite; or in a marinade for grilled proteins and roasted or grilled vegetables.
Source: The NPD Group/CREST (July 2020)
The information provided is based on a general industry overview, and is not specific to your business operation. Each business is unique and decisions related to your business should be made after consultation with appropriate experts.