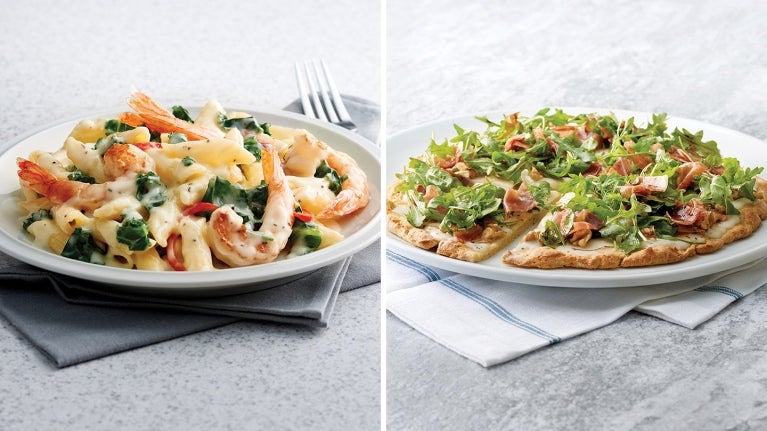 Signature Menu Items Made Easy with Speed-Scratch
April 3, 2023
Speed-scratch is basic to many operations. Variations on the theme can exceed expectations and turn simple fare into signature dishes.
Many speed-scratch staple items can exceed expectations. A little of this and a pinch of that turning them into unique and marketable stars that elevate good menus to great menus. The "Just heat and serve," "Add boiling water and stir," and "Use straight from package" directions on prepared products are merely suggestions that are easily transformed at the hands of creative chefs.
The transformations get solid marks for operational and food-cost advantages, too. Labor-strapped kitchens benefit from these culinary twists and so does the list of on-hand inventory, with many products able to do double or even triple duty. Here are some 'simply smarter' ideas to get started.
Alfredo sauce, a classically luxe way to sauce pasta, can be amped up by stirring it together with pesto and Calabrian chilies. Sure, go ahead and toss it with fettuccine but why not use it on pizza or flatbread or sass up panini or hot-pressed sandwiches?

Basic beef stew is pure, soothing comfort on a plate but the standard format takes to all sorts of globally inspired add-ins. Green olives, oregano, tomatoes, and a glug of red wine served with a finish of feta, bring Greek flair while Scotch bonnet chilies, curry powder, sweet potatoes, and fresh ginger bring a taste of African cuisine to the mix

Macaroni and cheese is pretty much a menu can't-miss, its creamy richness a delicious nod to pure comfort. Sure, it's pretty fantastic served as is but it also takes a shine to add-ins and add-ons. Cooked chorizo sausage, roasted peppers, chipotles, and cilantro bring south-of-the-border appeal while chunks of lobster, sun-dried tomato, and tarragon bring it into four-star territory. Toppings also create distinction by bringing layers of flavor and texture. Panko, crumbled sourdough, or cornbread are great building blocks; crushed salty snacks such as corn chips, potato chips, or mocha rice nuggets also bring widespread appeal with a novel twist that appeals to younger diners. Any of the above can be sautéed to crisp with butter or flavored oil and sassed up with herbs and spices. Oh—and more cheese on top is a no-brainer that always works wonders

Corned beef or roast beef hash is brilliantly simple for making Scotch eggs, the hard-cooked eggs coated first with hash then with panko or breadcrumbs and fried

Whether made in-house or from a mix, pancakes and waffles are simple to amp up by using flavored coffee whitener in place of part or all the liquid. Vanilla, hazelnut, and pumpkin spice flavors work well, especially when fruit and/or nut toppings carry through on the same flavor theme

Booty Dip, a recent red-hot TikTok sensation, is beyond simple to make with cream cheese, marshmallow crème, frozen whipped topping, and semisweet morsels. Serve it as a dessert dip with fruit or a topping for sundaes, brownies, or chocolate cake
The information provided is based on a general industry overview and is not specific to your business operation. Each business is unique, and decisions related to your business should be made after consultation with appropriate experts.