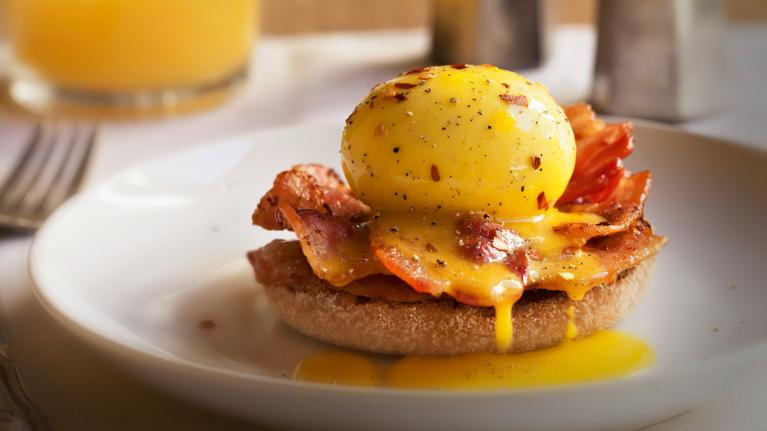 Ready, Set, Speed-Scratch!
June 3, 2022
Speed-scratch is the secret weapon for foodservice kitchens, increasing productivity and ensuring consistent quality. Get food to the table faster with labor savings to boot. Learn how speed-scratch works.
Managing foodservice operations is a juggling act of sorts, with menu trends, consumer tastes, and chef-led creativity going up against time limits, labor constraints, and availability of resources. Final judgment comes on the balance sheet where bottom-line advantages of speed-scratch can easily be calculated, the big thumbs up enhanced with dollar signs.
From bread baskets to beverages, entrées, sides, and desserts, smart use of speed-scratch products slashes prep time from many menu must-haves and allows these ready-made products to be spiffed with signature spins. Among the possibilities: ready-to-bake rolls glossed with butter and sprinkled with seeds and spices; fruit smoothies blended to frothy freshness with premixed juice blends; macaroni and cheese dressed up with taco-seasoned ground beef, chilies, salsa, and cilantro then sprinkled with crushed tortilla chips; hearty and sustaining soups jump-started with sauce and stock bases; and fully prepared mashed potatoes made indulgent with crumbled blue cheese, bits of leftover lobster meat, or a drizzle of truffle oil.
Finding multiple applications for product inventory has never made more sense, upping the ante for new menu ideas for each item on the order sheet. Inspiration can be found on any menu, the streamlined solutions within easy reach, on point all day and for every daypart. Here are some on-trend menu items made mostly or entirely in-house and then reimagined with the practicality of speed-scratch. *Bolded items indicate where to apply ready-made ease.
From scratch: Freshly baked biscuit breakfast sandwich with handcrafted pork sausage, melted cheese, and jerk-spiced honey                                                                                                                                           
Speed-scratch: Prepared biscuit with fully cooked sausage patty, cheese, and hot honey
From scratch: Toasted English muffin with house-smoked salmon, sautéed fresh spinach, hollandaise sauce
Speed-scratch: Toasted English muffin, smoked salmon, thawed frozen spinach seasoned with olive oil, salt and pepper, and prepared hollandaise sauce
From scratch: Patatas bravas with olive-oil fried potatoes, spicy tomato sauce, and housemade garlic aioli
Speed-scratch: Ready-made or leftover roasted potatoes pan-fried in olive oil with paprika-spiced tomato sauce, and mayonnaise mixed with puréed garlic
From scratch: Mini-rrito with housemade chorizo, braised black beans, scrambled egg, roasted potatoes, onion, cotija cheese, and hot sauce wrapped in flour tortilla
Speed-scratch: Precooked crumbled chorizo, canned black beans, prepared roasted potatoes, onion, cotija cheese, and hot sauce in flour tortilla                                                                                                              
From scratch: Catalan beef stew braised in olive oil, Spanish paprika, and red wine
Speed-scratch: Fully prepared beef stew heated with olive oil, pitted green olives, a splash of red wine, and smoked Spanish paprika
From scratch: Housemade veggie burger with soft-scrambled eggs, mashed avocado, hot chili aioli, and muenster cheese on brioche bun
Speed-scratch: Prepared veggie burger patty with soft-scrambled eggs, mashed avocado, mayonnaise flavored with canned chipotles, and muenster cheese on brioche bun
From scratch: Pizzaiolo with housemade artisanal crust, barbecue sauce, cheese, smoked barbecue chicken, red onions, and jalapeños
Speed-scratch: Prepared crust with barbecue sauce, cheese, leftover or fully cooked chicken meat, red onions, and pickled jalapeños
From scratch: Coffee-caramel brownie squares
Speed-scratch: Ready-made brownie batter flavored with instant coffee and cut through with swirls of prepared caramel sauce
Value Propositions
Strictly by USDA definition, many products are value-added, its guidelines allowing that wheat milled into flour, apricots cooked to preserves, and ears of corn shucked and frozen have been further enhanced. In the foodservice world, it's not that simple, the term 'value-added' generally referring to fresh products that have undergone one or more additional processes that bring them closer to an end-use state, say coleslaw-ready cabbage, shredded cheese, mixed salad greens, and fully cooked bacon. Among their draws are labor saving and product/portion consistency, conveniences that add cost. It's simple to determine if the math works out: calculate the upcharge for the value-added product—say shredded vs block cheese and then the labor cost to have that same work done by team members. Also to consider is how much of the product is used. Added cost of fully cooked bacon might make sense if only used sporadically.
The information provided is based on a general industry overview, and is not specific to your business operation. Each business is unique and decisions related to your business should be made after consultation with appropriate experts.