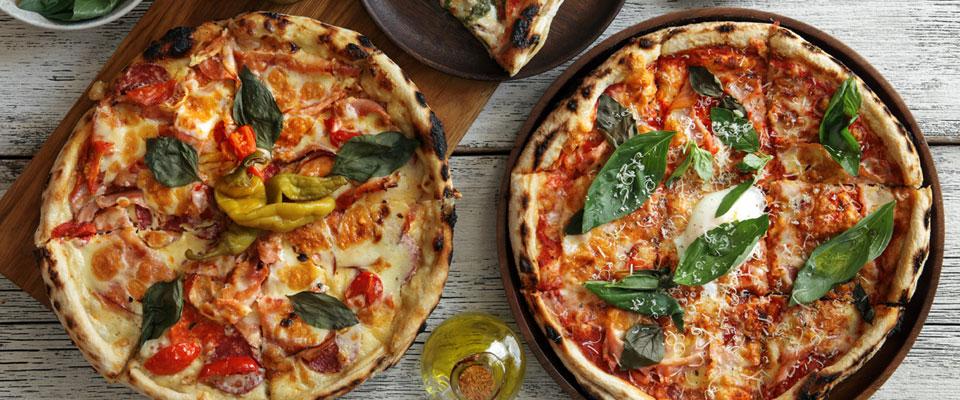 15 Great Ideas for Takeout Pizza
October 18, 2021
With takeout business booming, pizza is growing in importance. Learn 15 ways you can differentiate your pies and add vigor to your pizza program. 
Fill in the blank: "Let's get takeout _________ for dinner." If you answered pizza, you are absolutely on track.
Operations that specialize in pizza were already perfectly positioned for takeout before the pandemic. Many others pivoted to takeout last spring and added this carryout favorite in the process, including chefs usually known for more traditional fine-dining offerings.
Pizza checks off a lot of consumer desires for off-premise dining: It's portable; craveable; family- or group-size; affordable; and versatile enough to fit different dayparts, dietary habits (such as vegetarian), and topping preferences. For operators, pizza offer unparalleled favorable food costs and product utilization. But the sheer number of places that customers can purchase pizza means that operators need to keep innovating in order to keep selling their pies.
Add pizza specials on a weekly or monthly basis to keep customers interested, and to take advantage of seasonality and product utilization strategies.
Think about pizzas for different categories and dayparts, including breakfast pies (bacon and cheese scramble or corned beef hash with sunny side eggs) and dessert pizzas (topped with fruit and mascarpone, or peanut butter and chocolate on a sweet crust).
Package two large pies, a salad, and beverage as a family-style meal.
Pepperoni is always a favorite, but explore different toppings, such as specialty cheeses (gorgonzola or Manchego, for example), unusual proteins (smoked turkey, lamb meatballs, air-dried beef), or distinctive produce (fennel, artichoke hearts, roasted figs), available either à la carte or in a curated signature pizza
Consider crust options such as gluten free, whole wheat, cornmeal, low-carb keto, and even cauliflower.
Try adding a pizza meal kit or take-and-bake pie.
Make sure to offer plant-based pies for flexitarians, vegetarians, and vegans (there are dairy-free cheeses and plant-based proteins that can be used instead of the traditional versions).
Menu pizza-adjacent items like flatbreads, folded pies, and focaccia, which are especially suitable as appetizer and lunch options; these work particularly well if you want to offer pizza without being in the pizza business.
Leverage the mashup trend by using Mexican, Asian, Indian, or other global flavor profiles and ingredients on this Italian-American favorite
Look into regional pizza styles such as thick-crust Sicilian, cheese-edged Detroit, cracker-thin bar pies, chewy Neapolitan, and foldable New York-style versions.
Don't forget the sandwich-style pizza cousins, calzones and Stromboli.
Get really creative with items like pizza pretzels, biscuit-crust breakfast pies, stuffed pizza, and more, which also address opportunities like snacks and second breakfast.
Offer pies in various sizes, including smaller individual pies for single diners or mixed orders.
Experiment with non-tomato sauces, such as Alfredo, barbecue sauce, pesto, even creamed spinach or spinach artichoke dip.
Grilled pizzas work when there's no oven, or when the equipment is needed for other menu items.
The information provided is based on a general industry overview, and is not specific to your business operation. Each business is unique and decisions related to your business should be made after consultation with appropriate experts.
GET STARTED
Minor's® flavor-boosting products are ideal for creating signature pizzas, including flavor concentrates, ready-to-use sauces, and such specialties as pesto.