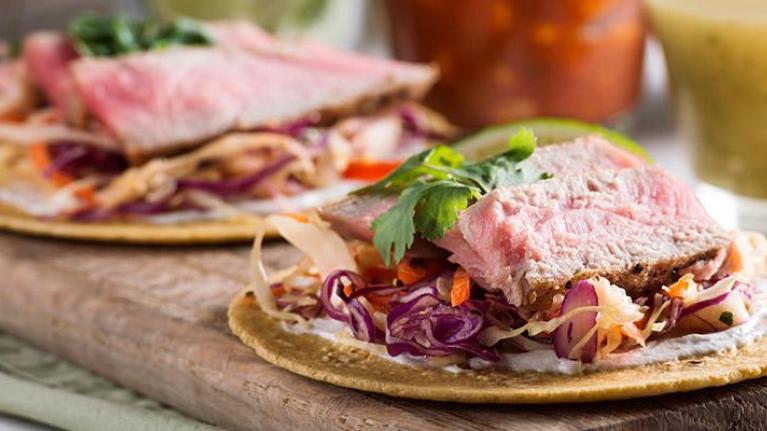 Authentic Mexican Trend Heats Up
October 19, 2016
Mexican food is a North American mainstay, but the same-old, same-old Mexican flavors are giving way to more authentic, chef-driven Latin cuisine. Discover how it can work for you.
Make no mistake: Mexican and other familiar Latin cuisines are hotter than ever on mainstream menus. But it's not just familiar fan favorites like quesadillas and guacamole that have become more prevalent.
As the Hispanic culture continues to grow in the United States and consumers become more comfortable with once-exotic ingredients like chiles and cilantro, Latin food is becoming more exciting. Mexican food, in particular, is undergoing a transformation, from standard Tex-Mex burritos and combo plates to more authentic regional specialties and creative, chef-driven interpretations.
In the meantime, ingredients such as tomatillos, chorizo sausage, Latin cheeses (cotija, queso fresco), and chipotles en adobo (smoked jalapeños in a spicy sauce) are showing up in both Latin specialties and in cross-cultural concepts, such as this Beer and Chorizo Queso Dip. It's all part of the search for flavor, and it's happening in various kinds of food service segments all over the country.
Did You Know? Minor's® has a number of Flavor Concentrates that can bring Latin flair to recipes, without worrying about sourcing or handling chiles. Chef-mate® ¡Que Bueno!® White Queso Sauce also adds South-of-the-border flavor to a variety of recipes.
California Pizza Kitchen features tortilla soup and Chicken Tequila Fettuccine. Applebee's has Loaded Brisket Enchiladas and a Quesadilla Burger. There's a Fire Roasted Tomato Ancho Soup and an Anasazi Bean Burger on the menu at Burgerville. And any number of fast-casual "better taco" concepts are ramping up their offerings to include fillings such as carnitas, barbacoa, pulled pork, picadillo, and more.
Baja Grill, an à la carte facility in Schurz Residence Hall at the University of Missouri, in Columbia, specializes in the spicy cuisine of South America and the Caribbean. Specialties include carne asada, quesadillas, and fish and chips, as well as a large selection of different chips and dips.
Even breakfast foods are getting a Latin twist. Egg-based taco fillings as well as plated menu items such as huevos rancheros and chilaquiles are becoming more popular on menus of all kinds.
12 Trending Mexican Specialties
Carne Asada – Marinated, grilled skirt steak, delicious on its own or used as a filling for a Carne Asada Soft Taco specialty.

Carnitas – Seasoned pork shoulder, slow-cooked until exceptionally tender then pulled or chopped to make a filling for tacos and more.

Ceviche – A refreshing, chile-seasoned Latin seafood cocktail, as in this Fresh Scallop Ceviche.

Chilaquiles – Strips of fried corn tortillas (often leftover), simmered in salsa and served with eggs, cheese, and/or beans.

Chile Verde – Pork cooked slowly in a flavorful green chile sauce made with tomatillos and jalapeños.

Chimichurri – This garlicky, parsley-laden sauce hails from Argentina, but similar sauces for grilled meats are served all over Latin America.

Churros – A crispy, doughnut-like confection that is often served with hot cocoa or chocolate sauce for dunking.

Huevos Rancheros – Fried eggs served over corn tortillas, smothered in cooked salsa.

Pozole – Sometimes spelled posole, this hearty soup/stew includes hominy as well as either pork or chicken (see this recipe for Posole Verde).

Elotes – Grilled corn on the cob slathered with mayonnaise and cotija cheese and dusted with chili pepper is a popular street food in Mexico.

Empanadas – Fried pockets of dough with various fillings are popular all over Central and South America, and are a great cross-utilization for meats like brisket or the seasoned ground beef known as picadillo.

Tortas and Cemitas – The names for both signature Mexican rolls as well as the flavorful sandwiches that are served on them.