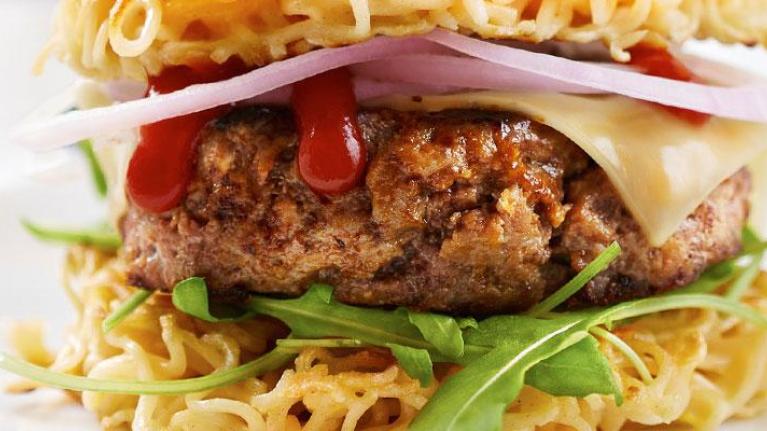 Mashups: An Unlikely, and Profitable, Trend
October 8, 2015
Mashups are unlikely combinations of flavors and cultures that produce foods like Korean tacos. The trend is accelerating. Learn how you can combine flavors and cultures for profits.
Google the words "culinary mashup" and you're likely to turn up a menu item like Korean tacos, a combination of a popular Mexican street food concept with the bold flavors of Korean cooking. Critics may call trendsetting foods like cronuts (croissant + donut) and ramen burgers (a burger patty sandwiched between two crispy ramen noodle discs) passing fads, but the best of these cross-cultural inventions reflect the eclecticism of the contemporary American population.
In fact, many of the chefs creating some of today's newest hits are themselves a product of multicultural families, such as Nina Compton, whose Compère Lapin restaurant in New Orleans reflects her Caribbean birthplace and her grandmother's British roots, overlain with classical French training and the Italian cooking that she learned working in Miami's Scarpetta.
Certainly this "gastronomic interchange" has inspired many interesting multi-culti menu concepts:
Cajun meets Vietnamese at Just Beclaws in Jersey City, NJ, in the form of spicy seafood and more—not so strange a combination when you consider that many Vietnamese immigrants to Louisiana made their living as fishermen

Chicago's new Izakaya Mita sets itself apart from the Japanese restaurant fray with a menu section devoted to Rice Sliders

SumoMaya, in Scottsdale, AZ, entertains local interest in Mexican foods like guacamole and sopes with abundant Asian touches, as in the Pork al Pastor Pad Thai or Mexican Pho

Chef José Andrés mixes up noodles and tacos at the Chinese-Mexican fusion restaurant China Poblano, in Las Vegas

In San Francisco, Sushirrito touts "a fresh way to roll" with customizable sushi burritos
But the trend goes beyond dedicated locations to encompass individual mashup menu items. The University of California, Davis has been menuing the Ramenito, a ramen noodle-burrito hybrid consisting of ramen noodles folded into a flour burrito, with Sriracha, cilantro, and optional toppings. Fawley Stadium, in Wilmington, DE, is home to the Wilmington Blue Rocks Minor League baseball team and the Donut Dog, an over-the-top conflation of a hot dog inside a glazed donut with bacon and raspberry jelly; fans were invited to come up with the name. And Waffles Café, in Chicago, has come up with a new menu item called the Wonut, which combines the properties of a—you guessed it—waffle and donut.
Try This: Add some fun to doughnuts with crunchy, colorful candy toppings.
Small wonder, then, that a recent FoodBytes (PDF) trend report by Datassential heralded the arrival of The Strange & Unusual, citing such mainstream menu-item introductions as The General (a sandwich filled with egg rolls and General Tso's chicken, courtesy of the GetGo c-store chain); Hot Dog Bites Pizza (Pizza Hut); PB&J Wings (TGI Friday's); and the Divalicious Red Wine Shake (Red Robin).
Items like these are true menu signatures, creating buzz (especially of the social media and Instagram kind), uniqueness, and craveability. That makes them particularly appropriate for highly promotable LTOs (limited-time offers), where operators can test the waters for eventual inclusion on the core menu—that's how Taco Bell's insanely successful Doritos Locos Tacos and Quesaritos got their start, after all.
Mashups also represent a savvy way of introducing new global flavors and ingredients in a way that's less threatening to customers than a full-on authentic ethnic menu item. At Saint Clare's Health System in Denville, NJ, operations manager Aatul Jain has found ways to incorporate ideas from his Indian culture into items like the naanini—sandwiches filled with various ingredients, such as turkey, cranberry sauce, greens, and cornbread pressed panini-style into Indian naan bread.
Get Started: Minor's® Sauces and Flavor Concentrates are available to bring Asian, Latin, and Mediterranean flair to recipes.
How to Translate the Trend
Open your mind to the possibilities.

Start with a classic (pizza, macaroni and cheese, sandwiches) and vary the platform or garnishes—who's to say that a taco, for instance, can't be served on a waffle, or that mac n cheese can't be made into handheld tots.

Swap in unusual ingredients: for example, Whole Wheat Fettuccine with Cilantro Alfredo contrasts familiar pasta Alfredo with the unexpected touch of cilantro.

Think texture and flavor when making combinations—the coleslaw topping this Southern Slaw Dog adds a lot of both.

Borrow global flavors to enliven traditional American favorites, as in this delicious Mexican Burger.