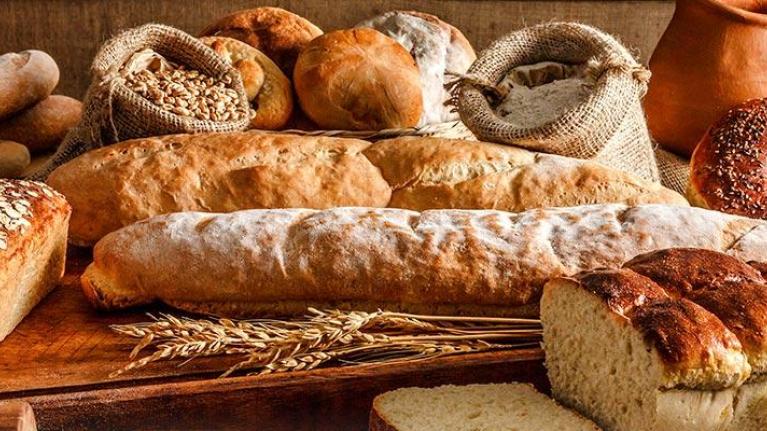 Bread Has Profit Baked In
October 19, 2019
Discover how signature breads can make your operation stand out. We have ideas for breakfast, lunch, and dinner—and just about any cuisine.
No matter how you slice it, bread and other savory baked goods have many roles on menus, playing large at the three main dayparts. With a delicious range of styles and forms, they're tailor-made to be the foundation for profitable offerings. 
Bread may be off the table for carb-avoiders and the gluten-averse, but as a category the staff of life has never been more interesting, with diners keen on such things as whole grains, regional and ethnic specialties, homey comfort fare, and, as always, the carrier for lots of great burgers and sandwiches. 
Morning, noon, and evening meals are rich with opportunity to buff-up bread possibilities with selections that have strong consumer appeal.
Breakfast
Toast can be more than an afterthought that's added to every plate. À la carte side orders such as warm cornbread—either square cuts, corn sticks, or baked in individual cast-iron skillets—beckon with homespun allure, and never more so than when paired with flavored spreads such as chipotle butter, spiced honey, or sweet or savory jam.  
Entrée-worthy specialties such as avocado toast and ricotta toast have taken breakfast and café menus by storm. Toast "soldiers" grab attention when paired with soft-cooked, coddled, or poached eggs whether served simply buttered or taken up a notch by dipping them in the deep fryer for a super-crisp finish. 
Biscuits deliver generous doses of on-trend comfort. They, too, can be matched with seasonal spreads and preserves or used for breakfast sammys and as the starting point for biscuits and gravy or reimagined eggs Benedict. 
Lunch 
Sandwiches and burgers become something to talk about when high-quality breads and buns are used. Brioche and pretzel buns remain vibrant across all segments, each signaling an up-market approach to menu standards. Onion rolls, English muffins, focaccia, flatbread, naan, and ciabatta also add distinction. 
Grainy breads appeal to a growing corps of diners, especially when they're part of a sandwich build. Interest in rye bread is growing and it is a platform for patty melts, Scandinavian-influenced open-faced constructions, and of-the-moment cured and smoked meats. 
Dinner
Bread baskets, once a perfunctory (and free) part of meal service, can become a signature shareable as an a la carte appetizer or starter. Pair two to three specialty breads with spreads, butters, flavored oils, and toppings. Another option: a skillet with Parker House or pull-apart rolls, slicked with herb butter and sent to the table warm.
A wood-fired grill crisps and chars bread to glorious perfection, readying it as a base for something as simple as whole-milk ricotta doused with olive oil and finished with fresh herbs or as hearty as chicken liver pâté. The shareability of bruschetta, crostini, and other bread-based items make them a natural for the appetizer menu. Toppings can be seasonally inspired and also created with a food cost-minded eye toward using trim and leftovers.
A little drama always does well in the dining room and with Middle Eastern influences moving mainstream, pita and other flatbreads are growing in menu appearance. Indian breads such as naan are also gaining favor, and any of these unleavened treats can be paired with spreads such as hummus, labneh (a type of yogurt), and baba ghanoush or served with a shower of zesty spice blends such as za'atar or dukkah. 
The information provided is based on a general industry overview, and is not specific to your business operation. Each business is unique and decisions related to your business should be made after consultation with appropriate experts.
MAKING EXTRA DOUGH WITH STALE BREAD
TRY THIS
Profit-focused kitchens know there's nothing crummy about repurposing stale bread. 
Make breadcrumbs with the metal blade of a food processor or panko with the shredding disk (try freezing loaves before shredding)
Italian panzanella salad and Middle Eastern fattoush mix dry bread or pita, vegetables, and vinaigrette
Thin-slice loaves, then slowly oven-dry for Melba toast, skorpa, and bagel or pita chips as an accompaniment for spreads and dips, salads, and soups
Some cake and torte recipes use breadcrumbs instead of or in tandem with flour 
Custard brings new life to bread, croissants, and rolls in bread pudding, strata, and French toast
BREAD BY THE NUMBERS
DID YOU KNOW?
Brioche enjoys 15.9% U.S. menu penetration, a 44% increase over the past four years
Rye bread is mentioned on 30.1% of U.S. menus, representing a 20% surge
Pretzel bread or roll is on 10.8% of U.S. menus, up 19%
Grain breads appear on 19.1% of U.S. menus, a 16% increase
Still not convinced that bread is big? With input solicited from its 360 million registered global leaders, social media giant Facebook revealed in its 2019 Topics & Trends Report that growing interest in breads is one of three food trends on the top of consumers' minds 
Sources: Datassential, Breads: Top Lists (2019); Facebook IQ, The 2019 Topics & Trends Report