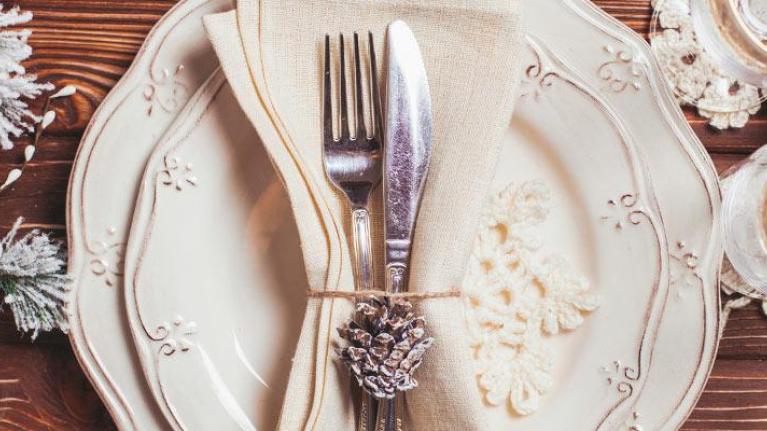 The Dash From Halloween to New Year's Starts Now
October 20, 2016
Time to plan for the holidays. Discover four key strategies that can make your end of year over-the-moon successful.
It's countdown to the fall and winter holidays, from Halloween to New Year's, and every occasion in between. That's a lot of ground to cover—and a lot of opportunities to build customer loyalty and boost sales and profits. It can also be a challenging time for you and your staff, between busier schedules and all the attendant stress.
Special Selling Features
Many food service operations go all out for the holidays, positioning themselves as a destination year after year—for instance, the Sheraton Seattle Hotel is known for its elaborate annual gingerbread village. But even if you don't have the resources to create such an over-the-top event, you can take advantage of seasonal sales opportunities and make your holidays more special.
Offer specially priced menu items or dinner packages keyed to customers' seasonal budgetary constraints, such as "Every Day Is Black Friday" or during the weeks after New Year's, which can be a slow time

Host a photo contest on your website, Facebook page, or Instagram (ugly sweaters, anyone?) to drive traffic and create a sense of community. Promote the contest via social media, your email list, in-person contacts, staff, and personal network of family and friends

Implement a prix fixe menu over the holidays, either as an addition to, or even instead of, the regular menu. Customers love set menus not only because they're special and different, they're also a known quantity as to selection and price, particularly when patrons are entertaining family, friends, or clients. They're also easier on the kitchen than à la carte service

Create a special holiday beverage, such as a punch, spiced cider, or mulled wine, to serve individually or even to a group of guests

Consider a special holiday-time service feature such as a Shopper's Express Lunch, afternoon tea or snacks, or late-night breakfast for evening revelers
Did You Know? Nestlé Professional Action Stations are perfect for creating memorable holiday meals, featuring everything from snacks to breakfast to desserts. They're festive, special, and versatile enough to be attended or self-service, depending on service capabilities and customer preference.
Indulgent Desserts
The holidays represent an excellent time to go all in with holiday desserts and baked goods. Even if you don't have a pastry chef, you can take advantage of patron desire for festive sweets. Comfort food favorites like bread pudding and elaborate ice cream creations are easy on the kitchen and enticing to customers. Or purchase the best prepared desserts available, customize them seductively, and merchandise them effectively; you can even take advantage of your buying power to pass them along to customers as a busy-season takeout onvenience. Consider any or all of the following:
Whole pies and cakes to go

Platters of cookies, cupcakes, and muffins for self-serve catering or gift-giving

Over-the-top dessert specialties like a cast-iron skillet brownie sundae or housemade doughnuts with boozy sauces for dipping

Family-size desserts for a party of several diners to share—how about butterscotch pudding for four in an oversized bowl, or a chocolate fondue with fruit, angel food cake, and sugar cookies to dip?

Seasonal specialties like pumpkin or pecan pie, gingerbread, or a traditional Yule Log

Liquid pleasures in the form of specialty coffee and hot cocoa drinks, (alcoholic or non), or a delicious milkshake or dessert smoothie
Get Started: Nestlé Professional offers an array of delicious dessert products, including branded specialties like Nestlé® Toll House® Semi-Sweet Morsels, Wonka® Nerds® Rainbow Candy Pieces, Nestlé® Butterfinger® Chunks, and Nestlé® Buncha Crunch®—ideal for creating signature desserts.
Convenience-Based Takeout/Catering
The holidays are a great time to offer time-saving services to customers, such as takeout and catering, even if you don't normally offer them. Developed correctly, catering can be a great profit center, and it can also better position a brand for year-round success. Just be careful not to overpromise by offering something you can't execute.
Offer components, rather than whole meals, that can be produced during existing prep time, such as platters of hors d'oeuvres, side dishes, entrée casseroles in trays, whole roast chickens or pot pies, or prepared desserts

Create a set meal for customer pick-up with sufficient notice, including an appetizer, main course with sides, and dessert, from your existing menu (or past menu favorites) that you know will be easy to produce and travel well. The menu can be rotated weekly, monthly, or from holiday to holiday to encourage repeat business

Design a program that fits your existing concept and menu; Sadelle's, a Jewish-style bistro in New York City, has become known for its "High Holiday" menu for pick-up, based on the deli-style items already on the menu

Consider selling bulk items from your inventory, from sliced deli meats to paper goods; this can be particularly effective in noncommercial operations with employee dining, such as B&I and healthcare
Try This: Dips with crudites and crackers are a wonderful takeout/catering option during the holidays, and easy to produce with Stouffer's® Queso Cheese Dip and Spinach Artichoke Dip.
Pay Attention to Staff Needs
Customers aren't the only ones who need a little extra attention during this busy period. Staff can also feel the pinch, in a variety of different ways.
In operations such as college food service, where dining facilities may be slow or even closed, catering can help keep kitchen and service staff employed over the break

Make things a little easier on staff who work holiday shifts with a per-diem credit toward convenience foods like mashed potatoes and gravy, stuffing, or desserts for their own holiday meals, or for gift cards they can give to family and friends

Staff meal is especially important during the busy holiday period, so that employees have the energy to keep going

Ensure that you have enough staff to cover illness and scheduling requests

On the subject of illness, double down on best practices to maximize healthy food handling and to minimize the risk of colds and flu

Stress can be another staff problem during busy periods. Allow employees to take off the time they need—rather than being overworked—or consider special features like a pre-shift yoga class or sales promotions with prizes such as spa certificates, extra time off, and the like
Try This: Hungry employees arriving at all different times for their shifts can fuel up with Hot Pockets®.