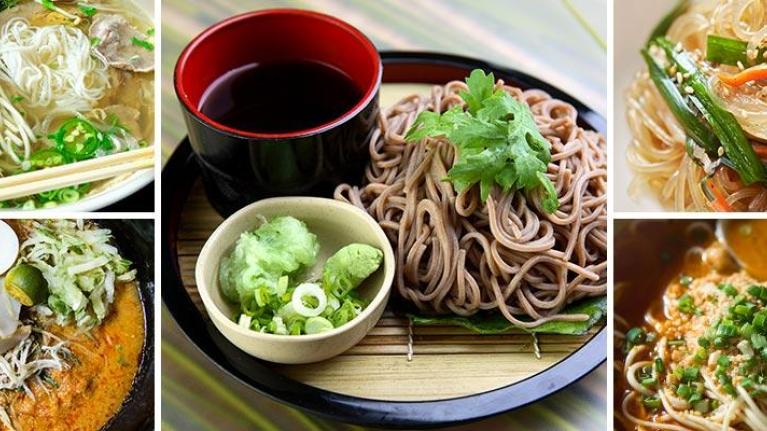 Discover Why Asian Noodles Are on So Many Menus
October 19, 2021
Noodle dishes are everywhere in Asia. Discover some great variations—from ramen to lo mein to experimental mashups. Patrons love the flavors and textures of the East.
Burgers, fried chicken, ramen? Build-your-own noodle bowls with Chinese wheat noodles, Japanese buckwheat soba, and gluten free Thai vermicelli? Pan-Asian restaurants with entire menus focusing on noodle specialties from around the region?
Why not? Asian noodles have arrived on the Western foodservice radar. Because, among other things, Asian noodle dishes are: 
Distinctive and experiential

Perceived as fresh and healthy

Loaded with flavor

Representative of good value

Easy to customize

Appropriate for vegetarian and vegan diets
Being relatively neutral in flavor on their own, Asian noodles are also versatile enough to inspire all kinds of signature experimentation, from daily specials to one-of-a-kind cross-cultural mashups. And that makes them perfect for today's dining trends.
Panera has traded on the appeal of Asian noodle dishes with two of its broth bowls: the meatless Soba Noodle Broth Bowl with Edamame (soba buckwheat noodles, fresh spinach, Napa cabbage blend, roasted mushroom and onion blend, fire-roasted edamame blend, sesame seeds and cilantro in umami soy-miso broth) and Soba Noodle Broth Bowl with Chicken (antibiotic-free chicken, soba buckwheat noodles, fresh spinach, Napa cabbage blend, roasted mushroom and onion blend, sesame seeds, and cilantro in umami soy-miso broth).
Here are a few classic Asian noodle specialties to get the ball rolling.
Ramen – One of the most popular signature dishes of Japan, ramen is a comforting, nourishing noodle soup, that's traditionally made with chewy wheat noodles and one of three basic broths: Shyoyu (soy sauce), Miso, and Shio (salt). There may be a base made with chicken, pork, or seafood stock, or it may be vegetarian. The soup can then be topped with ingredients like sliced, roasted pork, seaweed, scallions, bamboo shoots or other vegetables, and/or a boiled egg. 
Pho – Vietnam's claim to fame is this flavorful soup consisting of clear broth (usually beef or sometimes chicken) with rice noodles, vegetables, and meat. Pho is usually served with a plate of herbs and garnishes such as sliced chiles, basil and other herbs, bean sprouts, and lime wedges, plus condiments like fish sauce and a chili sauce such as Sriracha on the side, which makes the pho easy and fun to customize.
Pad Thai – As its name hints, this stir-fried noodle dish is a specialty of Thailand. Pad Thai is made with thin, flat rice noodles, and almost always has bean sprouts, garlic chives or scallions, scrambled egg, firm tofu, and a protein (the most popular being chicken and/or shrimp), finished with a thick, sweet-savory sauce scattered with crushed peanuts.
Laksa – Incredibly rich, fragrant, and complex, this spicy, iconic Malaysian soup consists of thick wheat noodles or rice vermicelli with chicken, shrimp, or fish, served in a broth made from curry and coconut milk flavored with garlic, chiles, lemongrass, and ginger.
Lo Mein – The granddaddy of Cantonese noodle dishes, these "stirred noodles" can be stir-fried with any number of vegetables and/or proteins, including chicken, pork, or seafood. The wheat-based egg noodles traditionally are seasoned with soy sauce, oyster sauce, sesame oil, garlic, and ginger.
Kake Udon – Used frequently in Japanese cuisine, udon is a type of thick wheat-flour noodle that is often served hot as a noodle soup in a delicate broth of dashi (kelp and bonito broth), soy sauce, and mirin (rice wine). The noodle can also be used in stir-fries and other, more elaborate recipes.
Soba – These thin and delicately flavored noodles made from nutritious buckwheat flour (called soba in Japanese) or a combination of buckwheat and wheat flours are served either chilled with a dipping sauce, or in hot broth as a noodle soup, often garnished with seaweed, scallions, tempura, or a slice of kamaboko fish cake.
Japchae – Korea's contribution to the noodle pantheon is this sweet and savory dish of stir-fried glass noodles and vegetables (including mushrooms) and sometimes beef. Because the noodles are made with sweet potato flour, japchae is gluten free. Soy sauce and sesame oil are the dominant flavor-building elements.
Dan Dan Noodles – A specialty of the Sichuan province in China, the wheat noodles are dressed with spicy chili oil and a fiery sauce made with sesame paste, five spice, and Sichuan peppercorns, and is served cold topped with peanuts, leafy greens, and scallions. Ground pork stir-fried with hoisin sauce is an optional addition.
The information provided is based on a general industry overview, and is not specific to your business operation. Each business is unique and decisions related to your business should be made after consultation with appropriate experts.
DID YOU KNOW?
Pho has experienced growth of 36.0% on menus over the past four years
Ramen is on 3.0% of U.S. menus, representing a one-year increase of 20.3%
Pad Thai is in the Proliferation stage of the Menu Adoption Cycle, and is being seen on chain restaurant menus and in mainstream grocery stores
Udon has achieved 3.9% U.S. menu penetration, while soba is on 2.6% of U.S. menus
Sources: Datassential SNAP! Pho (2019); Datassential SNAP! Ramen (2019); Datassential Menu Adoption Cycle, Asian Cuisine (2019); Datassential SNAP! Udon (2019); Datassential SNAP! Soba (2019)
GET STARTED
These widely available Asian pantry items are all it takes to create authentic Asian noodle dishes:
Assorted wheat and rice noodles
Fish sauce, hoisin sauce
Soy sauce
Sriracha or other Asian chili sauce
Sesame oil 
Garlic, ginger, chiles, scallions