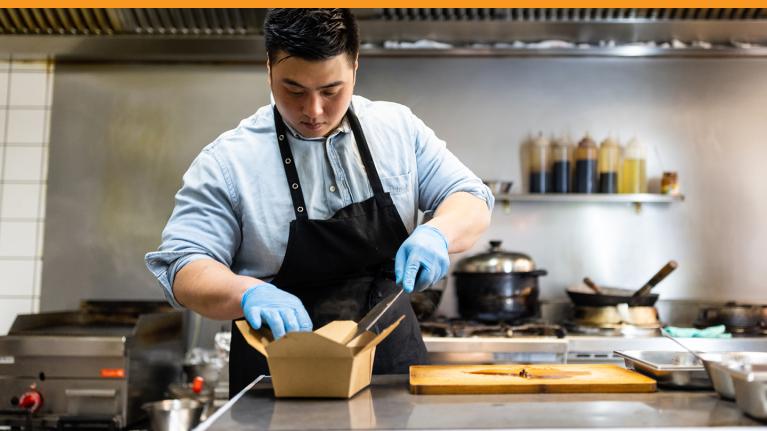 Ghost Kitchens Deliver New Business
June 3, 2022
Ghost Kitchens are quick to ramp up, require limited investment, and let you experiment with menus. See what's big in this $43 billion1 segment and scare up some profits.
Growth Through Ghost Kitchens and Virtual Brands
Don't underestimate how important low cost of entry, limited labor needs, and operational efficiencies are in the emergence of ghost kitchens and virtual brands. With quick ramp up and limited investment risk, they're opportunity waiting to happen. Here's what to know.
Words to Grow By
Learn the lingo for these similar but subtly different terms that often are used interchangeably. Common to all: proximity to a large customer base and availability of delivery, usually through services such as DoorDash and Uber Eats.
Ghost kitchen:
Rented kitchen space for operators to prepare food for delivery. Often in the range of 200 to 300 square feet, there are no guest-facing amenities such as dining room or parking. Orders arrive via apps or telephone. They can be aggregator or independently owned. Less commonly, dark kitchen and cloud kitchen are sometimes used.
Virtual brand:
Generally a brand created by an existing restaurant and executed in available capacity of host restaurant kitchens. A limited and differentiated menu is delivery only. These often serve as new concept incubators. If they work, expansion can be quick and if not, no harm to shut them down and try something else.
Delivery-only restaurants:
A blanket term for ghosts and virtuals.
Delivering New Business
The market for restaurant food delivery is a bright spot, since 2016 its annual growth 300% faster than for dine-in.2 Heavy use by Gens Y and Z is expected to continue to supersize the segment with ghost kitchens and virtual brands adding most of the fuel. First mentioned in 2015, these upstarts saw explosive growth during pandemic lockdown. Here's the trajectory for future US sales.3 Globally, they're expected to hit $1 trillion by 2030 according to Euromonitor.
Low Cost of Entry
It takes serious money to build and outfit traditional restaurants, these upfront costs often a substantial roadblock. Even food trucks demand fat-cat lines of credit. With no glitz, glamour, or even dining room needed to build out ghost kitchens, upfront investment is small. A virtual restaurant might not cost as much as one thin dime.4
Go-to Favorites for To-go Orders
Wings, burgers, and pizza are among can't-miss-menu items for delivered meals—their ease of travel and widespread popularity showing remarkable staying power across the demographic scale. A mashup of data on top-ordered foods from Uber Eats and DoorDash shows the enduring appeal of the familiar.5
15 Most Ordered Foods
| | | |
| --- | --- | --- |
| 1. Chicken fingers and fries | 6. Iced coffee | 11. Chicken tikka masala |
| 2. Chicken sandwich | 7. Milk tea and boba | 12. Breakfast sandwiches |
| 3. Mac and cheese | 8. Veggie/meatless burger | 13. Milkshakes |
| 4. Sushi | 9. Chips and guacamole | 14. Cinnamon rolls |
| 5. Pad Thai | 10. Tacos/burritos | 15. Doughnuts |
Sources: 1. National Retail Federation, A Look Inside the $43 Billion Ghost Kitchen Industry (2021). 2. Lunchbox, Ghost Kitchens History and Predictions (2021). 3. National Retail Federation, A Look Inside the $43 Billion Ghost Kitchen Industry (2021). 4. Fit Small Business, How to Start a Ghost Kitchen in 13 Steps (2021). 5. Financebuzz, The 15 Most Popular Foods Americans Are Getting Delivered (2021).
The information provided is based on a general industry overview, and is not specific to your business operation. Each business is unique and decisions related to your business should be made after consultation with appropriate experts.