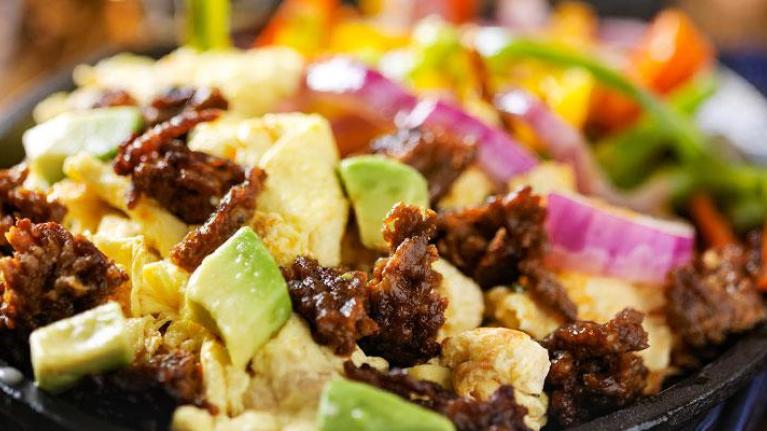 Globalize Your Breakfast Menu
March 1, 2017
The globalization of American cuisine has come to the first meal of the day. Learn how ethnic and regional flavors are changing breakfast menus.
Every hour of every day, someone somewhere is eating breakfast—and it might not be eggs and bacon. People in Japan have miso soup and broiled salmon with pickles. Breakfast eaters in Mexico usually include tortillas with their morning meal. Egyptians often eat the stewed bean dish known as ful medames.
With so many food service operators serving breakfast, it's good to know there's a lot of opportunity for introducing creative global breakfast options to entice customers.
In fact, the National Restaurant Association's annual What's Hot culinary forecast puts ethnic-inspired breakfast items in the #6 spot on the Top 10 list of food trends that professional chefs expect to see a lot of in 2017. This is due not only to changing demographics and the increasingly global nature of the food service industry, but also to the fact that many American consumers are eating breakfast throughout the day.
That means that creativity makes economic sense, because it can pull in new customers. According to the 2016 Datassential MenuTrends Breakfast Keynote Report, while consumers are strongly loyal to traditional breakfast favorites, such as scrambled eggs and oatmeal, 41% are interested in ethnic influences in their breakfast options. This is particularly true among younger diners and those who are eating breakfast at nontraditional hours.
Mexican, Tex-Mex, and Latin-style breakfast items are poised to make even more news. According to the Datassential Breakfast report, elaborate breakfast tacos will pop up on more menus as part of an overall trend toward breakfast foods with more assertive flavors and a variety of textures. Other well-represented staples include huevos rancheros and breakfast burritos.
But there are other possibilities, from Mexico and beyond:
Migas and Chilaquiles – These classic egg-based breakfast favorites evolved as a deliciously thrifty way to use up leftover tortillas.
Menudo – Long revered as a hangover cure, this hominy-based soup can be made with chicken or pork rather than the traditional tripe.
Green Chile Cheese Omelets – Beloved in the American Southwest, Hatch green chiles make for a sprightly flavor base for omelets and other egg specialties.
Chorizo – The spicy Mexican sausage can replace ham or bacon as a side, or be used to create omelets, hash, tacos, and more.
Picadillo – A specialty of Cuba, this tasty ground beef mixture flavored with olives, tomatoes, raisins, and spices can be menued as a hash topped with fried or poached eggs.
Breakfast Tortas – Mexican-style sandwiches on crusty bolillo bread can be filled with anything a Norteño morning sandwich takes.
Beverages – Latin foodways are filled with traditional beverages, including fruity acqua frescas, almond-rich horchata, and Mexican-style hot chocolate.
Get Started: For three ways we can help you globalize your menu see below.
Asian Flavors
The 2016 Datassential MenuTrends Breakfast Keynote Report revealed that menu mentions of kimchi increased 435% between 2012 to 2016, from kimchi and pork belly Benedicts to Korean-inspired omelets and breakfast sandwiches.
But that's just the start. Traditional Asian breakfast foods such as congee (a slow-cooked Asian rice porridge) and the savory Vietnamese crepes known as bánh xèo may still seem a little strange to all but the most adventurous diners, but a new generation of creative, Asian-American chefs are making these and other Asian breakfast foods more mainstream.
Saigon-style banh mi sandwiches with ham or pork, eggs, jalapeños, and quick-pickled vegetables
Rice porridge with mix-and-match toppings, from crumbled sausage and scallions to duck confit
Bacon and egg fried rice
Asian steamed buns with different fillings, such as barbecued pork
Malaysian-style rice-flour and egg scrambles
Jian bing, the crepelike breakfast sandwiches beloved by Chinese diners
Hong Kong-style French toast, stuffed with peanut butter and banana
Chinese pastries such as sweet bean cakes
Indian-style breads and pancakes, including naan, paratha and dosa
Southern Regional
Southerners are great fans of breakfast, and growing interest in American regional favorites clears the way for some Dixie inspiration on the breakfast menu as well. The twist can come from a simple substitution, such as offering grits in addition to hash browns, or biscuits along with the toast selection.
Or consider one of these traditional Southern breakfast specialties:
Country Ham with Red Eye Gravy
Chicken and Waffles
Shrimp and Grits
Biscuits and Gravy
Creamed Chipped Beef
Country Fried Steak and Eggs
There are also many ways to create Southern-style signature dishes, for example a sausage, egg, and cheese sandwich made with spicy pimento cheese rather than usual cheddar or American, or a Benedict variation made with fried green tomatoes or pulled pork.
SOURCES: What's Hot 2017 Culinary Forecast, conducted by the National Restaurant Association; 2016 Datassential MenuTrends Breakfast Keynote Report; Technomic Inc. 2015 Breakfast Consumer Trend Report
THREE WAYS WE CAN HELP YOU
THREE WAYS WE CAN HELP YOU
TRY THIS
The Nestlé Professional Action Station program includes a Breakfast Bar featuring made-to-order tacos and burritos, among other customizable morning menu experiences.