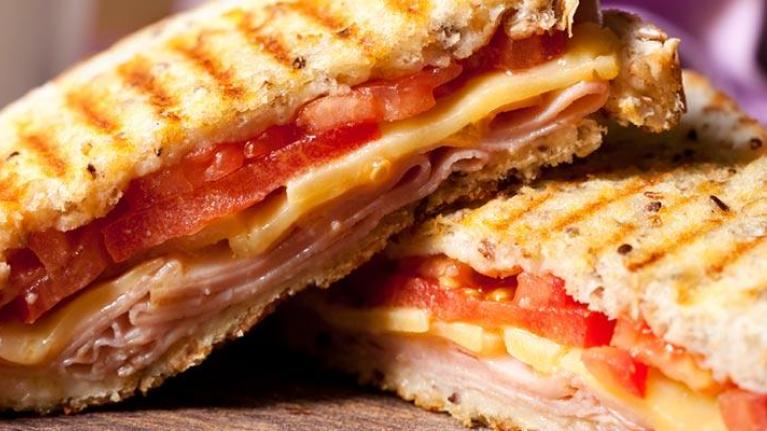 Heat Up Sandwich Sales with Hot Specialties
March 11, 2015
Reports are in: 95% of consumers eat a sandwich at least once a week. Create a craveable hot sandwich and watch your profits catch fire. Turn up the heat here.
What menu category works well for breakfast, lunch, and dinner? For dine-in or takeout? As a premium item or a value offering? That's right: hot sandwiches.
According to Technomic's most recent "Sandwich Consumer Trend Report," 95% of consumers said they had purchased a sandwich away from home at lunch in the previous month, and 73% had one for dinner--and that's not even including hamburgers.
That is one powerful source of sales. The trick to getting your share is creating craveable signature sandwiches, and that's where hot sandwiches come in. As Technomic puts it, the customer call for sandwich innovation is "we want more."
Breakfast Sandwiches
First things first with sandwiches at breakfast—although upgraded egg sandwiches are also infiltrating every menu daypart.
An a.m. sandwich offers the ultimate complete, handheld breakfast: bread or toast; eggs; protein such as cheese and/or bacon; sometimes even vegetables like sliced grilled tomato. Condiments like aioli or a zippy signature ketchup easily take it over the top.
And while an egg sandwich represents nearly the perfect vehicle for takeout, plenty of dine-in venues sells lots of egg sandwiches.
Waffle-based egg sandwiches are particularly hot right now, swapping in round or square waffles for the roll or toast.
Tip: Flavorful condiments are easy when you look to Minor's®, whether you choose RTU Sauces or one of the new Latin Flavor Concentrates.
Panini and Other Pressed Sandwiches
If your customers have a pressing urge for a delicious hot sandwich, you're in luck. Whether heated in an actual press, a conveyor oven, or on a griddle or hot pan, toasting a sandwich brings out all the flavor and textural appeal of its ingredients, creating an extraordinary hot sandwich that's also easy to eat (you can wrap one up in foil or parchment for takeout).
The real beauty part is that in many cases the sandwich can even be assembled ahead and then pressed or finished to order, offering a fresh, crisp finished result in an operationally easy package.
The key in any case is sturdy bread that's not too crusty; a ciabatta, hoagie roll, or Mexican-style telera has a compressible crumb and enough of an outer crust to contain all the ingredients yet still smush down. The whole point of a pressed sandwich is not only to heat the ingredients, but to get them intermingled into a whole.
Knife-and-Fork Sandwiches
Here's where the sandwich moves into the dinner hour. Overstuffed deli sandwiches, open-faced beef or hot turkey, meatloaf or pot roast, French dip, and steak sandwiches: Yes, you might be able to pick these up with two hands but the point is that they offer the heft and substance that customers expect from dinner.
Don't leave out your vegetarian customers here. A big hot sandwich stuffed with an oversize Portobello mushroom, grilled eggplant or zucchini, falafel balls, or a hot vegetable pita will also appeal to people who want to eat a little lighter.
Other possibilities that are easy to "make your own" with signature bread or condiments and fillings include cheesesteak, hot crab or tuna melts, grilled or fried fish sandwiches, a hot roast beef po' boy, or an eggplant Parm grinder.
Don't forget that an interesting side item—hot German potato salad, specialty fries, small portion of mac-and-cheese, grilled broccolini, or even a nice little side salad of fresh dressed greens—will add dinner-worthy value.
Get Started: The addition of a warm sauce can really step up the appeal of a hot sandwich: Try Trio® Au Jus, White sauce, or Chicken Gravy Mix; Stouffer's® Alfredo Parmigiana; or Chef-mate® Basic Cheddar Cheese Sauce.
The Hot List: More Options
Reubens

Cubans

Pulled Pork

BLTs

Gourmet Grilled Cheese

Meatball Heroes

Jumbo Dogs and Sausage Sandwiches

Fried or Grilled Chicken Sandwiches

Sloppy Joe Variations

Burritos or other Hot Wraps