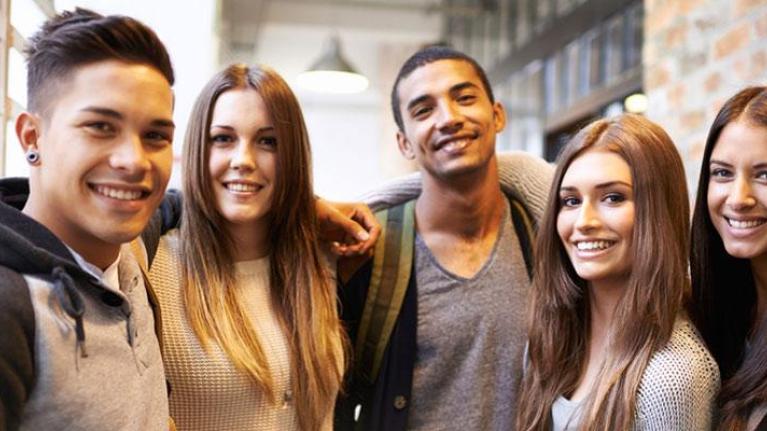 How to Give College Students What They Want
February 5, 2016
What do college students want to eat? Everything global, healthy, and real. Plus they want it available around the clock and customized. Learn how to satisfy these young scholars.
Meet Generation Z, that cohort born between 1996 and 2010 and now entering the college years. According to a recent article in FoodService Director, this 60 million-strong generation is ethnically diverse, environmentally aware, and looking to food and food service as a source for social interaction, exciting new flavors, and a sense of uniqueness.
Here are some ways to meet those demands:
Global Flavors – Ethnic menu concepts of all kinds are growing in importance in college and university environments. For example, at Barrett, the Honors College of Arizona State University in Tempe, any given day brings such dining choices as Ancho-Lime Chicken, Char Siu Pork, Pasta Fagioli, Cajun Fish, and Chana Masala.  
Get Started: Exciting global flavors are in easy reach with such products as Maggi® Thai Style Red Curry Paste and Green Curry Paste; Minor's® flavor concentrates and sauces; Stouffer's® Alfredo Sauce and Alfredo Parmigiana; and Chef-mate® cheese sauces.
Healthy Choices – This is about more than just the Freshman 15. Clean eating, encompassing foods that are fresh, natural, and made from scratch, has become the new definition of healthy and nutritious. Food items like fresh produce (local and organic in some instances), ancient grains, and "superfoods" such as salmon and acai are the order of the day. Dining departments are also taking a more active role in helping students eat healthy; the University of New Hampshire has special plates inscribed with diet plans, and Skidmore's Healthy Living program offers a variety of wellness resources. Some schools even have separate dorms for health-inclined students, which offer benefits such as healthy cooking classes and onsite yoga.
Get Started: Learn how to cook ancient grains for a variety of end uses with this convenient guide (PDF).
Food with a Purpose – Students are increasingly concerned—more so than the general population by some accounts—with social and environmental responsibility. In food service environments, this can take many forms, including:
·      Green building design
·      Active recycling
·      Food recovery programs, such as Bon Appétit Management's Weigh the Waste
·      Fair trade and worker rights
·      Concern about packaging
·      Ethical sourcing, including sustainably grown and humanely raised food
Did You Know? Nestlé Professional is involved in many sustainability efforts through its Creating Shared Value initiative.
Menu Transparency – According to a recent study by Technomic, today's students are accustomed to having information at their fingertips. They value schools' transparency regarding nutritional info and sourcing, and increasingly call for open kitchens where they can see how food is handled. At University of California, San Diego, the new 64 Degrees facility features a demonstration kitchen. As for information, websites and digital technology can lead the way via apps and other handheld platforms, which double as a means for mobile payment.
Made for Me – As far as college students and food service go, customization is their middle name. "We've really been moving in that direction in the past few years," says Neal Plazio, executive chef, the University at Buffalo, part of the State University of New York system and with one of the most ethnically diverse student populations on any campus. With more than 40 different outlets, students enjoy extensive variety. The campus dining department is also using Action Stations to offer custom-made menu items that are cooked to order in full view, particularly in the school's new Crossroads Culinary Center (c3) showplace. There are more than two dozen options in a seven-station marketplace, and students enjoy everything from hot grain bowls and Asian noodle soups to Brazilian-style grilled meats—many of which are cooked to their specifications.
Get Started: The Action Stations program from Nestlé Professional includes many different menu formats, such as salads, ancient grains, breakfast, international soup and noodles, street food, and more.
Anytime, Anywhere – Like many consumers today, college students are not about to be confined by standard meal hours and dining locations. College dining departments have met their needs in a variety of ways, including:
·      Breakfast-for-dinner menus
·      Late-night and 24-hour facilities
·      Grab-and-go concepts for offsite dining
·      Mobile carts and trucks
Cornell University, in Ithaca, NY, for instance, has introduced a new food truck called That's How I Roll, which features sushi burritos—oversized sushi rolls with ingredients such as asparagus, shrimp, and cream cheese. Traditional sushi rolls such as California roll, Alaska roll, and tuna avocado roll are also on the food truck's menu.
Get Started: Hot Pockets® are the perfect solution to the all-day eating needs of college students. Quick and convenient to serve, these handheld savory sandwiches are available with a variety of fillings, including breakfast options.
Options, not Restrictions – College and university students matriculate with a full dossier of specific eating concerns, from gluten and other food allergies to vegetarian, vegan, and halal diets—and they expect to have them met in a way that still allows them to enjoy every meal, without feeling deprived or singled out. The University of Chicago is just one of a number of colleges that have committed to serving students with food allergies, special diets, and other concerns, with a variety of different resources including gluten free menu sections, color-coded utensils to avoid cross-contamination, and menu items for those following Zabiha Halal, kosher, vegetarian, and vegan diets.
Get Started: Nestlé Professional offers a large number of products that are gluten free, lactose free, vegetarian, and/or vegan.