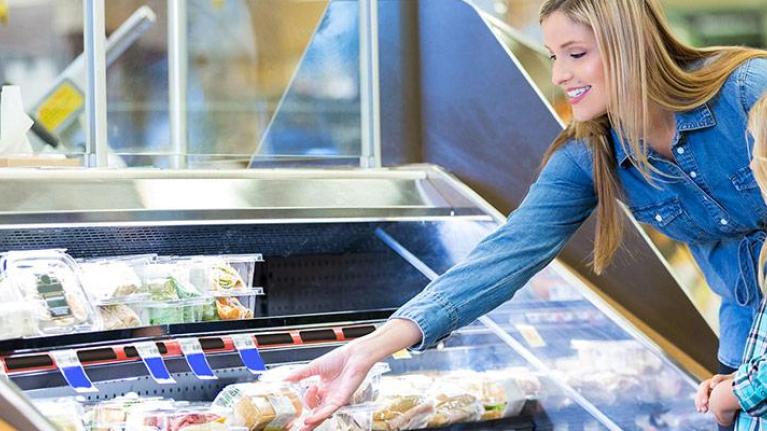 It's a Grocery. It's a Restaurant. It's a Grocerant!
May 1, 2017
Supermarkets have expanded their prepared food and beverage sections to become serious competition for food service. Learn how market segments are melding together and how it affects you.
Grocerants, restaurant-style prepared foods, Retail Meal Solutions (RMS). The times are changing for the retail food sector—an increasingly exciting segment that is blurring the line between traditional food service and supermarkets. 
A hybrid of grocery and restaurant, a grocerant is a grocery store that offers groceries as well as restaurant-style prepared foods, for either eating onsite or takeout. Onsite dining options may range from food-court style tables and chairs where customers can eat their prepared food, to a full-service in-store restaurant. The trend also applies to other types of retail establishments, including c-stores and club stores.
According to Technomic, U.S. supermarkets are putting greater emphasis on so-called RMS (Retail Meal Solutions, including rotisserie chicken, made-to-order sandwiches, soup and hot foods bars, fully prepped hot pizza, and other full-service and self-service prepared foods). Moreover, grocery stores are also ramping up the selection of beverages that shoppers can enjoy while their shopping, including high-quality hot and cold coffee options. In the process, retailers are changing the way individuals and families obtain and consume meals, putting pressure on traditional food service operations. 
For more information from Nestlé Professional to help you compete, see below.
Revenue for prepared food service at supermarkets grew an average of 10% a year from 2005 to 2015, adds Technomic. And when dining out, more consumers are choosing their local grocery stores over traditional fast food and restaurants, the firm showed. As a result, grocers are seeing value in beefing up their prepared food experiences.
In fact, according to retail segment experts SupermarketGuru, high-quality prepared foods offering a combination of on-trend selections, healthy choices, and convenience were among the Top 5 amenities most appreciated by today's shoppers, after self-checkout, online ordering (with in-store pickup), and delivery.
Prepared foods and other food service options are more profitable for supermarkets and other retailers than traditional lower-margin groceries, says Technomic, and they also appeal to shoppers looking for one-stop shopping opportunities that also provide meal solutions. For this reason, retailers have made great strides in improving RMS quality perceptions, and are poised for continued growth by continuing to improve perceptions of their health, convenience, and value.  
Datassential put it this way: Nowhere is segment melding more noticeable than in the modern supermarket, both as a result of competition from other segments and in the innovative ideas that supermarkets are developing themselves. Supermarkets such as Whole Foods, Lund & Byerly's Kitchen, and Key Foods' Olive Tree Marketplace are competing with c-stores by opening smaller, convenience-oriented stores and featuring extensive grab-and-go areas. They're targeting QSRs and fast casuals with scratch-made prepared food areas featuring on-trend specialties and unique ingredients and competing with coffee specialists by installing brewing equipment, coffee carts and kiosks, and onsite baristas. And they're competing with casual and fine-dining restaurants as they add full-service restaurants and host pop-up dinners from renowned local chefs. Supermarkets have even become social hangout spaces—it's not uncommon to see customers taking cooking classes, getting work done in the coffee bar, or tasting a flight of wine at the wine counter. In fact, today's supermarkets may most closely resemble another on-trend concept: the urban food hall.
This presents some challenges for the restaurants and noncommercial food service, as Technomic reveals. Retailers increasingly encroach on restaurants' dine-in occasions with massive selections of restaurant-quality prepared foods and upscale dine-in areas. Many of these concepts tap the same influences as traditional food service venues, including global influences, better-for-you options, and fresh, scratch-made, and seasonal offerings. At the same time, restaurants and noncommercial venues—particularly in college and university and employee-dining venues—are rolling out new takeout and grab-and-go programs to offer greater convenience. Both segments have much to gain, but the net result will be a continued blurring of the options, particularly in the mind of the consumer.
From self-serve wine and beer on tap, fresh seafood steamed in-store for immediate consumption, a do-it-yourself ramen bar, cold-pressed juices and specialty coffee selections, or scan-while-you shop technology, supermarkets are upping the ante in an attempt to become one-stop shops, catering to a variety of consumer needs.
Sources: Technomic Retail Meal Solutions Consumer Trend Report, 2015; SupermarketGuru, "10 Supermarket Innovations Shoppers Appreciate Most," Feb. 28, 2017; Datassential's Creative Concepts: Healthy Supermarkets, August 2016; "Why supermarket foodservice is becoming strategically important to grocers," David Henkes, Technomic, May 2016; Datassential's Creative Concepts: Up-and-Coming Supermarkets, March 2015
Deli Bakery
FOOD SERVICE AT RETAIL
DID YOU KNOW?
Minor's® bases and flavor concentrates are now Ready to Flavor™ any recipe—both hot and cold applications—without the added step of cooking.
FOOD SERVICE AT RETAIL
ON-TREND TIP
With Nestlé Professional Action Stations, it's easy to offer customizable menu concepts including salads, snacks, international soup and noodles, street food, and more.
For more customizable and made-to-order menu ideas, read this issue (PDF) of Mix.