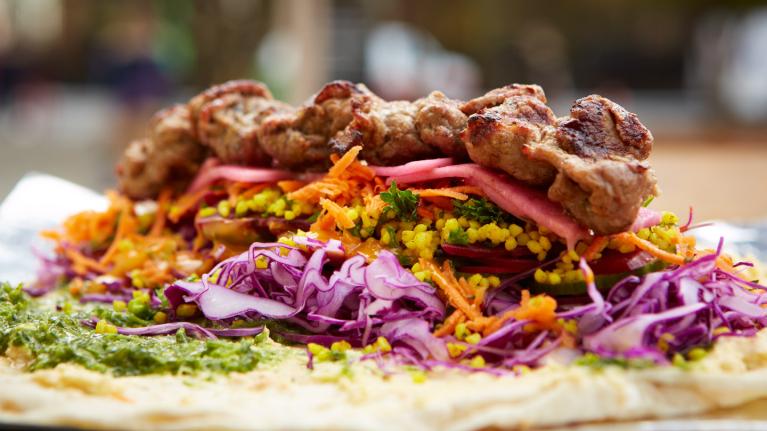 Discover Middle Eastern Flavors Your Customers Love
May 12, 2022
With Middle Eastern flavors playing big in the trend world, adding them to menus is a smart move. A selection of ingredients that's strong on multiuse versatility works in most any operation; it may be time to add some to inventory.
Coming from a broad swath of countries that includes Lebanon, Israel, Iran, Iraq, Afghanistan, Morocco, Tunisia, Syria, Egypt, United Arab Republic, and more, Middle Eastern cuisines are a red-hot trend to tap. Their varied fare eagerly sought out by consumers who find great appeal in comfortingly familiar-yet-exotic intrigue, frequent use of plant-based options such as lentils, dried beans, and chickpeas, complex spicing, and health-minded focus on fresh, Mediterranean-inflected ingredients.
From a foodservice point of view, Middle Eastern has a strong upside even for operations solidly built around American menu offerings. With classics such as hummus, shish kabobs, pilaf, pita, falafel, and feta having long ago paved the way for wide acceptance, most diners are entirely open to dishes that flaunt flavors of the Middle East. Standards such as burgers, pizza, grilled meats, salads, sandwiches, and even casseroles and baked entrées easily can be invigorated with simple additions of Middle Eastern ingredients. In a nod to the upside of using on-hand stock in multiple ways, here's a checklist to get started on the culinary road to Morocco, Israel, Jordan, and beyond.
Harissa, a spicy condiment of roasted red peppers, olive oil, garlic, dried chilies, and spices such as caraway, coriander, smoked paprika, and cumin, can be swirled into seafood soups and meaty stews; added to mayonnaise, aioli, ketchup, marinades, and vinaigrette; tossed with roasted vegetables; and used to spike hummus.
Hummus, the wildly appealing dip that appeals as both a shareable appetizer and grab-and-go snack, more than earns its keep. To further its standing, it also can be added to udon noodles for a quick version of sesame noodles; thinned with olive oil for dressings and vinaigrettes; used as binder in chickpea croquettes, and served as a condiment with lamb burgers or sausage.
Lemons, preserved with salt and set aside until peels become satiny soft and the flavor bright, fresh, even a little funky, bring complexity and oomph to chicken, tuna, and tabbouleh salads; vinaigrette and aioli dressings; avocado toast; lamb or beef stew; and roasted chicken with olives.
Pita bread, the essential partner for hummus, it also can be tossed into Middle Eastern-inflected bread salads known as fattoush; built into sandwiches, the pockets filled with breakfast- or lunch-oriented ingredients; or topped with either cheese, ground meat, or za'atar and turned into a version of manakeesh, the Middle East's delicious answer to pizza. Oven-dried and seasoned, they're a terrific salvage of past-prime rounds.
Tahini forms an unmistakable seed-rich flavor element in hummus and baba ghanouj. It also can be thinned with hot water and lemon juice and served as a sauce for falafel; spiked with garlic, red wine vinegar, and olive oil to use as a dressing for chickpea and feta salad; freshened with lemon and glossed over cucumber, tomato, and red onion salad; or made sweetly indulgent in pumpkin-tahini quick bread.
Za'atar, a savory blend of toasted sesame seeds and variable spices such as sumac, thyme, and coriander, it can be served with olive oil alongside warm bread; added to ground meat for zipped-up meatloaf, skewered kabobs, and burgers—meat or vegetable based; and dusted atop soups or olives.
The information provided is based on a general industry overview, and is not specific to your business operation. Each business is unique and decisions related to your business should be made after consultation with appropriate experts.